If you have a can of chickpeas in your pantry and aren't sure what to make with it, this recipe round-up of recipes using a can of chickpeas will give you some great recipe ideas!
There are so many great ways to use a can of chickpeas. Canned chickpeas are one of my favorite pantry staples to have on hand. Not only are chickpeas delicious, they add a ton of plant-based protein to recipes.
Make sure to save the aquafaba before draining your chickpeas! If you aren't familiar with aquafaba, it's just another name of the chickpea cooking liquid.
Aquafaba is a game changer for vegan recipes. I've included some delicious vegan recipes using aquafaba at the end of the post. If you've never cooked with it before, I hope that you give one of the recipes a try!
Looking for a quick and easy dinner recipe? Orange Chickpea Green Bean Stir Fry takes less than 30 minutes to make. Perfect for a busy weeknight meal!
Easy, sweet and savory curry with chickpeas and cauliflower. Fresh pineapple adds a touch of sweetness. Easy enough for a weeknight dinner!
CHICKPEA AND BEET BURGERS
Simple, budget-friendly, protein-packed pantry staple chickpea and beet burgers which only require 6 ingredients, and that taste amazing!
This Vegan Chorizo and Chickpea Pasta is one of my favorite pantry staple recipes. The vegan chorizo gives the pasta a spicy kick. It's packed with plant-based protein too!
These gluten-free and vegan Buffalo Chickpea Meatballs are the perfect party appetizer! You can also enjoy these veggie balls over rice or quinoa for an easy dinner! These chickpea balls are extra delicious when drizzled with some homemade vegan ranch dressing and topped with chopped scallions.
No more boring salad with this Chickpea Celery Salad! If you are tired of lettuce based salads, switch things up with this Chickpea Celery salad.
These vegan chilaquiles are sure to hit the spot any time of day—for brunch, dinner, or even a late night snack! Loaded with protein, and topped with gorgeous veggies, they'll be a perfect addition to your Meatless Monday repertoire.
Infused with bright aromatics, this Thai Mango Curry is packed with flavor and perfect for an easy weeknight dinner.
Easy bbq chickpea veggie rice bowl recipe! This vegan veggie power bowl is loaded with bbq chickpeas and veggies and comes together with just a few minutes of prep time.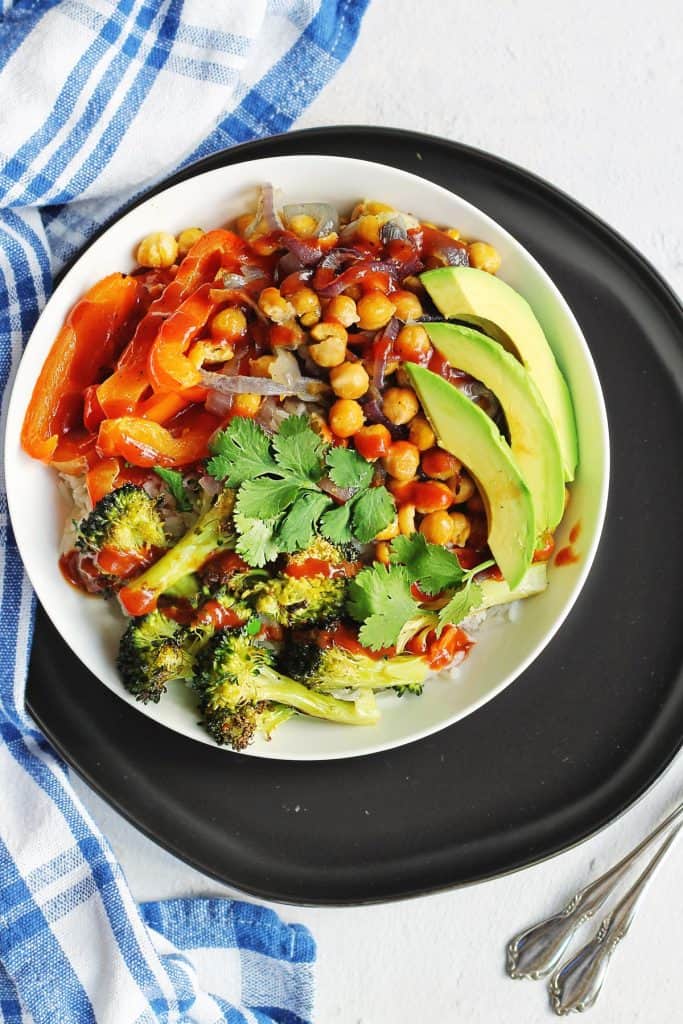 This Buffalo Chickpea Salad couldn't be easier to make! Perfect for a quick and easy lunch!
This Vegan Ranch Chickpea Veggie Burger recipe features the classic flavors of ranch seasoning and is perfect for an easy weeknight meal the whole family can enjoy.
Sweet Potato Lentil and Chickpea Stew with warming spices is a protein packed stew perfect on a chilly night.
You're going to be dipping everything into this creamy, beautiful and vibrant beetroot hummus! It looks stunning, it's cheap, healthy and it all comes together in a food processor in 5 minutes!
Vegan Tuna Salad filled with chickpeas, celery, onions, fresh herbs, kelp flakes, and even flaxseed for omega 3. It makes the best chickpea salad sandwich and it's perfect for breakfast lunch or dinner.
recipes using aquafaba
There is no need to waste the chickpea cooking liquid! When you're done using the canned chickpeas, try out one of these creative recipes using aquafaba!
Instead of baking individual cookies, make one big Vegan Chocolate Chip Cookie Bar and cut into bars for an easy recipe! Instead of using egg, this recipe uses aquafaba in place of the eggs!
These classic vegan waffles use only pantry ingredients, and are a great way to use up the aquafaba from your chickpeas. They freeze well too.
These vegan baked lemon donuts are perfect for spring. They are great for serving for breakfast, an afternoon treat or served at a springtime brunch.
Tiny eggless & refined sugar-free meringue cookies made with aquafaba. Classic vegan meringue recipe, 3 ingredients, super simple!
Happy Cooking!
Jeni