This Buffalo Chickpea Salad couldn't be easier to make! Perfect for a quick and easy lunch!
I'm on a big buffalo sauce kick. I just can't get enough. Last month, I shared my Buffalo Tofu Chili recipe—one of my new favorite chili recipes that I plan on making throughout the fall. Have you made it yet?
My buffalo sauce obsession continues with this Buffalo Chickpea Salad.
Chickpeas are sautéed in vegan butter and then chickpeas simmer in buffalo sauce.
As the chickpeas simmer, they absorb all that delicious buffalo flavor.
I love salads that have different textures. I think having a variety of textures makes a basic salad more interesting to eat!
This Buffalo Chickpea salad definitely has a lot of different textures going on.
The celery adds a much needed crunchy element while the avocado adds a rich, creaminess to the salad.
If you ask me, ranch and buffalo were just made for each other. The ranch helps balance out the spice from the buffalo sauce.
Homemade vegan ranch dressing brings this salad to the next level. It can be made ahead of time too. Great for meal prep!
You can definitely use your favorite store-bought vegan ranch dressing for this salad. There are so many great options out there.
After the chickpeas are done, it is time to assemble the salads.
I like to use romaine or a sturdy leafy green for the salad base. Top the lettuce with the veggies, avocado, and buffalo chickpeas.
Finally it's time to drizzle some vegan ranch dressing over the salad.
I think that you are really going to love this salad! It's a hearty, filling and satisfying meal.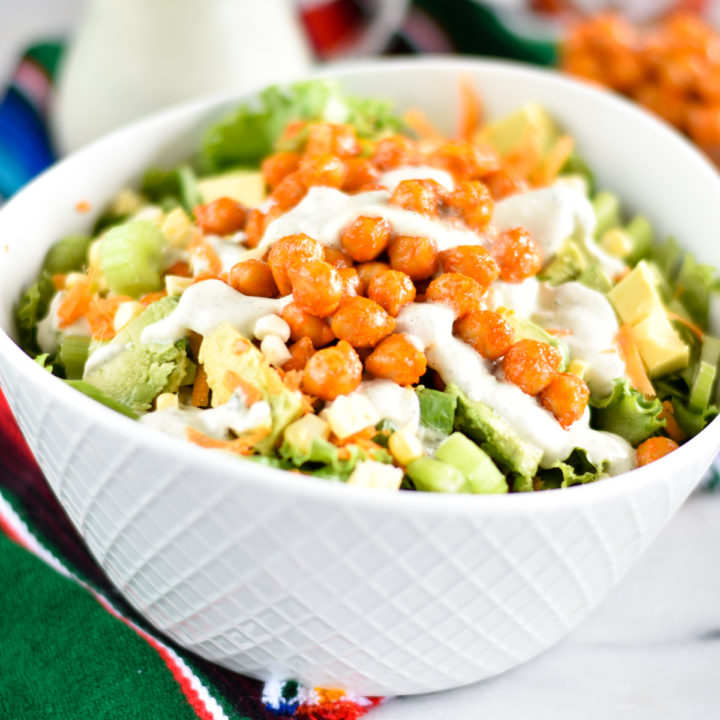 Buffalo Chickpea Salad
Chickpeas are simmered in a little vegan butter and buffalo sauce. The buffalo chickpeas are a flavorful addition to a basic every salad.
Ingredients
1 Tablespoon Vegan Butter 
1 15 ounce Can Chickpeas, drained and rinsed 
¼ Cup Frank's Red Hot Sauce
1 Small Head of Romaine or Green Leafy Lettuce, chopped
1 Celery Stalk, sliced 
1 Large Carrot, shredded 
¼ Corn, fresh or thawed if frozen
1 Avocado, diced
Instructions
In a medium skillet, melt the butter of medium heat. Once the butter is melted add the chickpeas and buffalo sauce; stir.
Simmer for 5 minutes, or until the buffalo sauce has thickened.
Set aside and assemble the salads.
Divide the lettuce between two bowls. Top each bowl with some celery, carrots, corn, avocado, and buffalo chickpeas.
Drizzle some vegan ranch over the salad and serve right away.
XO Jeni