Chorizo Refried Beans recipe uses a few store-bought ingredients to create an easy bean dish.
Elevate basic canned refried beans by adding chorizo.
If you love shopping at Trader Joe's, this vegan chorizo and refried bean recipe is for you!
I always pick up a package of soy chorizo when I am at Trader Joe's. There are so many great ways to cook soy chorizo. I love the chorizo so much that I even created a whole blog post dedicated on soy chorizo recipes.
This bean recipe with chorizo just might be my new favorite way to cook the soy chorizo. It's so easy and delicious!
I love refried beans and I usually make them from scratch, but when I am short on time I'll use canned refried beans.
One of my favorite ways to dress up canned refried beans is with the addition of soy chorizo.
The soy chorizo is packed with so much flavor and takes basic canned refried beans to the next level.
Ingredients needed to make chorizo refried beans:
Soy Chorizo- Trader Joe's makes make favorite soy chorizo. If there isn't a Trader Joe's near where you live, you can check your local grocery store and see if they carry vegan chorizo.
Canned Refried Beans- I like to use the fat free refried beans from Trader Joe's. To keep this recipe vegan, make sure to check the beans to make sure there isn't any animal products.
White Onion- To add a little extra flavor to the beans, I like to sauté diced white onion in a little avocado oil.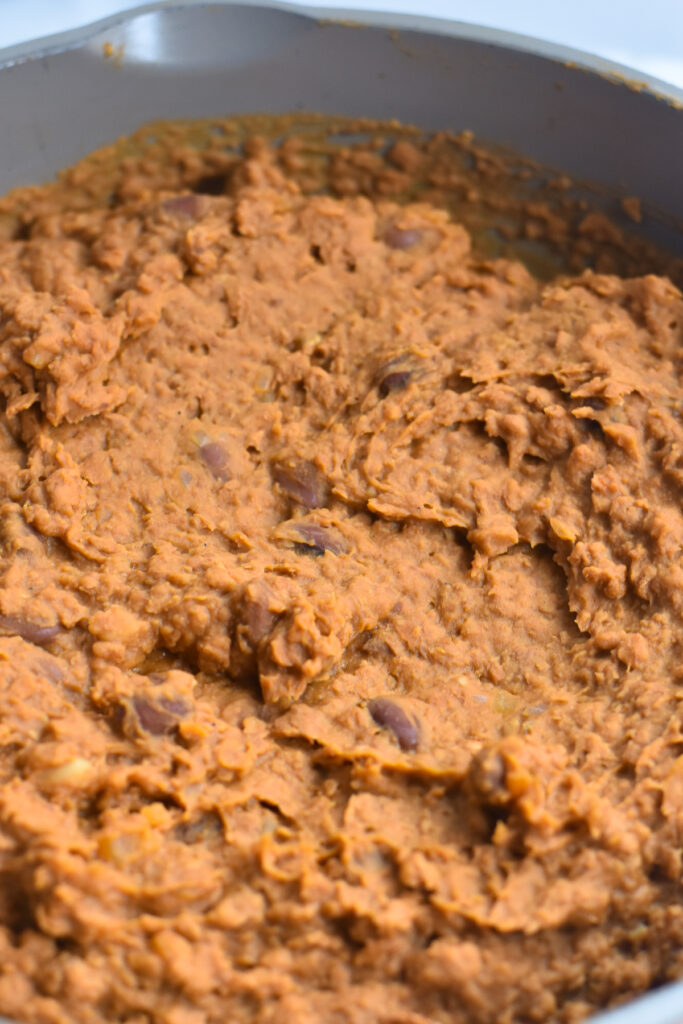 how to serve the beans
I like to serve the canned refried beans with chorizo as a taco or burrito filling. Top the beans with some fresh cilantro, diced avocado and salsa if you'd like.
side dishes to serve with refried beans
There are so many great side dish options of serve with the beans. Rice is always a great side dish. Instant Pot Mexican Red Rice is great if you like making your rice in the Instant Pot or this Chipotle White Rice is delicious. For a lighter option, this Mexican Cabbage and Avocado Salad will brighten up dinner.
If you give this recipe a try, be sure to leave a comment/rating and tag us @thymeandlove on Instagram!
Chorizo Refried Beans
Eleveate basic canned beans by adding chorizo. This makes a great taco or burrito filling.
Ingredients
¼ of a large white onion diced
1- 12 ounce package Soy Chorizo
1 teaspoon Avocado Oil
2- 16 ounce cans Refried Beans
Instructions
Heat the oil in a medium saute pan on medium heat. Add the white onion and cook for 3-4 minutes.
Add the soy chorizo and cook until heat throughr, about 5-7 minutes.
Add the refried beans to the mixture. Continue cooking for about 5 minutes.
Turn the heat off and serve.
Notes
To keep this recipe vegan, make sure to check the beans to make sure there isn't any animal products.
Store leftovers in an airtight container in the fridge for 3-4 days.
Nutrition Information:
Yield:

8
Serving Size:

1
Amount Per Serving:
Calories:

188
Total Fat:

9g
Saturated Fat:

2g
Trans Fat:

0g
Unsaturated Fat:

6g
Cholesterol:

0mg
Sodium:

694mg
Carbohydrates:

18g
Fiber:

5g
Sugar:

1g
Protein:

12g
Nutrition information is just an estimate per serving.
Happy Cooking!
Jeni
Skip to Recipe