Looking to elevate basic white rice? Give this Chipotle White Rice a try the next time that you make rice.
I make some sort of rice at least once a week. I just love how versatile rice can be. Rice is super inexpensive and makes a great pantry-staple to have on hand.
What I love about rice is that you can make basic steamed rice or you can switch things up and add different spices to the rice.
Don't get me wrong, I love basic white rice. I make it on a regular basis. Rice is something that I know that my toddler will eat and it's one of his favorite foods.
Sometimes I find myself wanting a little bit more spice in my rice. When I am craving a little bit of spice, I like to add a chipotle pepper in adobo to the rice.
This Chipotle White Rice is perfect when you're craving a little heat.
When the rice cooks, the flavors of the chipotle pepper infuse into the rice—creating a flavorful rice with a spicy kick.
I tend to overstock our pantry. I like to keep certain staples on hand. You'll usually find dried beans, grains, lots of spices and dried chiles, and one of my favorite pantry staples: Chipotle Peppers in Adobo Sauce.
The canned chipotle peppers can be found in most well-stocked grocery stores. They are usually located in the International aisle in the Mexican/Latin section.
The smokiness and spiciness of the pepper takes the white rice to a new level. Rather then dicing up the pepper, the whole chipotle pepper is added to the rice. Even though it's left whole, it adds a ton of flavor and spiciness to the rice.
The best thing about this rice is that you don't have to do much work to add tons of flavor into the rice. One simple pantry ingredient does all the work for you. How great is that?!
what to serve with the rice
This chipotle rice is the perfect side dish to any Mexican inspired meal. This is the perfect side side to serve with the following recipes: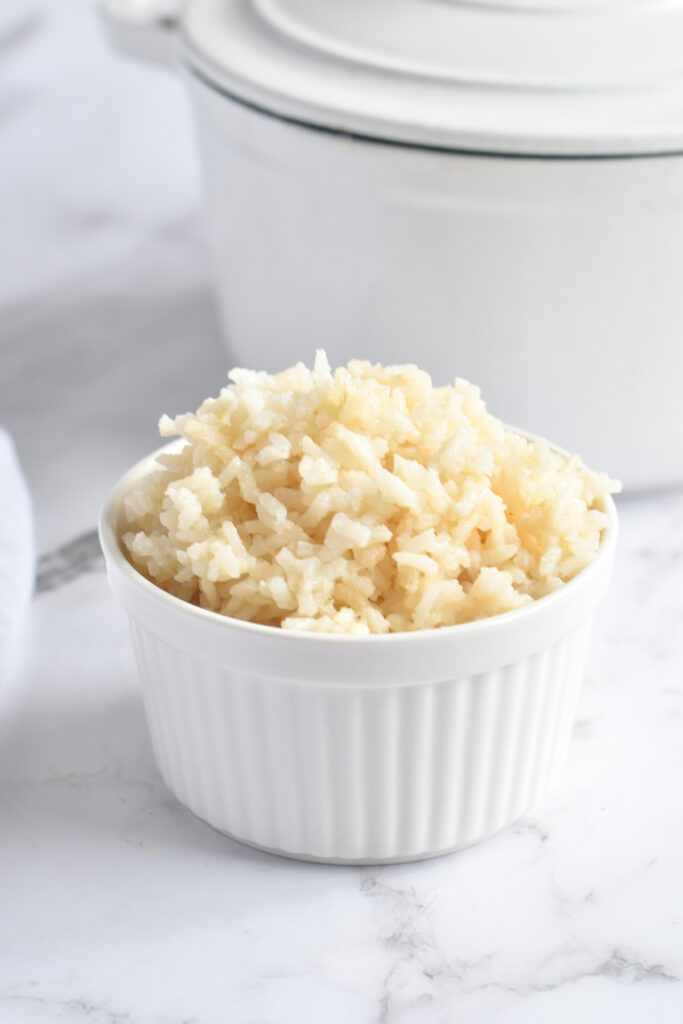 This Chipotle White Rice is my favorite rice to serve with tacos.
If you are looking for a new side dish for taco night, this is the one to try. If you do try this Chipotle White Rice, be sure to tag us on Instagram at #thymeandlove. I would love to see your photos!
Chipotle White Rice
Chipotle peppers in adobo sauce elevate basic steamed white rice. This side dish is perfect to make on taco night!
Ingredients
¼ White Onion, diced small
2 Garlic Cloves, minced
2 Cups Water
½ teaspoon Salt, or to taste
Instructions
Place the rice in a glass bowl and cover with hot water. Let the rice soak for 5 minutes. Drain the rice in a fine mesh strainer. Rinse under cold water until the water runs clear. Place the strainer on top a bowl to let all the water drain through. It is important that the rice is dried.
Heat the oil in a large skillet that has a clear lid over medium to medium high heat. Add the onion and cook 3-4 minutes. Add the garlic and cook for 30 seconds.
Add the drained white rice and cook for 4-5 minutes, or until the rice turns a milky white color, making sure to stir often.
Add 1 whole chipotle pepper in adobo sauce to the rice and carefully stir it around the rice once. This helps add more flavor to the rice. Cook for 1-2 minutes.
Add the water and salt to the rice. Bring to a boil, stir, then reduce heat to low. Cover and cook until all the liquid has been absorbed, about 15-20 minutes.
Once the rice is cooked, turn off the heat and let the rice sit for 5 minutes. Remove the lid and fluff with a fork.
Garnish the rice with the cooked chipotle pepper.
Nutrition Information:
Yield:

4
Serving Size:

1
Amount Per Serving:
Calories:

88
Total Fat:

4g
Saturated Fat:

0g
Trans Fat:

0g
Unsaturated Fat:

3g
Cholesterol:

0mg
Sodium:

303mg
Carbohydrates:

12g
Fiber:

0g
Sugar:

0g
Protein:

1g
Nutrition information is just an estimate per serving.
Happy Cooking!
Jeni
Skip to Recipe