Vegan Rice Stuffed Poblano Peppers are filled with a creamy, rice and corn filling. 

I have been wanting to make a stuffed poblano pepper recipe for the blog for awhile now. Poblano peppers are one of my favorite ingredients.
I have shared quite a few recipes with poblano peppers here on the blog. The poblano peppers give a recipe a spicy kick without being overly spicy.
For the stuffing I wanted it to balance out the spice of the poblano pepper. The rice stuffing is inspired by the classic combination of white rice with poblano peppers.
The two are just so good together. Instead of adding vegan cheese to the stuffed peppers, I added my basic cashew crema.
The creaminess of the cashew crema pairs beautfully with the rice and poblanos. Fresh corn adds a nice sweetness to the filling
.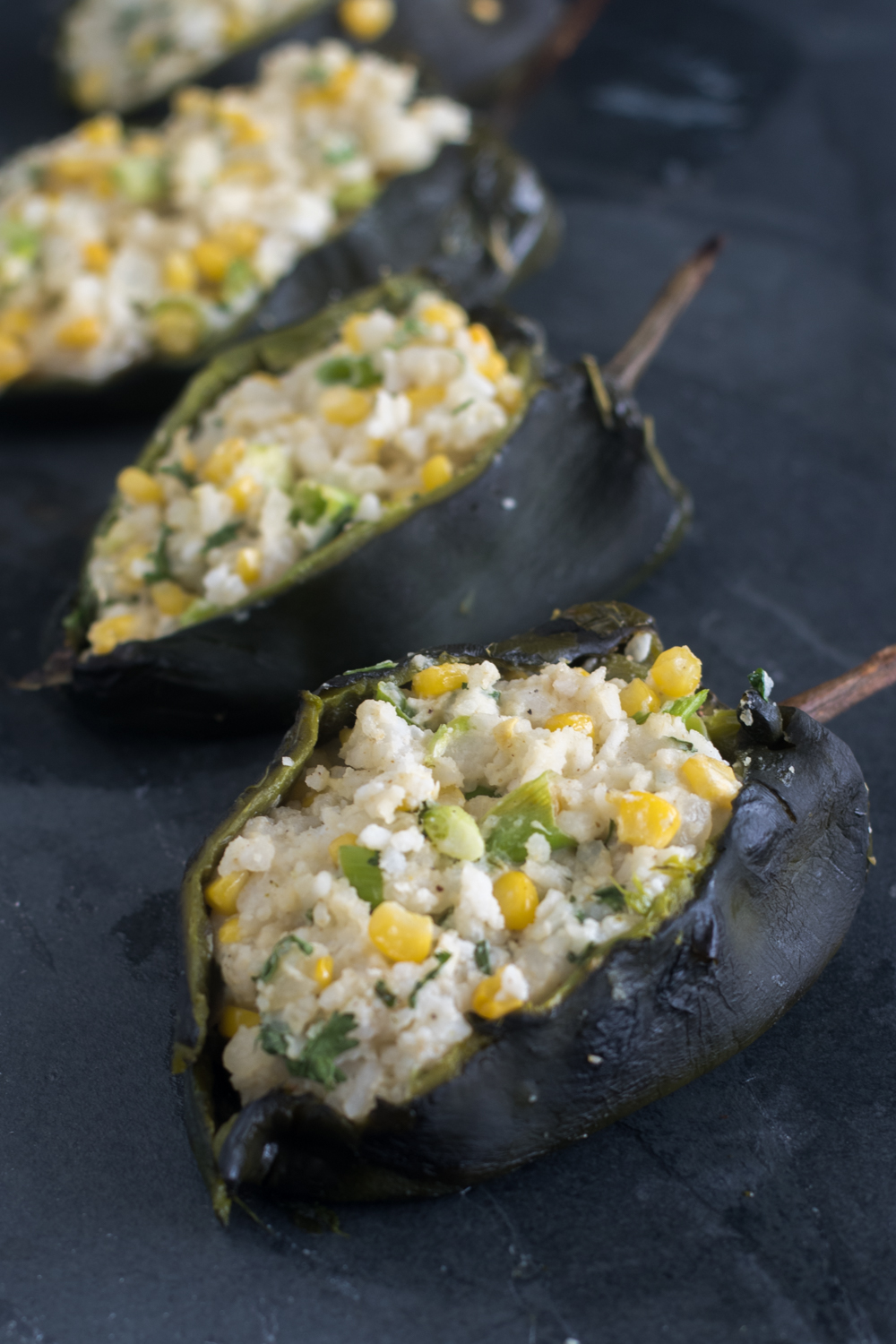 I like to serve these Vegan Rice Stuffed Poblano Peppers with an  avocado and tomatillo salsa. You can also serve the peppers with your favorite salsa.

The Vegan Rice Stuffed Poblano Peppers can also be assembled ahead of time.
After the peppers have been stuffed with the rice transfer to a storage container and refrigerate until your are ready to eat.
Place the prepared peppers on a baking sheet and bake as directed in the recipe. Great for entertaining.
Vegan Rice Stuffed Poblano Peppers
Total Time:
1 hour
5 minutes
Roasted poblano peppers are stuffed with a creamy, rice filling. I like to serve these with an avocado and tomatillo salsa.
Ingredients
4 Large Poblano Peppers, roasted
1 Tablespoon Olive Oil
½ White Onion, diced
2 Garlic Cloves, minced
½ teaspoon Cumin
½ Cup Corn
2 Cups Cooked White Rice
Salt and Pepper to taste
⅓ Cup Cilantro, chopped
⅓ Cup Green Onion, sliced
½ Cup Cashew Crema
For Serving:
Instructions
Preheat the oven to 350 F.
Prepare the roasted poblano peppers. After the chiles have been roasted carefully use a knife to vertically cut open the chile; from the stem down. Be careful not to cut all the way through the chile. Remove all of the seeds. Set aside.
In a large, deep skillet heat the olive oil over medium heat. Add the onion and cook for 4-6 minutes. Add the garlic and cook for 30 second. Add cumin and stir, cooking for another minute.
Add in the corn and cook for 3-4 minutes.
Add the cooked white rice. Stir and cook for a few minutes until the rice is just heat. Season with salt and pepper to taste.
Transfer the rice mixture to a mixing bowl. Add the chopped cilantro, green onions, and cashew crema. Mix until combined. Taste and season with more salt and pepper if needed.
Stuff the poblano peppers with the rice mixture. Transfer to a baking dish or cookie sheet.
Bake for 15 minutes.
Serve with salsa.
This is the 
cashew crema recipe
 that I use for the recipe.
The avocado and tomatillo recipe can be found
here
.
Xo Jeni