Is your pantry stocked with rice, but you're not quite sure what to make with it? This round-up of 20 Easy Rice Recipes for Dinner, will show you 20 tasty rice dishes that are easy to make!
My pantry is always stocked with at least one type of rice. I love how versatile rice can be. It can be a simple side dish or it can be the star of the show.
My favorite types of rice to have in my pantry include:
White Rice
Short Grain Brown Rice
Basmati Rice
Wild Rice
If I'm not sure what to make for dinner, I know that I can always make rice and beans—one of my favorite dinners. It's so simple and delicious!
If you are on a budget or trying to incorporate more plant-based meals into your meal plan, I hope that these 20 Easy Rice Recipes for Dinner will inspire you!
VEGAN RICE STUFFED POBLANO PEPPERS
Vegan Rice Stuffed Poblano Peppers are filled with a creamy, rice and corn filling. Roasted poblano peppers are stuffed with a creamy, rice filling. I like to serve these with an avocado and tomatillo salsa! The peppers can be assembled ahead of time too!
Instant Pot Arroz con Gandules
Instant Pot Arroz con Gandules are a quick and complete weeknight meal! Using pantry staples, you'll have this dinner on the table in just a half hour!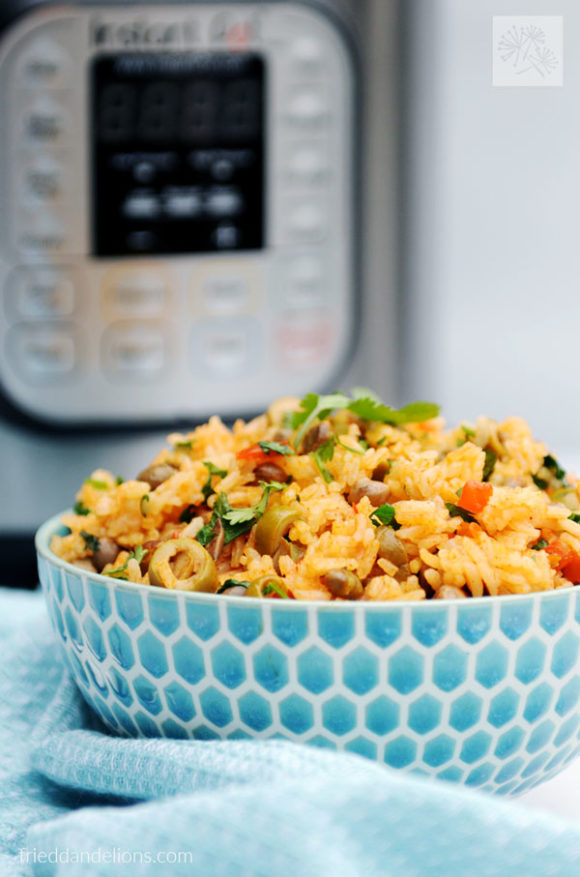 VEGAN SUSHI BOWL WITH GREEN TEA RICE
Vegan Sushi Bowl with Green Tea Rice is a healthy plant-based vegan bowl topped with lots of fresh vegetables. The green tea adds an earthy, herbaceous note to the rice.
CHIPOTLE VEGAN BURRITO WITH CILANTRO LIME RICE
The Ultimate Vegan Burrito – the perfect meatless meal! Loaded with chipotle black beans, cilantro-lime rice, pico de gallo, avocado, and spicy sauce. They are packed with flavor and will be on your table in no time!
VEGAN BRUSSEL SPROUT FRIED RICE
Skip the take-out and make this healthy Vegan Brussel Sprout Fried Rice at home!
1-POT CURRIED LENTILS AND RICE
An easy, 1-pot vegan lentil curry recipe made with healthy, whole-grain brown rice, antioxidant rich kale, plus sweet and creamy light coconut milk.
CHEESY VEGAN MEXICAN RICE CASSEROLE
Cheesy Vegan Mexican Rice Casserole with roasted poblano peppers and corn is a warm, comforting casserole perfect for the colder weather.  
Basmati Rice Pilaf with Chickpeas and Dried Fruit
Seasoned with aromatic spices, Middle Eastern inspired Basmati Rice Pilaf is a delight for the senses. Studded with chickpeas and dried fruit, it's perfect as a side or main dish.
BROWN RICE SALAD WITH APPLE AND PECANS
Grain based salads like this Brown Rice Salad with Apple and Pecans make for a healthy and filling lunch or dinner option. 
VEGAN BUFFALO CHICKEN RICE SKILLET
This Vegan Buffalo Chicken Rice Skillet is perfect for a weeknight dinner. Vegan chick'n, brown rice and veggies are smothered in hot sauce and topped with ranch sauce for a tasty meal!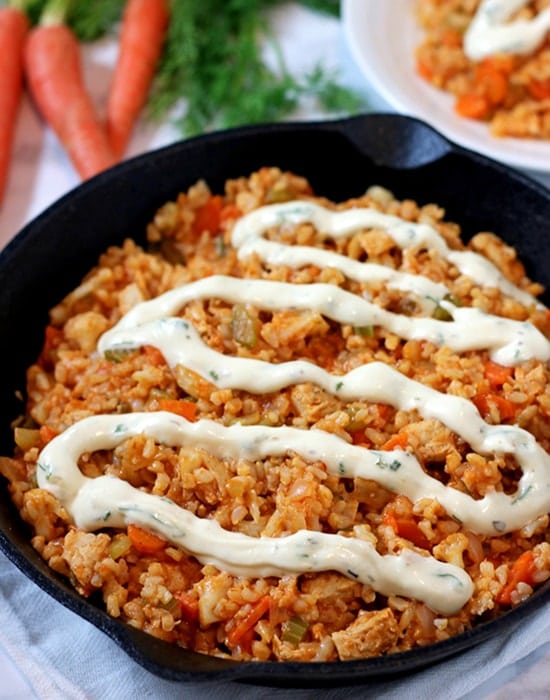 RHUBARB WILD RICE PILAF
This Rhubarb Wild Rice Pilaf makes a delicious side dish to any meal. 
The natural tartness of the rhubarb pairs nicely with the nuttiness of the wild rice. This side dish is great served warm, at room temperature or cold.
Vegan Instant Pot Tex-Mex Rice
This Vegan Instant pot Tex-Mex rice is a super easy vegan instant pot dinner that you've been craving. Comes together in just minutes!  Gluten free, oil free option, top 8 allergen free!  
VEGAN CHEDDAR, APPLE AND BROWN RICE SALAD
Vegan Cheddar, Apple and Brown Rice Salad is a filling, flavorful vegan meal! This is hearty and satisfying whole grain salad with vegan cheddar cheese and apples.
Vegan Pineapple Fried Rice Recipe
Easy vegan pineapple fried rice made with perfectly stir fried veggies, a simple sweet and savory tamari sauce and tons of flavor. Healthy, filling, gluten free  and makes perfect leftovers.
MOROCCAN-INSPIRED LENTIL AND BROWN RICE CASSEROLE 
This easy Moroccan inspired rice dish is both tasty and budget friendly.
vegan fried rice
A delicious hibachi style fried rice with added edamame for protein!
BROWN AND WILD RICE CHESTNUT STUFFING
This Brown and Wild Rice Chestnut Stuffing is the perfect side dish to your holiday meal. It is so easy to make and can be made ahead of time!
Quick and Easy Mediterranean Rice Recipe – This Vegan Rice Dish can be made in less than 20 minutes if you have leftover rice or even quinoa.
A TOUCH OF THE TROPICS RICE BOWL
Transport yourself to a tropical island with this A Touch of the Tropics Rice Bowl! This rice bowl starts by adding cooked jasmine rice to a bowl. The rice is topped with fresh pineapple, cashews, roasted sweet potatoes, and hemp seeds.
Rice stuffed dolmades
A Mediterranean classic made vegan and gluten-free. Rice stuffed dolmades full of fresh herbs, roasted eggplant, olives, spices, and aromatic basmati rice! A fantastic appetizer, side, or main dish!
XO Jeni