5 Cozy Winter Vegan Pasta Recipes are perfect for this cold weather! We love pasta and these pasta recipes are perfect for the winter months when you are craving something warm and comforting.
With the frigid temperatures outside, my pasta cravings are strong. There is something warm and comforting about a bowl of creamy pasta.
My family loves eating pasta year round, but I often find myself eating the most pasta during the winter, especially during winter storms.
Here are my favorite 5 cozy winter vegan pasta recipes to make during the cold winter months.
Whole wheat rigatoni is tossed in rich, flavorful eggplant and mushroom tomato sauce. Red wine and balsamic vinegar add a really nice depth of flavor to the sauce. The rich tomato pasta sauce is perfect for a cozy winter pasta dish.
This Vegan Penne alla Vodka is rich, creamy and just a little bit indulgent. This is one of my favorite pasta recipes. The sauce is creamy and you only need a few ingredients to create this dreamy vegan penne alla vodka.
A classic Midwestern inspired casserole—Vegan Baked Mostaccioli is an easy baked pasta recipe featuring Mostaccioli noodles, spicy vegan sausage, marinara sauce, and vegan cheese.
This pasta recipe is one of my favorites to make when I am craving comfort food.
Hearty, comforting Rigatoni with Vegan Meatballs is perfect for a cozy dinner at home.
This pasta is perfect for a cozy meal at home. I love using the Beyond Meatballs in this recipe, but you can use your favorite vegan meatball for this pasta recipe.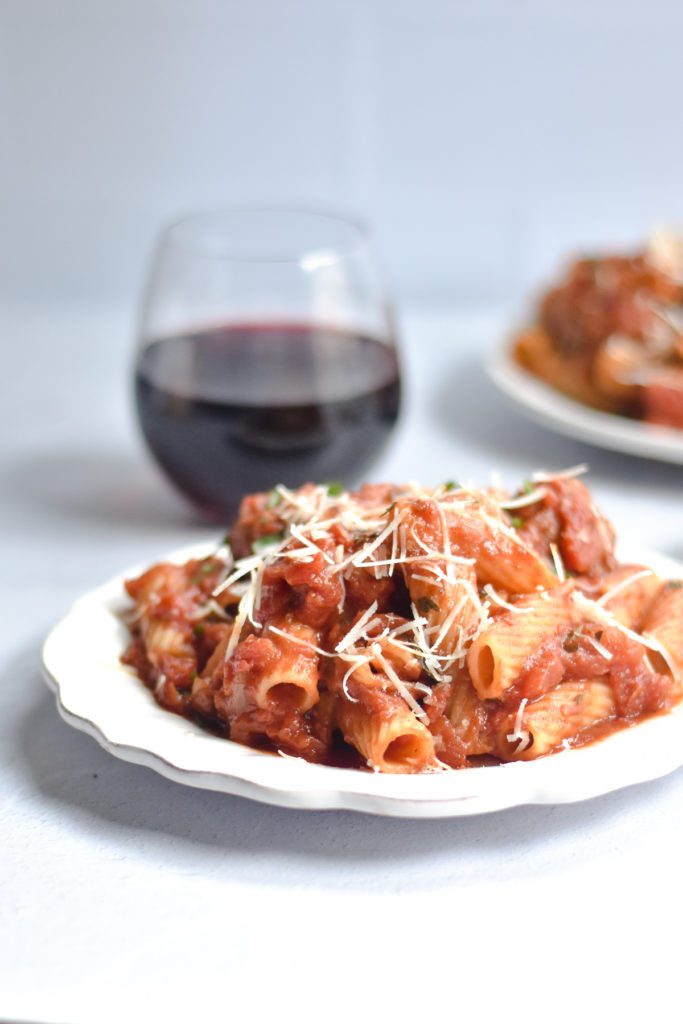 A round-up of cozy vegan pasta recipes wouldn't be complete without at least one vegan mac n cheese recipe! This is one of our favorites. It's creamy, comforting, a little spicy from roasted poblano peppers.
You can serve this mac n' cheese as a stove top pasta, but I love this mac n' cheese as a baked pasta, especially during the winter. A baked mac n cheese is the perfect cozy winter pasta!
These 5 cozy winter vegan pasta recipes are the perfect way to stay warm this winter!
Happy Cooking!
Jeni