A classic Midwestern inspired casserole—Vegan Baked Mostaccioli is an easy baked pasta recipe featuring Mostaccioli noodles, spicy vegan sausage, marinara sauce, and vegan cheese.
Growing up, my mom would make baked mostaccioli all the time. It was an easy pasta dish for a family dinner. Plus, the pasta recipe makes a lot—perfect for serving at family events too.
Vegan Baked Mostaccioli is the ultimate easy comfort food meal, family friendly. and guaranteed to please both vegans and ominovres!
This easy Vegan Baked Mostaccioli is a great recipe if you are looking to add more plant-based meals into your meal plan.
If you are also new to vegan cooking, this easy pasta bake recipe is a great recipe to try out.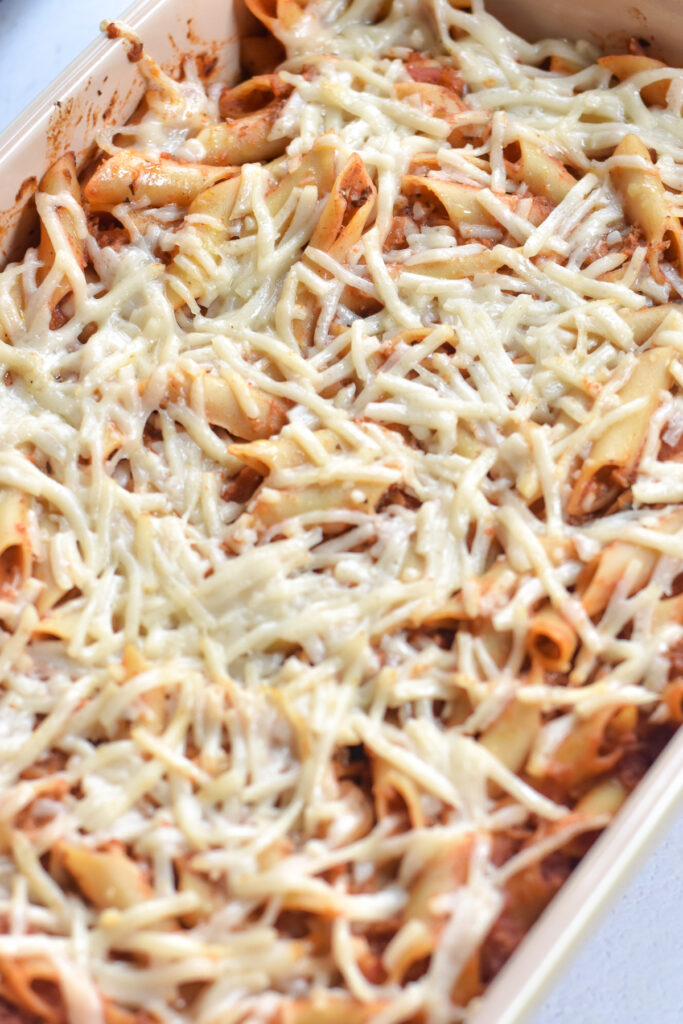 This baked mostaccioli with no meat uses spicy vegan Italian sausage. I have made this vegan baked pasta recipe with Impossible Foods spicy sausage and Beyond Meat's spicy Italian sausage.
Both are very good in this easy baked mostaccioli recipe. In the recipe photos, I used the spicy Italian sausage from Beyond Meat.
I've used the Impossible spicy sausage in this vegan spicy sausage recipe and it's so good! If you like things on the spicier side, be sure to check out this sausage pasta recipe too.
Is Mostaccioli Similar to Baked Ziti?
Mostaccioli and baked ziti are very similar. The biggest difference is that mostaccioli uses mostaccioli pasta, not ziti. Both baked pasta dishes consist of pasta tossed in red sauce, topped with cheese, and baked until browned.
What's the Difference Between Penne Pasta and Mostaccioli?
Penne and mostaccioli are both dried, tubular pastas. The two pasta shapes can be used interchangeably. The difference between them is their texture. Penne noodles have small ridges, whereas mostaccioli is smooth.
Can I Make Mostaccioli Ahead of Time?
Yes! This is one of the best things about this vegan baked pasta recipe. You can assemble it up to two days in advance. After assembling the pasta, wrap it in foil, and store it in the fridge.
When ready to bake, remove the foil and bake as instructed in the recipe, adding a few additional minutes if the cheese isn't melting.
HOW TO MAKE BAKED MOSTACCIOLI
First cook your mostaccioli noodles al dente according to package instructions and drain well. It's important that the noodles are cooked al dente since we are going to bake the pasta. The noodles will continue to cook in the oven.
While the pasta cooks, cook the onion and bell pepper until soft. Then add the minced garlic and cook for one minute. Next add in the vegan sausage and brown the sausage. Set aside until needed.
Next stir the cooked sausage mixture, cooked mostacccioli, and marinara in a large casserole dish.
Transfer the pasta dish to a large baking dish. Top the pasta with vegan mozzarella cheese.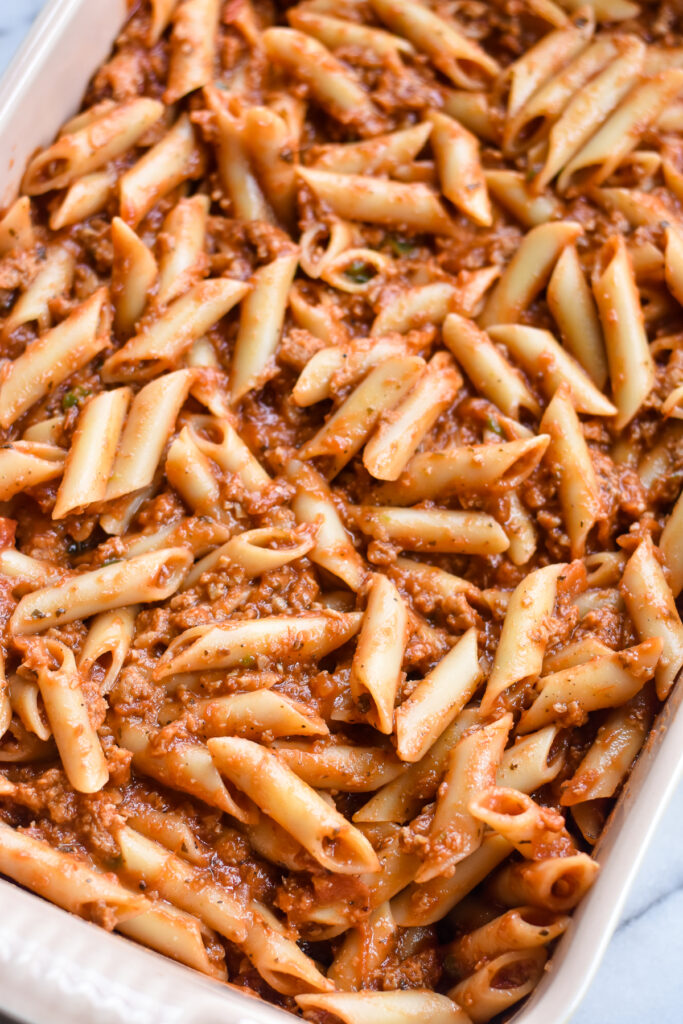 Bake in the oven for 30 minutes, or until the cheese is melted.
If you have any leftover pasta, store the leftovers in an airtight container in the fridge for up to 3 days. Reheat in the microwave or in the oven.
More yummy pasta recipes to try:
Vegan Baked Mostaccioli
Total Time:
1 hour
5 minutes
Hearty, comforting baked pasta recipe made with spicy vegan sausage.
Ingredients
1 Pound Box Mostaccioli
1 Tablespoon Olive Oil
1 Medium Yellow Onion, diced
1 Green Bell Pepper, diced
3 Garlic Cloves, minced
1 Package Spicy Vegan Sausage*
4-5 Cups Marinara Sauce
1 Package Vegan Mozzarella Shredded Cheese
Salt and Pepper to taste
Instructions
Preheat the oven to 350 F.
Bring a large pot of water to a boil; salt the water. Cook the mostaccioli noodles al dente according to package instructions and drain well.
While the pasta cooks, heat the oil in a large skillet over medium heat. Add the diced onion and bell pepper and cook until softened, about 6-8 minutes.
Add in the garlic and cook 1 minute.
Add in the ground vegan sausage and cook until browned, about 5 minutes. Remove from heat.
Once the pasta is done, return to the pot and add in the cooked sausage mixture and marinara sauce. I like to start with 4 cups and see if the pasta needs any additional sauce.
Season with salt and pepper.
Transfer the pasta to a large 9 by 13 baking dish. Top the past with the vegan cheese.
Cover the baking dish with tinfoil and cook for 30 minutes, removing the tinfoil halfway through cooking.
Serve and enjoy.
Notes
If using the Beyond Meat sausage, finely diced the sausge before adding to the pan. If using a ground vegan sausage like Impossible Foods, simply remove the sausage from the package.
Happy Cooking!
Jeni