This recipe for vegan goulash is inspired by a childhood favorite pasta recipe!
Growing up, my Grandma made the best goulash. I looked forwards to the days she made a huge pot of goulash. She always made enough to feed and army.
She made the best goulash. There are so many different versions of goulash; it's also known as chop suey to some families.
This Vegan Goulash is inspired by my Grandma's recipe and I am so excited to share it with you!
If you've never heard of goulash before, it is a comforting pasta dish made with elbow noodles, canned tomatoes, and usually ground beef. It makes a ton and the leftovers taste great!
Over the years, I've tried replacing the ground beef with tofu, meatless crumbles, and lentils but it just didn't taste like the goulash I grew up eating.
I recently tried making goulash with the ground Beyond Beef and it was a great success!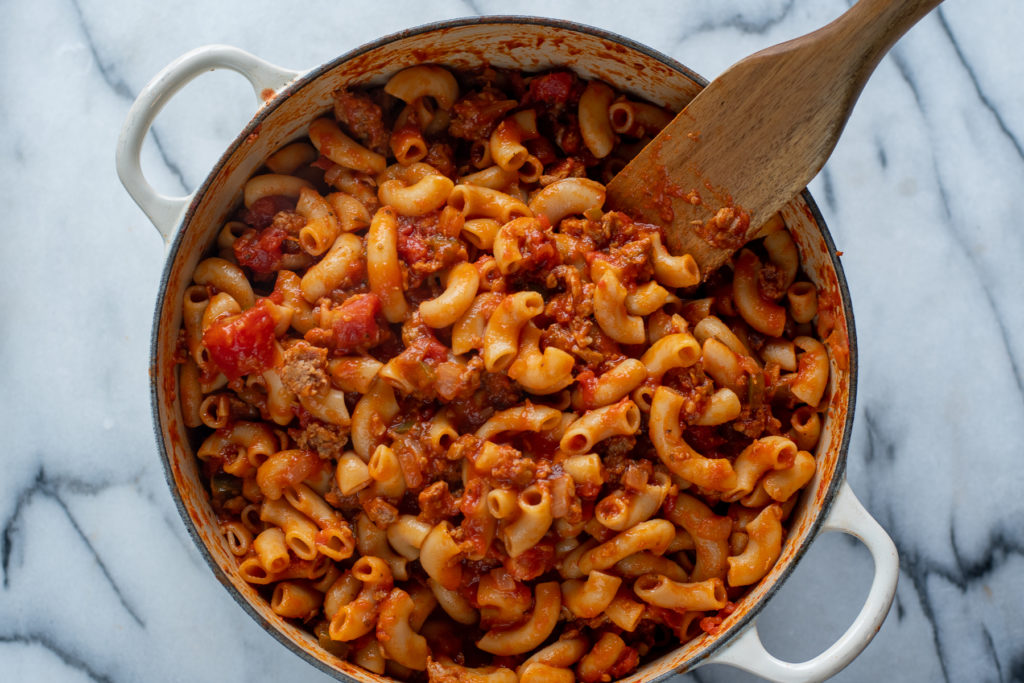 The Beyond Beef is the perfect meat replacement for goulash. I know that it can be a little on the pricer side, but it is definitely worth it!
You could always use impossible meat too.
Many American goulash recipes don't call for the addition of paprika. I remember my Grandma adding paprika to her goulash.
I think that she kept a jar just to make goulash. Now, my mom thinks that she didn't and doesn't add any when she makes it.
I really like adding paprika to the goulash. I think that it adds a really nice flavor to the goulash.
Some recipes add soy sauce or worcestershire. You can add a tablespoon of either sauce to the goulash if you'd like.
I prefer to make the goulash without adding them.
My grandma always used the large elbow macaroni pasta when she made her goulash. My mom always says that it's not the same without using the large elbow noodles.
I've made the goulash with the regular sized elbows and that works great too.
This recipe makes a lot. Perfect for feeding a large group of people! The leftovers taste really delicious too!
I hope that your family enjoys this vegan take on a Midwest old fashioned recipe!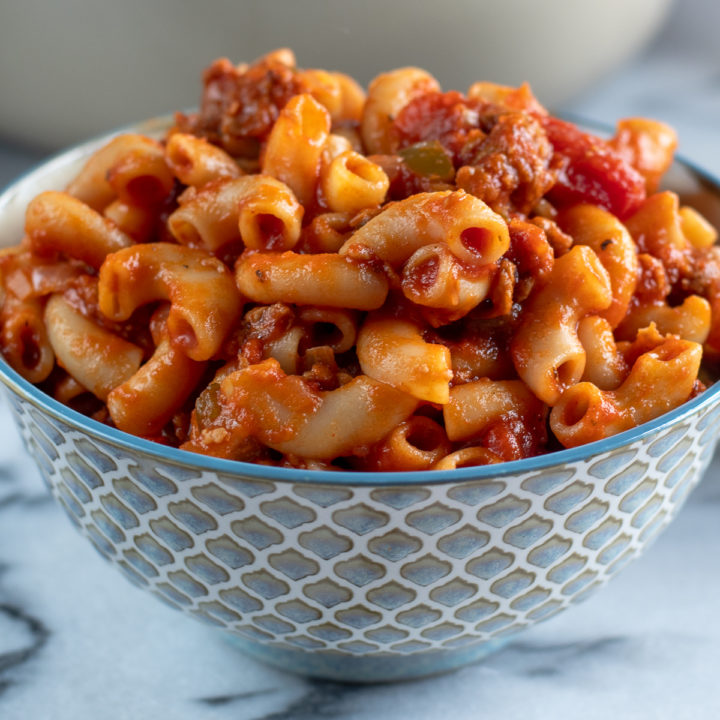 Vegan Goulash
Additional Time:
5 minutes
Total Time:
1 hour
10 minutes
Ingredients
1 16 ounce Box Large Elbow Pasta
1 Tablespoon Olive Oil 
1 Medium Yellow Onion, diced 
1 Green Bell Pepper, diced 
2 Garlic Cloves, minced
1 teaspoon Oregano
1 Tablespoon Paprika, optional 
2 15 ounce cans Tomato Sauce
2 15 ounce cans Diced Tomatoes 
1 Bay Leaf
Salt and Pepper to taste 
Instructions
Bring a large pot of water to boil; add salt. Cook the pasta according to the package instructions. Drain and set aside until needed.
Meanwhile, in a large dutch oven or pot, heat the olive oil over medium heat. Add the onion and green pepper; cook 10-12 minutes, or until softened.
Add the garlic; cook for 1 minute.
Remove the Beyond Beef from the package and add to the pot. Using a spatula, break about the Beyond Beef. Cook for 5-8 minutes, until it starts to brown.
Add the oregano, paprika, salt and pepper to taste; stir.
Pour in the tomato sauce, diced tomatoes, and bay leaf.
Bring to a boil then reduce heat to low. Cook for 25-30 minutes.
Remove the bay leaf.
Add the cook elbow pasta and stir.
Taste and adjust seasonings if needed.
Happy cooking!
Jeni