Vegan Dill Potato Salad is perfect for Summer BBQs and picnics!
This vegan potato salad with fresh dill is a summertime staple. Potato salad is one of my favorite summer side dishes and I love this variation on classic potato salad.
Growing up I always thought that I didn't like potato salad. I remember going over to my Grandma's house and she would be making a huge batch of potato salad during the summer
She would be busy peeling the cooked potatoes and the hard boiled eggs. I never was a big fan of eggs as a child, especially hard boiled eggs. I think it was the texture that I never could get over.
Since her potato salad had lots of hard boiled eggs, I never had any potato at our summer BBQs.
As I got older, I discovered that not every potato salad has hard boiled eggs in it.
It turns out that I do like potato salad. It was those hard boiled eggs that ruined potato salad for me growing up!
This Vegan Dill Potato Salad is creamy, bright and flavorful.
Tips for the best potato salad
I like using a mix of vinegar and lemon juice with the vegan mayo to really brighten up the potato salad.
Adding fresh herbs elevates basic potato salad. I really like adding fresh dill to potato salad. The fresh dill adds a really nice brightness to the salad.
If you've never added fresh dill to potato salad before, definitely give it a try.
My cooking trick for the potatoes is to boil them in cold water and just cook them just until fork tender.
Once the potatoes are fork tender, I drain the potatoes in a colander and then let them steam in a colander in the pot that you cooked the potatoes.
Cover the cooked potatoes with a tea towel or dish towel for about 10 minutes. This technique creates the best texture for potato salad.
After the potatoes have steamed, diced the potatoes and add them to a large mixing bowl.
what type of potatoes to use?
When it comes to making potato salad, I like using a thin skinned potato like yukon gold potatoes for the salad.
I prefer to leave the skins on in the potato salad but you can always peel them if you prefer.
This Vegan Dill Potato Salad is the perfect summer side dish. It is perfect for taking to BBQs and picnics.
Some of my other favorite salads to make during the summer are this light, fruity Mango Chickpea Salad, and Coleslaw Macaroni Salad which combines the best of coleslaw and macaroni salad.
What to serve with potato salad
Here are some of my favorite things to serve with the potato salad. Lots of great options for summer BBQs and grilling.
I served the Vegan Dill Potato Salad alongside the grilled sausages or brats. The potato salad is the perfect accompaniment!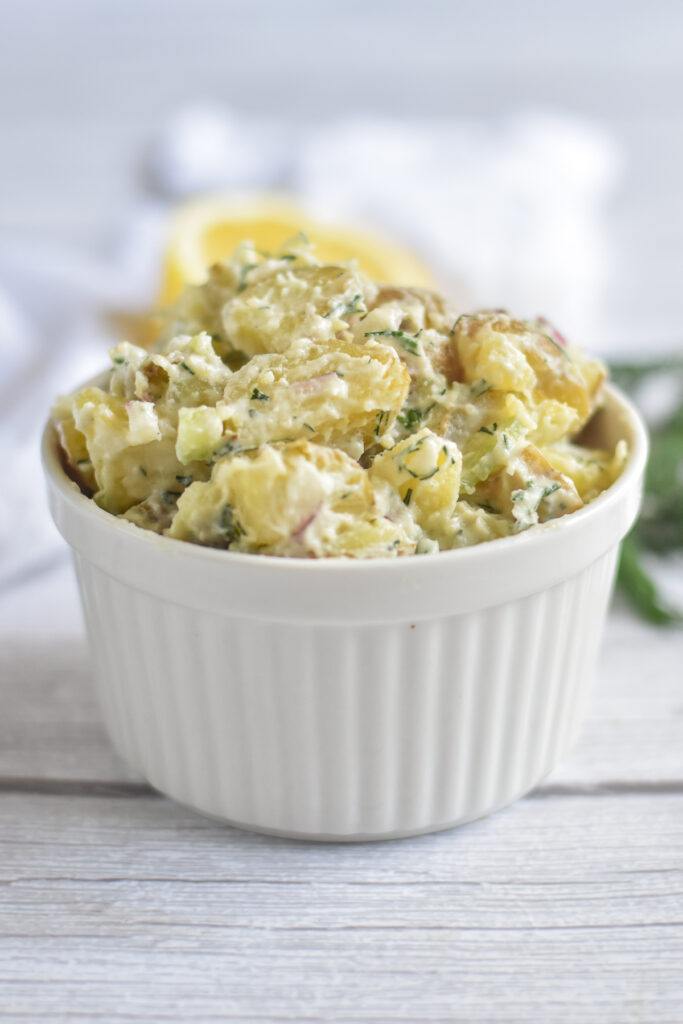 Vegan Dill Potato Salad
Vegan Dill Potato Salad is perfect for Summer BBQs and picnics!
Ingredients
3 Pounds Yukon Gold Potatoes, cleaned
Salt
1 Cup Vegan Mayo
2 Tablespoons Lemon Juice
1-2 Tablespoons Vinegar
1 Tablespoon Dijon Mustard
Salt and Pepper to taste
2 Celery Stalks, diced
1 Small Red Onion, minced
¼ Cup Fresh Dill, minced
Instructions
Place the potatoes in a pot with enough cold water to cover them. Add a large pinch of salt, bring to a boil, and simmer for 15 to 30 minutes, depending on the size of the potatoes, just until tender when pierced with a small knife or fork.
Drain in a colander. Put a kitchen towel over the colander and allow the potatoes to steam for 10 minutes.
When cool enough to handle, dice the potatoes and dice into ½ inch pieces.
Meanwhile, in large mixing bowl, add the vegan mayo, lemon juice, vinegar, and mustard; stir. Season with salt and pepper.Taste and add more salt or vinegar (for tang).
Add in the diced cooked potatoes, celery, red onion, and dill. Stir to evenly mix with the mayo mixture.
The potato salad taste better after 30 minutes to 1 hour after making. This gives the flavors a chance to absorb into the potatoes.
Happy Cooking!
Jeni 
Skip to Recipe