Travel Guide to Wrigleyville in Chicago: Tips for seeing the Cubs play at Wrigley Field

Watching the Chicago Cubs play at the historic Wrigley Field is a must-do experience in Chicago, even if you aren't a huge baseball fan.
Last month, I celebrated my 30th birthday in Chicago. We rented an air b&b in Lakeview, which was perfect location of attending the Cubs game. We were able to walk right to Wrigley Field. It had been a few years since I was in Wrigleyville and the neighborhood has definitely changed since the Cubs won the world series!
In this Travel Guide to Wrigleyville in Chicago, I'll share my tips and must-dos for attending a Chicago Cubs game at Wrigley Field!
the red marquee
Make sure to grab a photo of the iconic red marquee at the main entrance. The marquee was originally commissioned by the Federated Sign Company of Chicago and installed in 1934 and has been apart of Wrigley Field ever since. The red marquee is a fixture at the corner of Clark and Addison.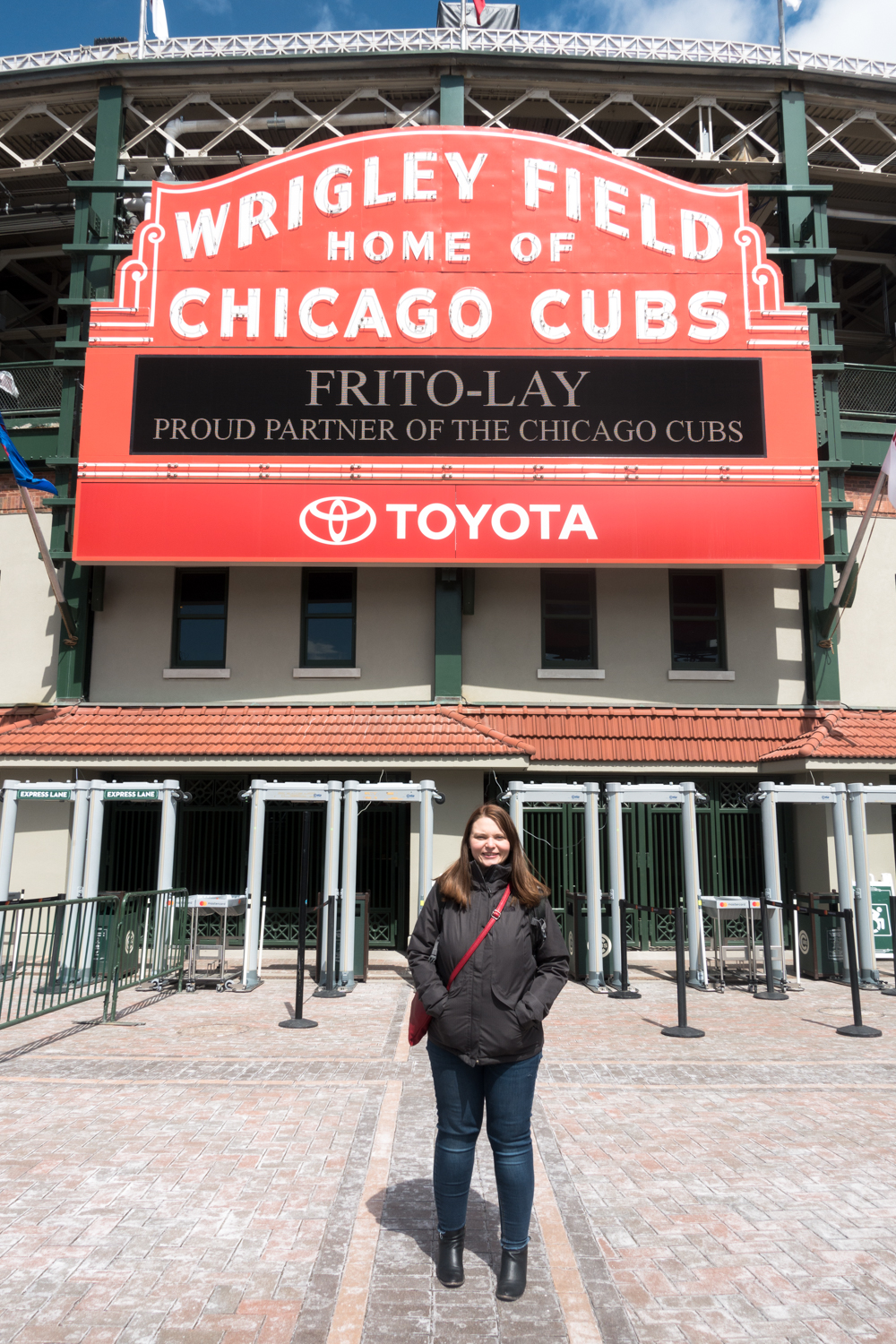 hand-operated scoreboard
Installed in 1937, the hand-operated scoreboard is a very historic part of Wrigley Field. It is one of only two baseball stadiums to use a manually operated scoreboard. The only other ballpark to use one is Fenway Park in Boston.
where to sit
Selecting seats for a baseball game can be a little overwhelming. On our last trip, I waited last minute before purchasing tickets. I wanted to have good seats and I wasn't able to get close-up seats on the Cubs side. I was able to get some amazing seats on the visitors side.

The tickets prices vary, depending on the section. I used the interactive map of the MLB's website. This was a great tool to use because you can see what your view will be.
No matter where you sit, you'll have a great time seeing the Cubs play!
grab a drink at cubby bear
Located right across the street from Wrigley Field, Cubby Bear is a great spot to grab a drink before or after the game.

It definitely can get loud and crowded, but I think that just adds to the fun atmosphere!
stop at Dimo's pizza for a slice
Feeling hungry before or after the game? Grab a slice of pizza at Dimo's Pizza, located in Wrigleyville. They offer whole pizzas, but are known for their pizza slices. You'll find fun, unique pizzas like Mac n' cheese! And they offer vegan slices!

When I lived in Chicago, Dimo's was my go-to spot for pizza!
Hours:
MONDAY TO THURSDAY 4PM TO LATE
FRIDAY TO SUNDAY 11AM TO LATE
Location: 3463 N Clark St. | 773-525-4580
getting to wrigley field
Since Wrigley Field was built in a neighborhood, parking can be a little bit tricky. There are a few parking lots surrounding Wrigley Field. It won't be cheap to park, expect to pay around $40. The best way to get to Wrigley Field is to use public transportation. The nearest train station to Wrigley Field is Addison on the Red Line. It is just a short walk to the stadium. Also, taking an uber is a good option, but expect there to be surge pricing.
Staying at an air b&b that was located in Lakeview allowed for use to walk to Wrigley Field. If you are staying at a hotel located downtown, I highly recommend taking the red line and getting off at Addison.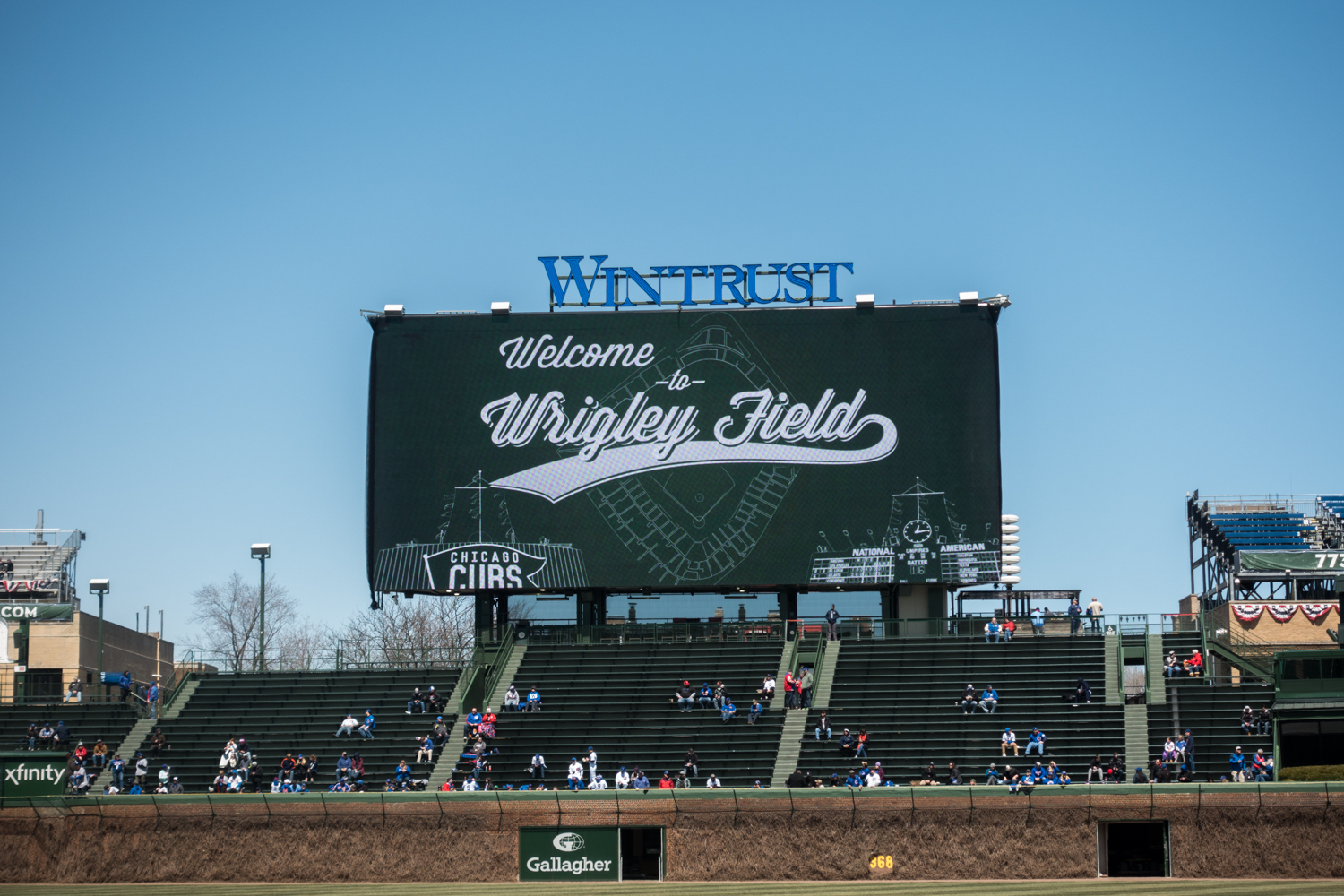 where to buy cubs gear
Before attending the game, I wanted to purchase a Cubs shirt and hat. There are plenty of places to purchase Cubs merchandise around the stadium. I ended up checking out Wrigleyville Sports, located near Wrigley Field. The store had a great selection of Cubs gear.

Even if you don't consider yourself a baseball fan, seeing the Chicago Cubs play at Wrigley Field is a must-do experience!
pin this image for future reference!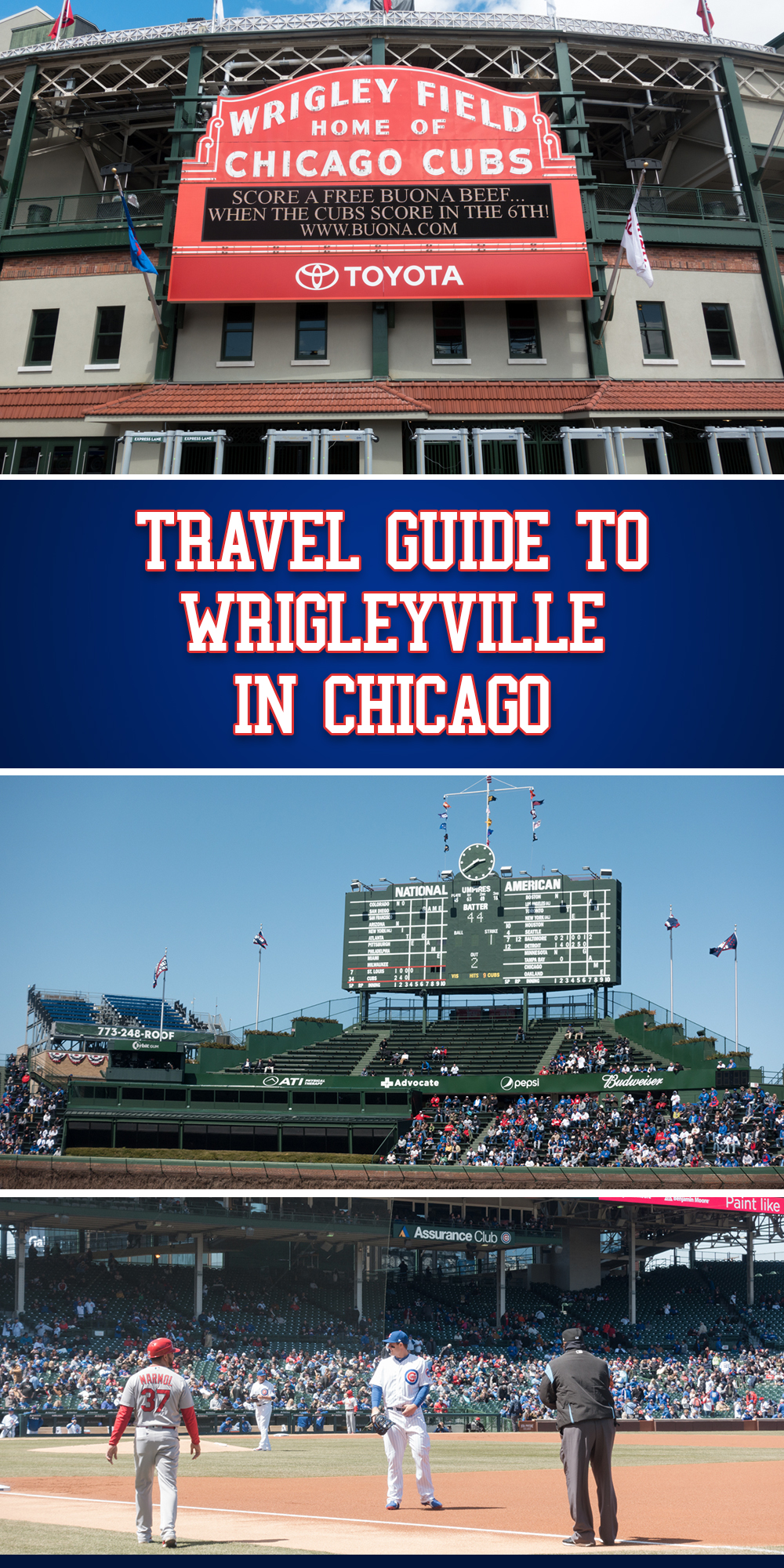 XO Jeni