Top Vegan Eats of 2017: The best vegan eats I had while traveling this year!

In 2017, I traveled to five new states, explored my own city, and ate some incredible vegan food across the country. I started the year without any travel plans, which is very unlike me! I tend to plan trips a year out in advance! I learned to embrace the unknown and take a chance on some amazing opportunities. Before I travel, I always do my research on vegan-friendly places. I want to make sure that there are vegan options available. If I am traveling to a place that doesn't offer vegan options, I will contact them and see if they can make a vegan dish for me. I love eating at new vegan restaurants and finding vegan options in some very non-vegan places.
vegan ice cream | FoMu | Boston, MA
The best vegan ice cream. The ice cream at FoMu in Boston was incredible. Worth the trip to Boston alone.
vegan mozzarella sticks | Veggie Galaxy | Boston, MA
When I saw vegan mozzarella sticks on the menu at Veggie Galaxy, I just had to order them. The vegan mozzarella was gooey, melty, just like a mozzarella stick should be!
jackfruit tacos | Sage's Cafe | Salt Lake City, Utah
In May I traveled to Salt Lake City for the Everything Food Conference. I couldn't believe all the vegan friendly restaurants in Salt Lake City. One of my favorite meals of the trip was at Sage's Cafe. For dinner, I ordered the Jackfruit Tacos. If you have followed me for awhile, you know that I love tacos and jackfruit. These tacos were one of the best tacos that I have had. Highly recommend if you are in Salt Lake City.
Carrot Cake | Sage's Cafe | Salt Lake City, Utah
I also had to include this amazing vegan carrot cake from Sage's Cafe. If there is vegan carrot cake on a restaurant's menu, I always ordered it. Carrot cake is my favorite dessert and I can never say no to a slice. I loved the spiralized carrots on top!
spelt risotto | The sovengard | Grand Rapids, MI
For my birthday this year, I ate at one of my favorite restaurants in Grand Rapids, The Sovengard. Their menu changes seasonally, but they always have vegan options on the menu. This is the Michigan Spelt Risotto with apples. It was earthy, comforting, and delicious!
vegan pizza | The Mitten Brewing Co. | Grand Rapids, MI
This vegan thai cobb pizza with jackfruit from The Mitten Brewing Co. is my favorite pizza here in my home city of Grand Rapids. It is so good! The combination of the thai curry sauce, jackfruit, broccoli, and peanuts is amazing!
vegan sloppy joe | Founders Brewing Co | Grand Rapids, MI
A trip to Grand Rapids isn't complete without a stop to the iconic Founders Brewing Co. Their Vegan Sloppy Joe is a delicious sandwich that pairs perfectly with one of their craft beers.
Cauliflower steak | Chianti | Mackinac Island, MI
When we stayed at the Mission Point Resort on Mackinac Island earlier this year, we enjoyed an amazing dinner at Chianti. The chef prepared an amazing cauliflower steak for me. This was definitely one of my favorite meals of the year!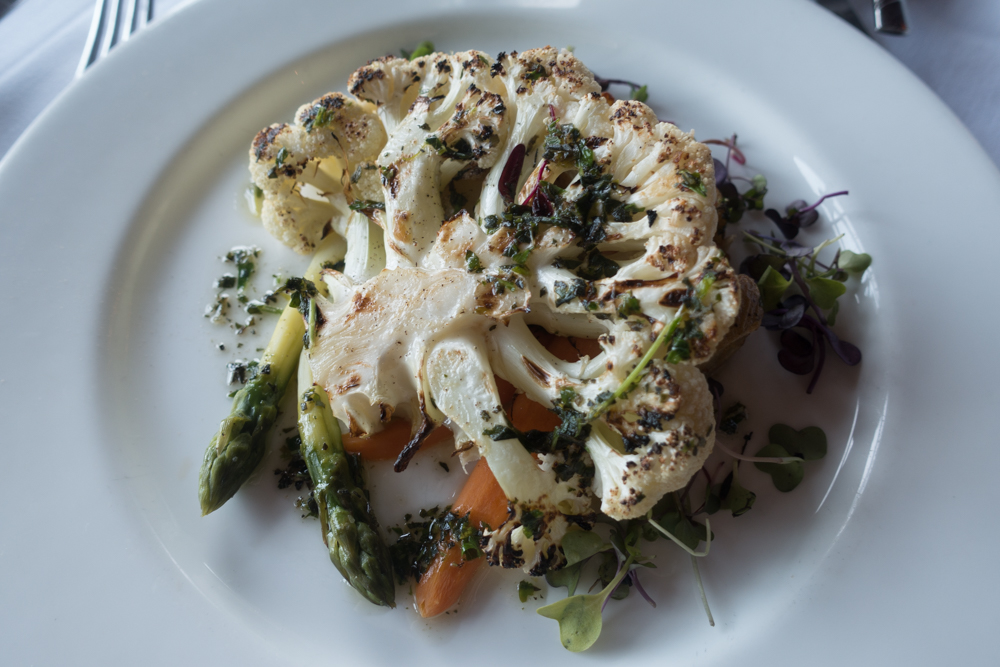 MUSHROOM POUTINE  | Vanguard Bar | Milwaukee, WI
After along day of beer sampling at the Beer Bloggers Conference in Milwaukee, we headed to the Vanguard Bar in the Bay View Neighborhood. The Vanguard Bar has a separate vegan menu. When I saw that there was poutine on the menu, I just had to order it. I had never had poutine before, and wanted to give it a try. It was so good! Perfect bar food. Next time I'm in Milwaukee, I am definitely heading back here.
vegan black bean burger | Sandhill Crane Vineyard | jackson, MI
In October, I went on a wine tasting tour to a couple of the wineries along the Pioneer Wine Trail located in Jackson, Michigan. Our second stop was at Sandhill Crane Vineyard, where we also had lunch. There are quite a few vegetarian options on their menu, including a vegan black bean burger. This vegan burger was huge! It was flavorful, filling, and perfect for a day of wine tasting.
jackfruit taquitos | No Bones Beach Club | Chicago VeganMania
I couldn't get enough of these jackfruit taquitios from No Bones Beach Club at Chicago VeganMania. They were perfectly fried; the jackfruit filling was flavorful and the crema on top was spot on.

I had some amazing vegan eats in 2017!I l love discovering vegan options while traveling. I am excited to try new vegan restaurants in 2018!
XO Jeni