Planning a trip to Boston soon? In this post, I share my recommendations on what to do in Boston!
Boston has been at the top of travel bucket list for awhile now. When I was deciding where to take a long weekend trip, Boston was one city that was at the top of my bucket list. I am a city girl at heart and I love exploring new cities as much as I can.

I thought that Boston would make the perfect spot for a long weekend trip because there is just so much to see and do. As soon as I booked our trip, I started planning out everything that I wanted to see and do. I quickly realized that I wasn't going to be able to fit in everything in 3 days. Since this was our first trip to the city, I wanted to make sure to do some of the popular tourist attractions.
When I was planning the itinerary, I realized that many of the attractions that we wanted to see were listed on the Go Boston Card. If you aren't familiar with the Go Boston Card, it is a multi-attraction pass that gets you into 41 Boston attractions plus one premium attraction on 3, 5 and 7-Day cards! We decided to that the 3 Day All-Inclusive Go Boston Card was a great value. We could do as many attractions as we wanted for just one low price.
I wanted to share with you some of our favorite things to do in Boston. Whether you are a historic buff, craft beer enthusiast, art lover or sports fan, Boston has something for everyone!
Freedom Trail Walking Tour
The 90-minute walking tour travels between Boston Common and Faneuil Hall, covering 11 of the 16 Freedom Trail historic landmarks. Having taken many history classes, including history of the American Revolution, I was excited to walk down famous red-brick trail. Walk down the red-brick path which leads you through Boston. You pass by the most important historical sites of the early days of American Revolution. If this is your first trip to Boston, the Freedom Trail Walking Tour is a must do!
Have a drink at America's Oldest Tavern
After exploring the Freedom Trail we stumbled upon Bell in Hand Tavern, America's Oldest Tavern. The tavern was established in 1795. Jimmy Wilson, Boston's last Town Crier, built Bell in Hand. The name refers to the bell that he used to carry around when he shouted the news around town. Have a drink where the Sons of Liberty planned the American Revolution! Hector went with The Bostonian cocktail and I went with one of their local beers on draft.
Museum of Fine Arts
Whenever I travel to a new city, I always have to go to their art museum. As an art history major in college, I am always excited to check out new art museums. The Museum Of Fine Arts in Boston has one of the most comprehensive collections of art in the U.S. We ended up spending a half day walking around the museum, exploring the vast collection of art. I was able to see some of the American paintings that I had learned about in my History of American Art class in college. I always love seeing paintings that I have studied in person.
Boston Common and the Public Garden
One of my favorite things about Boston is how easy it is to walk around the city. We walked as much as we could around the city. One of favorite places to walk and explore was Boston Commons. If you are looking for a scenic walk head to Boston Commons and the Public Garden on your trip. In 1634 Boston Common was created as America's first public park. Established in 1837, The Public Garden was the first public garden in America.


Explore the rich and unusual plants, the Lagoon, the monuments and fountains. Be sure to check out the Make Way for Ducklings Sculpture. A trip to Boston wouldn't be complete without seeing this iconic statue. Another fun thing to do at the gardens is take an iconic boat ride in the Swan Boats which were created and operated for over 100 years by the Paget family.
Visit Acorn Street
After walking around The Public Garden, we headed to the famous Acorn Street located in the historic Beacon Hill neighborhood, one of the oldest and most picturesque neighborhoods in the United States. It is easy to see why Acorn Street is one one of the most photographed streets in America. Row-houses line the narrow gaslit cobblestone street with brick sidewalks. Visiting this charming street is like stepping back in time to Colonial America.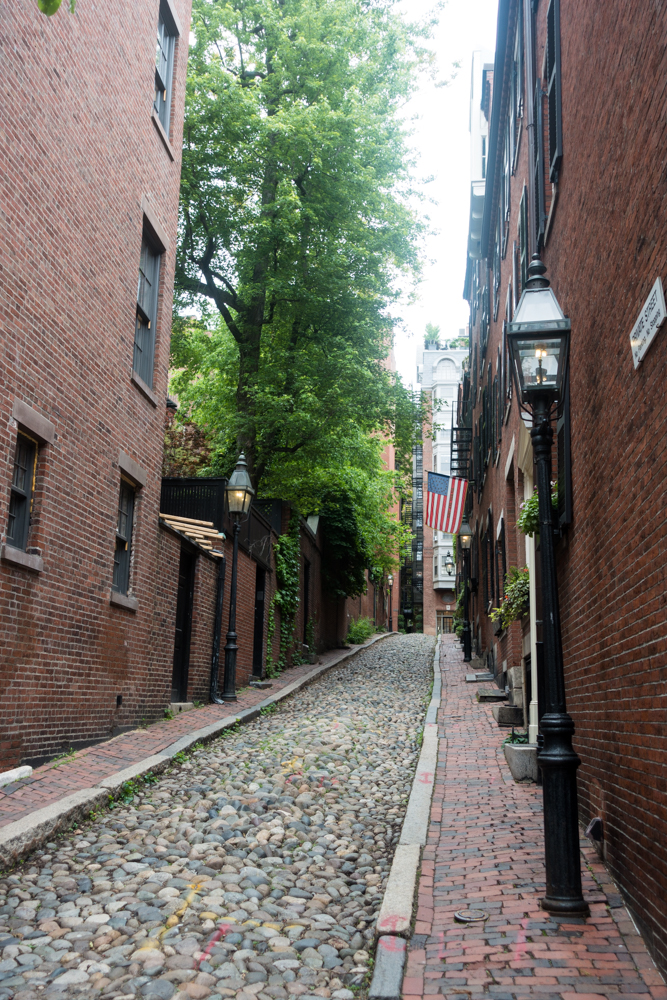 Explore Boston Harbor
We spent quite a bit of time walking along the Boston Harbor. Even though the weather was gloomy and rainy, we enjoyed seeing all the boats and just being by the water. While at Boston Harbor you can take a Boston Cruise with Boston Harbor Cruises. We used our Go Boston Cards for the USS Constitution Cruise and the Whale Watching Cruise. Read more about Boston Harbor Cruises here.
Take The "T"
I prefer taking public transportation as much as I can. If my destination isn't within walking distance, I'll opt for using public transportation. Boston has an incredible public transportation system. Boston's public transportation system is operated by the Massachusetts Bay Transportation Authority. Locals know it simply as the "T". We walked as much as we could be when we were tired of walking or it was late at night, we opted for the "T".

I know that this list barely scratches the surfaces of the things to do in Boston. I'm already itching to go back!
Be sure to pin this image for future reference!

Disclaimer: I received  a 3 Day All-Inclusive Go Boston Card but all thoughts are my own. 
XO Jeni