Now that I've shared what to do in Boston, it now time to share my Vegan Guide to Boston!

The first thing that I do after I start planning a trip is to check if there are any vegan restaurants or restaurants that have vegan options on the menu. I was happy to see Boston is very vegan-friendly. I made out my list of the top places that I wanted to eat at while we were in Boston. There were so many great choices, it was hard to decide! This list just includes the places that we ate at during our trip. Unfortunately we weren't able to eat at all the vegan-friendly places.
my thai vegan cafe
After reading some great reviews of My Thai Vegan Cafe, we decided to eat here since we love thai food. I have to be honest with you and tell you that I didn't like it at all. Hector thought the food was not that bad but I just found my food to be lacking in flavor. He ordered that Pad Thai which came with vegan shrimp and tofu. I usually get pad thai but I wasn't sure about vegan shrimp, so I went with the lo mein. I wouldn't recommend this at all, but I wanted to include it just in case you were thinking about going here.
Location:3 Beach St. (2nd Floor) in Chinatown, Boston MA - (617) 451-2395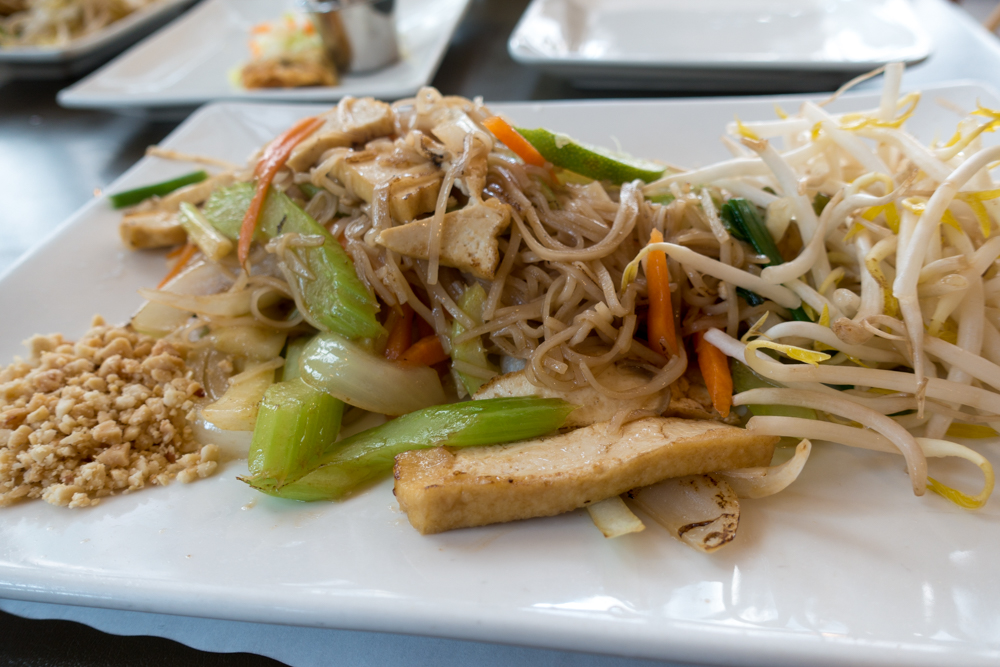 pavement coffeehouse
We actually had breakfast at Pavement Coffeehouse twice while in Boston. Hector just loved it so much the first time, we had to go back again for breakfast. They have multiple locations around the city. We ate at the Newberry Street location which wasn't too far from our hotel. They have a few vegan options including the Vegan Tequila Sunrise: tempeh, a spicy habañero tofu, pico de gallo served on a toasted bagel. This breakfast sandwich was so good! They also have some incredible coffee.
Veggie Galaxy
Located a short uber ride away from downtown Boston is Veggie Galaxy,  a vegetarian diner where everything can be made vegan! After exploring the Museum of Fine Arts, we took an uber up to Cambridge for lunch at Veggie Galaxy. When we walked in the door, we saw the crowd of people waiting to be seated. We knew the restaurant had to be really good based on the amount of people. We waited about 30 minutes before grabbing a seat up at the bar. We started our meal with the vegan mozzarella sticks. So good you guys! The cheese was melty and gooey. For my lunch I went with the ruben, which was also very good. Hector was craving breakfast so he went with pancakes. We didn't have any room for dessert. We were stuffed after all this food. They have a super cute retro rotating dessert case in the front of the restaurant. Highly recommend checking them out while in Boston!
Location: 450 Massachusetts Ave, Cambridge, MA 02139
Ula Cafe
When we were waiting for our tour outside the Sam Adams Brewery, located in the Jamaica Plaines neighborhood, Hector noticed Ula Cafe. He said that they probably had vegan options and we could have grabbed breakfast there. We google the menu and sure enough they had vegan options! You just never know where you'll find great vegan food. We decided to grab a quick lunch after our brewery tour. Ula Cafe has a really fun artsy vibe to it. I ordered the Curried Tofu Sandwich which had curried tofu salad with green apple, scallions and raisins, and cucumbers on peasant white bread. I'm normally not a fan of cold tofu, but I really loved this sandwich. I also got the vegan molasses cookie which was delicious.
284 Amory St Jamaica Plain, MA - 617·524·7890 - Hours: Weekdays 7 - 7 Saturday  8 - 7 Sunday 8 - 6
By Chloe
Now I know that there is some major controversy surrounding By Chloe since Chef Chloe left. I still wanted to include it in my vegan guide to Boston. There are now two locations: Seaport and Fenway. I had already planned on going to By Chloe before all the controversy started and I wasn't even sure if I should've went. When we were over in Seaport, we were starving and By Chloe was the closest vegan option that we could find. All of the food was amazing. I went with the broccoli soup and Kale Caesar salad. I was craving some greens and this definitely hit the spot. Hector went with the Pesto Meatball sub which he ate so fast!
Location: By Chloe Seaport -107 Seaport Blvd, Boston, Massachusetts
The Taza Chocolate Bar
I love taza chocolate and I was so excited to learn that they are based out of Boston. We didn't have time to go to their factory store in Cambridge. Next time this will be at the top of my list! We were able to check out The Taza Chocolate Bar located at the Boston Public Market. Since it had bee raining all day, I got a cup of vegan hot chocolate with almond milk. This hot chocolate was amazing! It wasn't too sweet either. I also had to get some of their vegan fudge. I think this was some of the best fudge that I've ever had. So rich and creamy!
Location: 100 Hanover Street Boston, MA 02108 - Monday - Saturday 8am-8pm -& Sunday 10am-8pm
Fomu
If you ask Hector is favorite part about our whole trip to Boston, he will tell you the ice cream at FoMu. He still can't stop talking about this ice cream. FoMu has a few different locations around the city. We went to the location on Newberry Street. This was honestly some of the best vegan ice cream that I have ate. So, so good! Hector got the cookies & cream and I got a raspberry crumble, one of their seasonal selections.

Boston overall some had great vegan dining options. Finding vegan options while traveling is one of my favorite parts about planning a trip! It is fun to see how many places offer some great vegan food.
Some of the places that we weren't able to get to include:
Cocobeet
Juice Press
Pressed
The Elephant Walk
For more posts on Boston check out these:

XO Jeni