Light, fluffy Vegan Orange Cranberry Muffins are the perfect way to start your day!
I love cranberry season! I've shared quite a few cranberry recipes on the blog over the years. I enjoy using cranberries in both sweet and savory recipes.
Today, I am excited to share a festive orange cranberry muffin made with fresh orange juice.
I adore muffins. Making muffins from scratch is really easy. You only need a few ingredients to create a delicious homemade muffin.
Many people might think that you need special ingredients for vegan baking. You don't need any specialty ingredients for these tender cranberry muffins.
I make sure to freeze a couple of bags of cranberries during the fall. Cranberries freeze beautifully too. This way you can make your favorite cranberry recipes anytime!
Instead of using a plant milk for the muffins, bright orange juice replaces the milk. Oranges and cranberries are the perfect pair. The orange juice also adds so much flavor to the muffin batter. Feel free to use fresh squeezed orange juice or store-bought. Either is fine for this recipe!
Orange zest adds an extra pop of orange flavor to the muffins.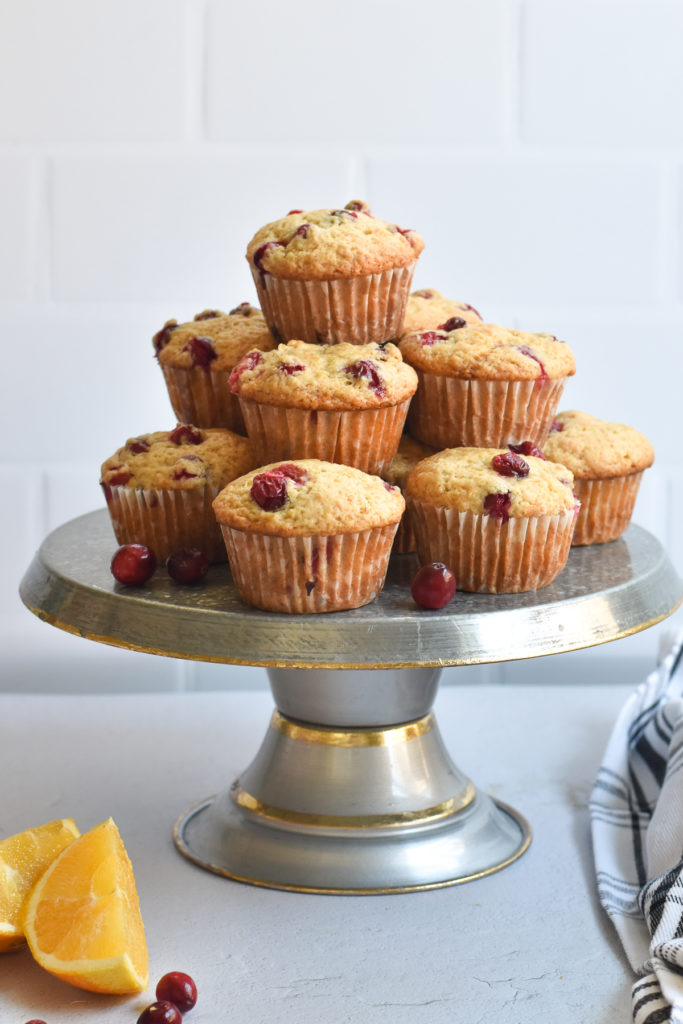 These cranberry muffins are slightly sweet with a touch of tartness from the fresh cranberries.
Whether making for family and friends, a holiday gathering or just for fun, these delicious Vegan Orange Cranberry Muffins will delight your tastebuds!
Check out these other delicious cranberry recipes:
Start you morning with a sweet, fluffy muffin with a wonderful orange aroma and fresh tart cranberries.
If you try this vegan muffin recipe, let me know! Leave a comment and rate it below. I love to hear what you think, or any changes you make to the recipe! It means a lot!
Vegan Orange Cranberry Muffin
Start you morning with a sweet, fluffy muffin with a wonderful orange aroma and fresh tart cranberries.
Ingredients
2 Cups All Purpose Flour 
⅔ Cup Cane Sugar
2 teaspoon Baking Powder
½ teaspoon Baking Soda
½ teaspoon Cinnamon
½ teaspoon Salt 
Zest of One Orange 
1 Cup Orange Juice
½ Cup Avocado Oil 
2 teaspoon Vanilla Extract 
1 ½ Cups Fresh Cranberries 
Instructions
Preheat oven to 375 F. Line a muffin tin with muffin liners or lightly grease.
In a large mixing bowl, mix together flour, sugar, baking powder, baking soda, cinnamon and salt.
Make a well in the center and add zest, orange juice, avocado oil and vanilla. Mix just until all wet ingredients come together.
About ½ way through mixing fold in the cranberries
Fill muffin tins ¾ full and bake for 22 to 25 minutes, or until lightly browned on top and a toothpick or knife inserted through the center comes out clean.
When cool enough to handle, transfer to cooling racks to cool completely.
Happy Cooking!
Jeni