This Pumpkin Jackfruit Curry is a fall inspired curry that is perfect on a chilly night!
During the fall and winter months, I love cooking with pumpkin.
Pumpkin doesn't have to be used in just sweet recipes. Canned pumpkin puree is great in savory recipes too!
This fall, I've been making this easy Pumpkin Jackfruit Curry for dinner. This curry is great because it's super simple to make; perfect for a weeknight meal!
This recipe is inspired by my Easy Jackfruit Curry recipe; which is one of my most popular recipes on the blog! Have you tried it yet?!
The base of this easy vegan curry is onion, fresh ginger, garlic, and a jalapeno. I like to add jalapeno just for a hint of spice. If you like things on the spicer side, I'd recommend leaving the seeds in the pepper!
I love the addition of jackfruit to curries. I think it adds a great texture.
If you aren't a big fan of jackfruit or are unable to locate it, I think that canned chickpeas would be delicious in this pumpkin curry!
how to serve the curry
I always have to serve rice with curry. I like to serve this curry along side some steamed white rice. I make a batch of rice after I shred the jackfruit. Since white rice only takes about 15 minutes to cook, the curry and rice should be done around the same time.
I like to garnish with fresh chopped cilantro and roasted cashews or peanuts.
If you a pumpkin fan, I hope that you give this savory pumpkin curry a try!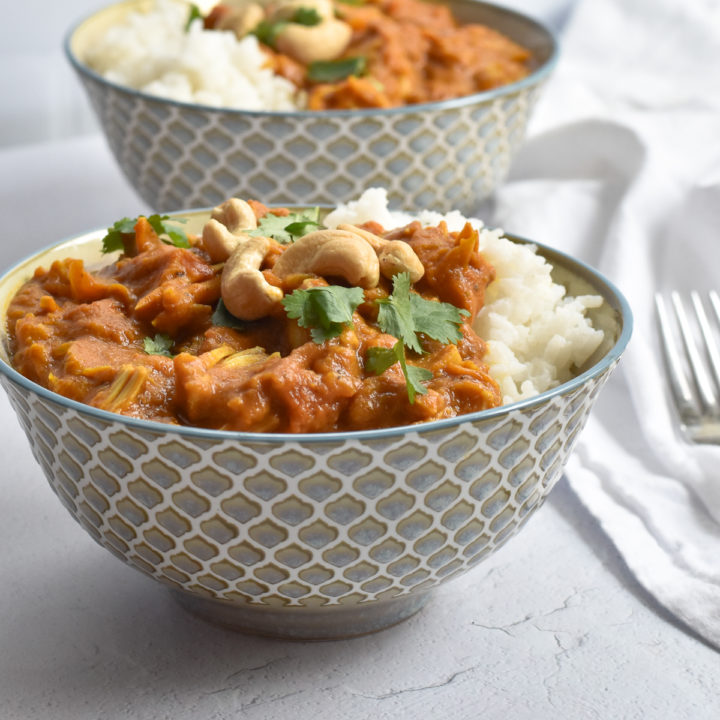 Pumpkin Jackfruit Curry
This Pumpkin Jackfruit Curry is a fall inspired curry that is perfect on a chilly night!
Ingredients
2 Tablespoons Avocado Oil
1 Large Yellow Onion, diced
1 teaspoon Fresh Ginger, minced
3 Garlic Cloves, minced
1 Jalapeno, seeded and minced
2 Tablespoons Curry Powder
¼ teaspoon Cinnamon
1 Tablespoons All Purpose Flour
1 Cup Vegetable Stock
Coconut Cream from the top of one can of full-fat coconut milk**
1 -15 ounce can Pumpkin Puree
1 -15 ounce Can Diced Tomatoes
1 -20 ounce Can Jackfruit packed in water or brine, drained and rinsed
Salt and Black Pepper to taste
For serving:
Cooked rice
Chopped Cilantro
Chopped Roasted Cashews or Peanuts
Instructions
In a large dutch oven or soup pot, heat the oil over medium heat. Once hot add the diced onion and cook until soft and translucent, about 5-7 minutes.
Add the minced ginger, garlic and jalapeno. Cook 2 minutes. Add the curry powder and cinnamon, stir, making sure to coat everything with the curry. Cook 1 minute.
Lower the heat to low and sprinkle in the flour and stir. Cook 2 minutes.
Pour in the vegetable stock, coconut cream, pumpkin and tomatoes.Raise the heat back up to medium. Stir and cook until the coconut cream has melted into the stock, about 2-3 minutes.
Add the jackfruit. Bring to a boil then reduce heat to low. Cook for 20-25 minutes.
Carefully use two forks to shred the jackfruit. If you are making some white rice to go along the curry, this is the point when I make the rice.
Cover the curry and cook for another 10-15 minutes. Add salt and pepper to taste.
Serve and enjoy!
Happy Cooking!
Jeni