One of my favorite parts about traveling is finding vegan food options in the most unexpected places. Earlier this month, I traveled to Marquette, Michigan for a getaway.
Located on the Southern shores of Lake Superior in the Upper Peninsula, Marquette is the perfect getaway for anyone seeking nature, outdoor adventure, great food and beer.
Prior to this trip, I had only been the the Upper Peninsula once. I have been wanting to visit Marquette for a few years now and I finally had the opportunity to visit earlier this month.
Even though my visit was short, I was able to explore all of what Marquette had to offer—including lots of vegan options.
I love visiting college towns like Marquette because they tend to have at least a few vegan-friendly options. Marquette is home to Northern Michigan University and there are no shortage of vegan-friendly places to eat.
This Vegan Guide to Marquette, Michigan will show you where you can find vegan options on your trip up to Marquette!
Iron Bay Restaurant and Drinkery
Located along the Iron Bay Harbor in downtown Marquette, Iron Bay is a historical landmark. The historic building originally housed the Iron Bay Foundry which was built in 1872. This building was the heart of the city and the lifeblood of the mining industry.
As soon as we arrived to Marquette, we headed to the Iron Bay for lunch. I was starving after the 7 hour car ride up to Marquette. We walked from our hotel to Iron Bay which sat at the perfect location along the harbor. I loved that the restaurant had photos showing the history of the building.
We were greeted with a warm welcome and and I asked about their vegan options. Our server was amazing and made sure to double check with the chef.
They have one item on the menu that is already vegan—the Vegetarian Sweet Potato Quinoa Non-Burger.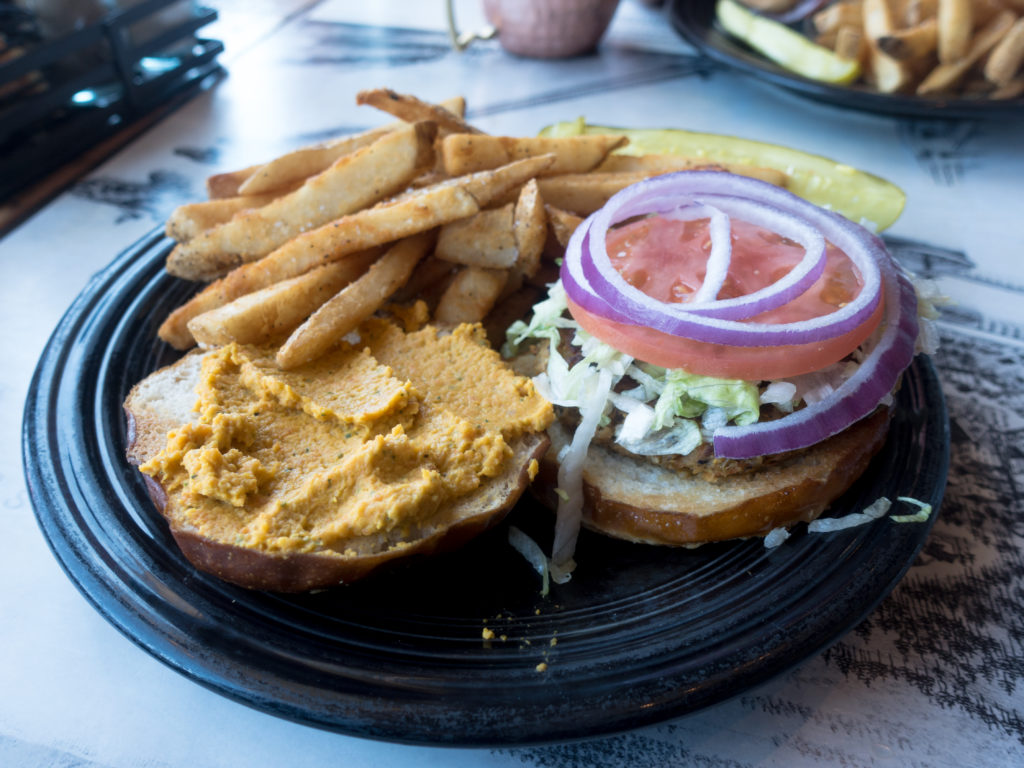 I loved that this veggie burger was topped with carrot hummus. I would've never thought to have topped a veggie burger with hummus!
Marquette Food Co-op
I love visiting local food co-ops when traveling. They usually have lots of great vegan options. The Marquette Food Co-op was probably one of my favorite places in Marquette.
Since 1971, The Marquette Food Co-op is Marquette's only full service Natural and Organic Community-Owned Grocery. Over 4,000 households collectively-own the co-op. The Co-op kitchen and cafe offers many different vegan options.
For breakfast, I ordered the Vegan Breakfast Sandwich—a house-made English Muffin was topped with Tofu Steak, Adobo Mayo, Fresh Spinach,Tomatoes, Roasted Balsamic Veggies and Mushrooms.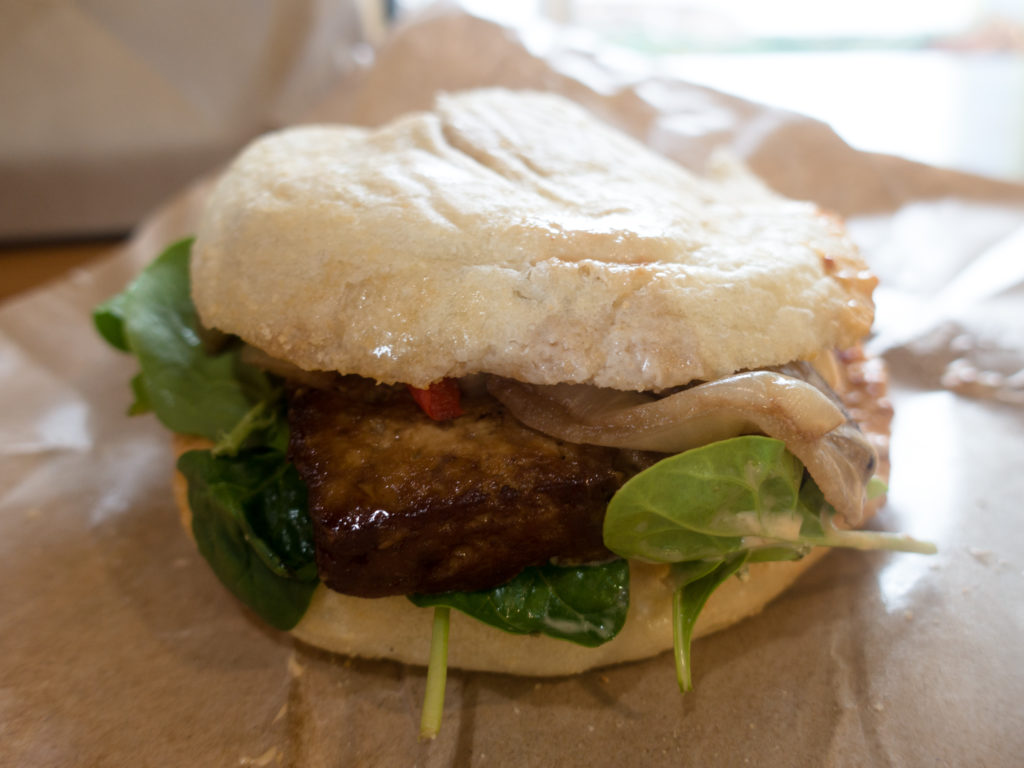 The Co-op also has a prepared deli section with lots of vegan options. I stopped here a few times to pick up a few items during my trip. There were just so many great vegan options. From prepared sandwiches, salads, and dessert, you won't go hungry!
BabyCakes Muffin Company
Since 1988, BabyCakes Muffin Company has been serving Marquette with delicious muffins and coffee.
BabyCakes offers a few different vegan and gluten-free options. I love muffins and it is really exciting when I found vegan muffins while traveling. After doing some hiking, we stopped at BabyCakes for breakfast. I just had to get there vegan and gluten-free blueberry muffin. Blueberry muffins are my favorite, so it's had to resist when I see one.
The muffin was the perfect breakfast after hiking. The coffee was really good too!
Superior Culture
If you are into kombucha, be sure to stop at Superior Kombucha. They offer beverages that have been brewed and flavored with freshly pressed fruit & vegetable juices, organic tea & sugar, local grains, herbs and spices. The ingredients are always sourced as locally as possible- organic and wild when available.
I tried a few of their kombuchas on tap. They offer both alcoholic and non-alcoholic kombucha. My favorite that I tried was the non-alcoholic strawberry rhubarb kombucha. It was so good! It tasted just like fresh picked strawberries.
There aren't too many food options, be there are a few things to eat. We ordered their chips and salsa. What I loved about this salsa was that is was fermented. Have you ever had fermented salsa before? This was my first time trying it and I love it.
They also have fire shots available. This was my first time having a shot of kombucha. The fire shot featured barrel-aged kombucha, lemon, orange, ginger, tumeric, onion, garlic, black and spicy pepper. This shot was spicy!! I highly recommend getting a fire shot. It is very unique!
Third Street Bagel
I don't eat bagels very often, but I really enjoy a good bagel sandwich. At Third Street Bagel , they offer a wide variety of bagels and bagel sandwiches.
I ordered the Middle Easter Bagel Sandwich—the bagel was layered with homemade hummus, cucumbers, tomatoes, and sprouts.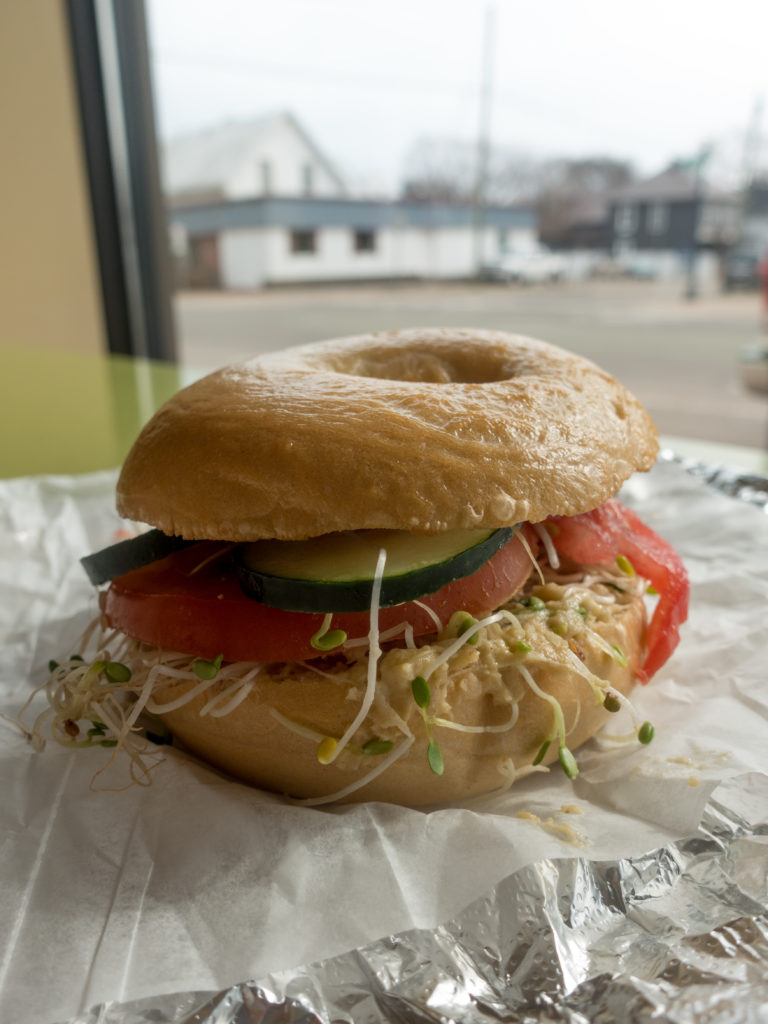 This was a great really bagel sandwich. I am pretty sure that this was my first time having hummus on a bagel and it was so good!
There are so many great vegan-friendly options in Marquette, Michigan. During my visit, I stayed at the Ramada by Wyndham, which was the perfect location. I was able to walk downtown to many of the places mentioned in this guide.
pin this image for future reference!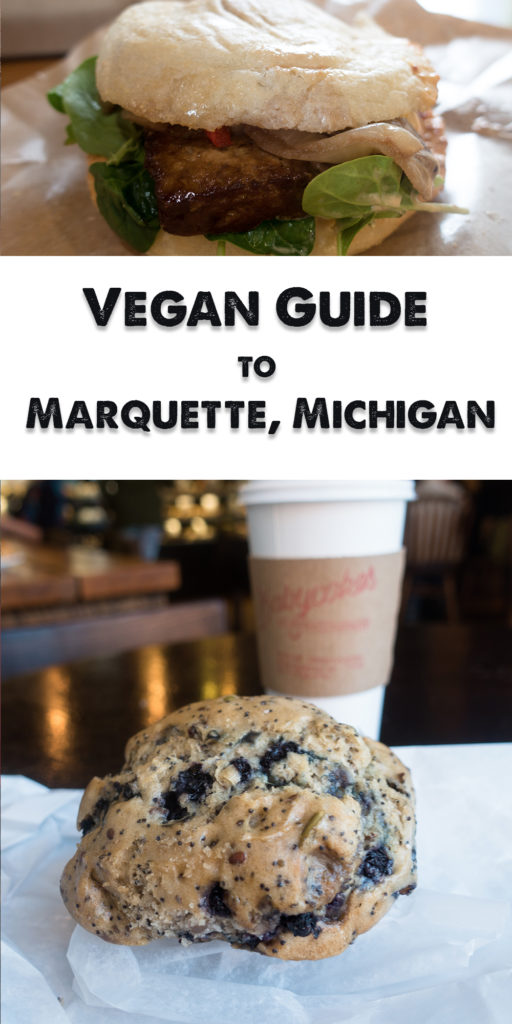 Thank you to Travel Marquette for hosting me during my visit to Marquette. As always all options are my own.
XO Jeni