This Mexican Chocolate Banana Cake has quickly become a new family favorite around here. The cake is easy to make and comes together pretty quickly.
If you have a couple of overripe bananas and love Mexican chocolate, give this banana cake a try!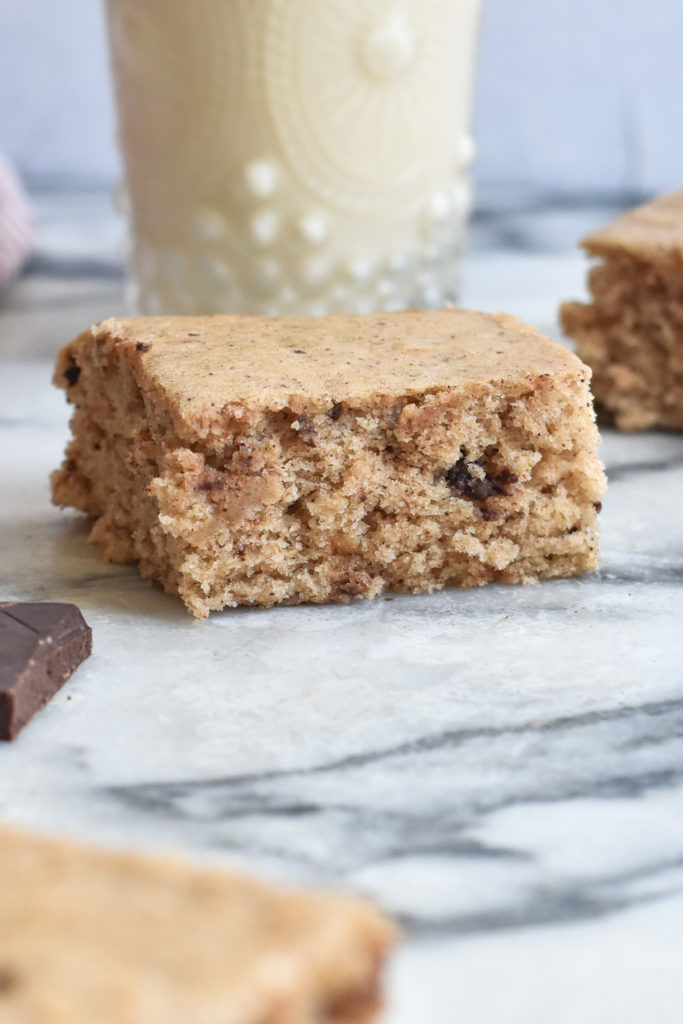 what is in the chocolate banana cake
Ripe bananas- It just wouldn't be a banana cake without bananas! You want your bananas to be really spotty and ripe.
Vegan butter- The butter will act as the fat in the cake and create a tender cake.
Non-Dairy Yogurt- Instead of using eggs, non-dairy yogurt is used in place of eggs.I really have been loving using yogurt in baked goods. It helps to create a light, tender cake. I prefer to use an unsweetened non-dairy yogurt when I am baking.
Sugar- I prefer to use cane sugar when baking. Be sure to double check that your sugar is vegan if you want to keep this recipe completely vegan.
Vegan Buttermilk- For the vegan buttermilk, combine soy milk and vinegar together. This is create a homemade non-dairy buttermilk.
Aromatic spices- For the spices in the cake, I like to sure nutmeg, allspice, cloves, and cinnamon. The spices make this cake warm and cozy. I used a spice grinder to grind whole cloves and allspice berries, but if you are short of time it is perfectly ok to use pre-ground spices from the store.
Flour- For this banana cake recipe, I use unbleached all purpose-flour. I haven't tried this recipe with any other flour.
Mexican Chocolate- For the chocolate part of the cake, we are going to be using Mexican chocolate.
what is Mexican chocolate?
If you aren't familiar with Mexican Chocolate, this would be a great recipe to try it out. There are a few different brands that are naturally vegan.
The texture is very grainy compared to normal baking chocolate.  The is chocolate is made from from cacao nibs, sugar and cinnamon.
My favorite brand is Taza chocolate. Sometimes I can find this brand of Mexican chocolate at a local store, but it's usually easier to order it online.
I like that Taza Chocolate offers a variety of flavors like vanilla and cinnamon too.
Ibarra is also vegan and sometimes can be found in the International aisle of the grocery store.
The texture is definitely more cake-like than your typical banana bread. The cake is sweet enough on its own so there is no need for any frosting or glaze. The banana and chocolate really compliment each other without over-powering each other.
Mexican Chocolate Banana Cake is the perfect to make during the fall and winter months! Serve for dessert or along side your coffee in the morning for an extra sweet breakfast treat.
Mexican Chocolate Banana Cake
Mexican Chocolate Banana Cake is the perfect to make during the fall and winter months! Serve for dessert or along side your coffee in the morning for an extra sweet breakfast treat.
Ingredients
½ cup Non-Dairy Milk
1 Teaspoon Apple Cider Vinegar
2 Cups All-Purpose Flour
1 ¼ cups Sugar
1 Teaspoon Baking Powder
1 Teaspoon Salt
½ teaspoon Baking Soda
1 ½ teaspoons Cinnamon, preferably Mexican Cinnamon
¼ Teaspoon Freshly Ground Cloves
¼ Teaspoon Ground Allspice
Pinch Freshly Grated Nutmeg
½ cup Vegan Butter, softened
2 Very Ripe bananas
½ Cup Non-dairy yogurt 
Instructions
Heat oven to 350 degrees. Grease a 13 by 9-inch baking pan
In a small bowl add the milk and apple cider vinegar. Set aside.
In a medium mixing bowl whisk together the flour, sugar, baking powder, salt, baking soda, cinnamon, cloves, allspice, and nutmeg.
In a stand mixer, beat together the bananas and vegan butter for 2 minutes. Beat in non-dairy yogurt until smooth.
Beat in the dry ingredients alternating with the milk. Fold in the chopped Mexican chocolate.
Spread mixture evenly into the prepared pan. Bake until a tester comes out clean, about 35-40 minutes.
Cool completely before serving.
Nutrition Information:
Yield:

12
Serving Size:

1
Amount Per Serving:
Calories:

330
Total Fat:

12g
Saturated Fat:

8g
Trans Fat:

0g
Unsaturated Fat:

4g
Cholesterol:

25mg
Sodium:

354mg
Carbohydrates:

51g
Fiber:

2g
Sugar:

32g
Protein:

4g
Nutrition information is just an estimate.
Happy Baking!
Jeni