This rich creamy green bean pasta takes less than 30 minutes to cook! Perfect for when you're craving something a little more decedent for dinner.
Pasta is a great option for when you are busy and on the go. I love changing up the pasta sauce and vegetables. There are so many possibilities when it comes to pasta! I make pasta at least once a week. I have found that pasta recipes are a quick and easy to make.
In fact this recipe is inspired by my Creamy Vegan Asparagus Pasta recipe!
This creamy pasta sauce is so easy to make. To make the sauce, just add all of The blender does most of the work!
To make this sauce extra creamy, I like to use vegan cream cheese. The cream cheese creates a luscious pasta sauce. There are so many great vegan cream cheeses out there on the market now. I really like Trader Joe's vegan cream cheese and Kite Hill's vegan cream cheese.
For a pop of flavor, lemon juice and nutritional yeast take this pasta sauce to the next level. The fresh lemon juice goes so well with the green beans too!
If you follow a gluten-free diet, I've made this pasta recipe many times with gluten-free pasta. I really love using a chickpea based pasta. The texture holds up really well. Plus, the chickpea pasta is packed with tons of protein!
If you give this recipe a try, let us know what you think! Leave a comment, and don't forget to tag a picture #thymeandlove on Instagram. We'd love to see what you come up with!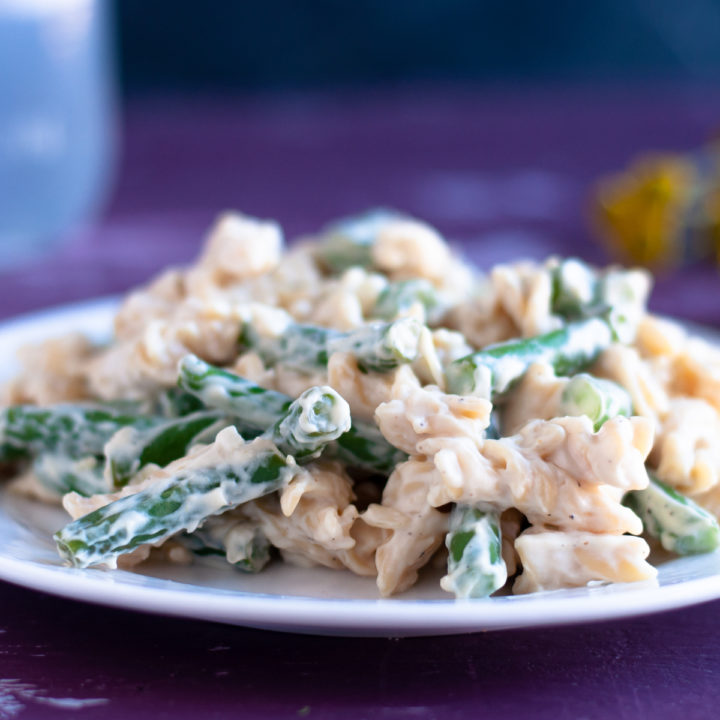 Creamy Green Bean Pasta
This rich creamy green bean pasta takes less than 30 minutes to cook! Perfect for when you're craving something a little more decedent for dinner.

Ingredients
1 tablespoon Olive Oil
1 Small Yellow Onion, diced
4 Garlic Cloves, minced 
2 ½ Green Beans, roughly chopped 
Salt, to taste
Pepper, to taste
12 ounces Pasta, gluten-free if necessary 
1 Cup Vegan Milk, I used unsweetened soy milk 
8 ounces Vegan Cream Cheese
1 ½ Tablespoons Lemon Juice
2 Garlic Cloves 
Instructions
Heat a large skillet over medium heat. Once hot, add olive oil and onion. Saute for 3-4 minutes.
Add the garlic, cook for 1 minute.
Add in the chopped green beans; stir. Season with a pinch of salt and pepper and stir.
Sauté for 7-9 minutes, stirring frequently, until the green beans are tender. Remove from skillet and set aside. If you prefer more tender green beans, cook longer until desired texture is reached.
While the green beans are cooking, bring a large pot of water to a boil and season with salt. Add pasta and cook according to package instructions, reserve some pasta water, then drain and set aside.
Meanwhile, make the pasta sauce.To a blender add the 2 garlic cloves, vegan cream cheese, soy milk, nutritional yeast, lemon juice, sea salt and black pepper to taste.
Blend until creamy and smooth. Taste and adjust flavor as needed. Pour into the same skillet that you cooked the green beans in.
Heat the sauce over medium heat to warm until slightly bubbly, then reduce heat to low to keep warm. Stir occasionally.
Add the cooked onion and green bean mixture. Cook for 2-3 minutes.
Add cooked drained pasta directly to the sauce along with some of the reserved pasta water. Stir to coat and enjoy immediately.
Xo Jeni