Calling all ranch lovers! You're going to love this Creamy Cashew Ranch Dressing! It's not only dairy-free, but it's also gluten-free and oil-free!
If I had to pick a favorite salad dressing, it would be ranch. Just like many Americans, I grew up loving ranch dressing. We always had a bottle of ranch dressing in the fridge. We were a Kraft Ranch Dressing family. We didn't like Hidden Valley for some reason.
There are a few vegan ranch dressings that you can buy at the store. I have tried a few and I wasn't a big fan. The dressings didn't taste that fresh to me, so I decided to create my own homemade version.
This Creamy Cashew Ranch Dressing is perfect on salads and for veggie dipping.
what you need to make the dressing
You only need a few simple ingredients to create this delicious homemade ranch dressing.
First, you'll need raw cashews. I like to soak the cashews for 2 hours before blending in my high-speed blender.
For tang, I like to use a combination of fresh lemon juice and apple cider vinegar.
Next, dried herbs are added to the mix. I love the combination of garlic powder, onion powder, and dried dill.
For freshness, I like to add chopped fresh parsley to the ranch dressing after it's been blended.
I love serving the ranch dressing with a simple garden salad. The ranch dressing is definitely the star of the salad!
This Creamy Cashew Ranch Dressing is also perfect drizzled over my Vegan BBQ Ranch Chicken Salad and Buffalo Chickpea Salad.
I hope that you enjoy this vegan version of classic ranch dressing!
Creamy Vegan Ranch Dressing
Yield:
½-3/4 Cup Dressing
Total Time:
2 hours
10 minutes
This Creamy Cashew Ranch Dressing is perfect on salads and for veggie dipping!
Ingredients
½ Cup Water, plus more if needed
1 Tablespoon Lemon Juice
½ teaspoon Sea Salt, or to taste
1-2 tablespoons fresh parsley, chopped
Instructions
Add the cashews, water, lemon juice, apple cider vinegar, dill, onion powder, garlic powder, and salt to a high speed blender. Blend until smooth. Add more water if necessary.
Taste and adjust seasonings if needed.
Transfer to an air tight container. Stir in the chopped parsley. Store in the fridge until ready to serve.
If the dressing thickens up too much as it sits, simply add a little water to thin the dressing.
Notes
Prep time doesn't include soaking the cashews.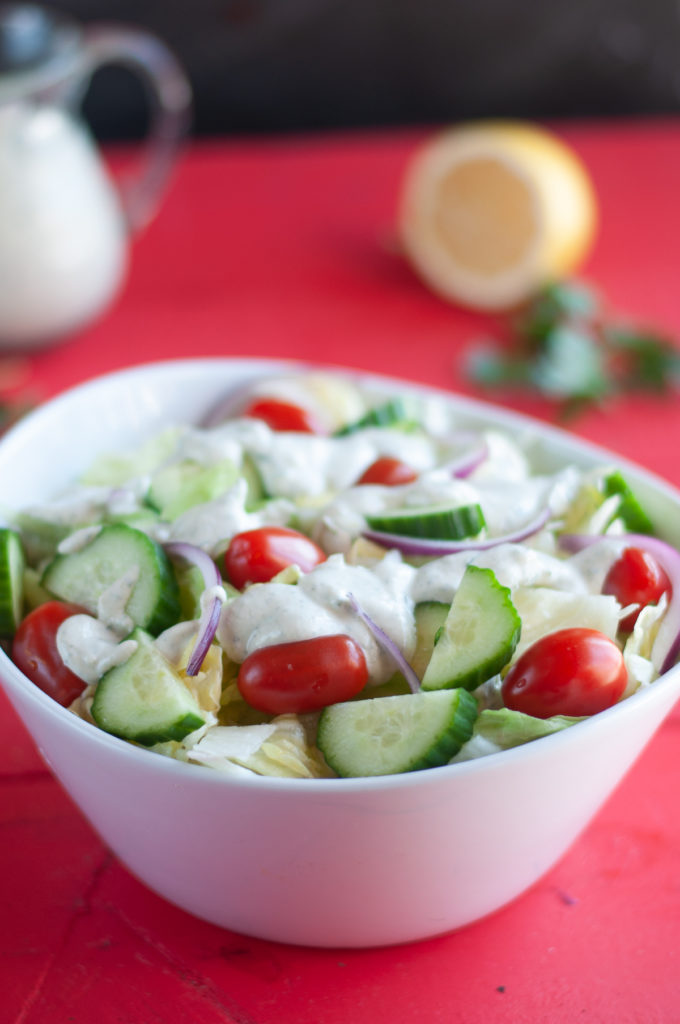 Xo Jeni