Last weekend the temperatures dropped here in the Midwest. It was unseasonably chilly and it definitely didn't feel like it was almost June! With such a dip in temperatures, I was left craving something a little more heartier and comforting. I looked at the pantry to see if I had anything to create some sort of soup or stew without having to go to the store. I found some of my favorite pantry staples that I have mentioned quite a bit here on the blog: canned hominy, white onions, garlic, fire-roasted tomatoes, and some leftover Field Roast Mexican Chorizo from when I made the Vegan Latin Rice with Chorizo that I shared earlier this week. I knew that with these pantry staples and a few basic spices, I could create a delicious and comforting soup for this chilly weather.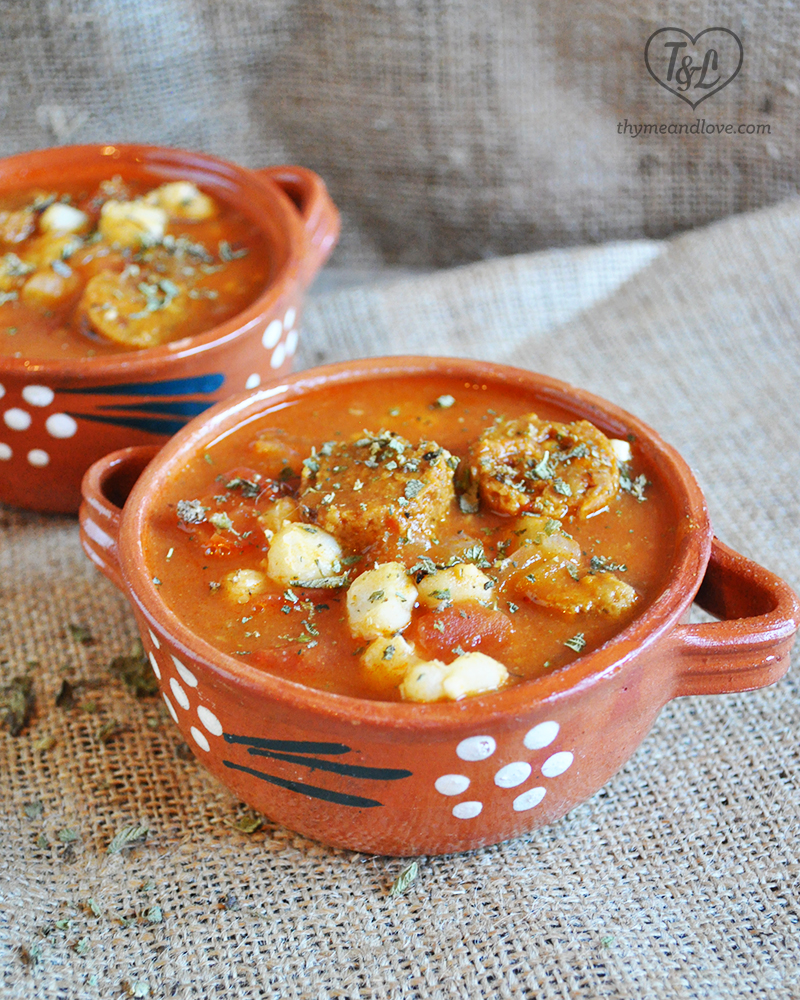 Well I did intend to make a soup, but it turned out more like a stew. This usually happens to me because I prefer a chunkier type of soup. You can always add in more vegetable broth if you prefer more broth.
This soup is relatively easy and comes together without too much work. I like to thicken stews and chili with a little masa harina. When the soup is almost done, in a small bowl add 2 tablespoons of the masa harina, which you can find in most grocery stores these days, and 3-4 tablespoons of water or vegetable broth. Mix together until the masa harina is mixed with the water. This adds a really nice corn flavor; perfect pairing with the hominy.
For a little brightness, I topped the stew with Mexican Oregano that has been crushed between your fingers. I learned this from eating Posole in Mexico. When the Posole is brought out to you, a jar of dried Mexican Oregano is served along side. You take a little bit of the oregano and crush it between your fingers over the soup/stew. The crushed Mexican oregano adds a bright and citrusy note to the stew.
This Chorizo and Hominy Stew is a great use of pantry staples and is easy to prepare.
Perfect when the weather is a little cooler!

Chorizo + Hominy Stew
A simple and easy to make recipe that doesn't require tons of ingredients. Perfect for when the weather is a little cooler outside!
Ingredients
2 Tablespoons Olive Oil, divided
3-4 Veagn Field Roast Mexican Chorizo Sausages
I Large White Onion, diced
4 Large Garlic Cloves, minced
1 Tablespoon Smoked Paprika
1 teaspoon Cumin
½ teaspoon Coriander
¼ teaspoon Cayenne Pepper
Salt and Pepper to taste
1 29 Ounce Can Hominy, drained and rinsed
2 14.5 Cans Fire Roasted Tomatoes
4 Cups Vegetable Broth*
2 Tablespoons Masa Harina
3-4 Tablespoons Water
To Serve
Instructions
Remove the casings from the chorizo. Sliced the sausages into rounds. Heat 1 tablespoon of the oil over medium heat in a large soup pot or dutch oven. Add the sausages and cook 3-5 minutes, or until they are lightly browned. If the pan isn't large enough, you might have to cook the sausages in two batches. You do not want to over crowd the pan when cooking. Transfer to a bowl and set aside until needed.
In the same pot, add the remanding tablespoon of oil. Add the onion and sauté until soft, about 5-8 minutes. Stir in the garlic and cook for 1 minute.
Add the paprika, cumin, coriander, cayenne pepper, salt and pepper to the pot. Stir and cook for 1 minute, stirring often.
Add the drained hominy, tomatoes, and broth. Stir everything together. Bring to a bowl then reduce heat to low and cover. Cook for 20 minutes, stirring once in a while.
In the last 5 minutes of the 20 minutes, make the masa harina mixture. In a small bowl mix together the masa harina with 3-4 tablespoons of water. Mix until you have a smooth mixture.
After the 20 minutes, stir in the masa mixture into the stew. Cook for 5 more minutes.
Add the cooked chorizo sausages back into the pot and cook for another 5 minutes, just to reheat the sausages.
Taste for salt and pepper.
Serve the stew int soup bowls. Serve with the Mexican oregano in a jar on the side. Crush a little bit of the oregano in your hands over the stew.
Enjoy!
Notes
If you prefer a more liquid soup then a stew, add in 2 additional cups of broth.
Enjoy!
XO 
Jeni