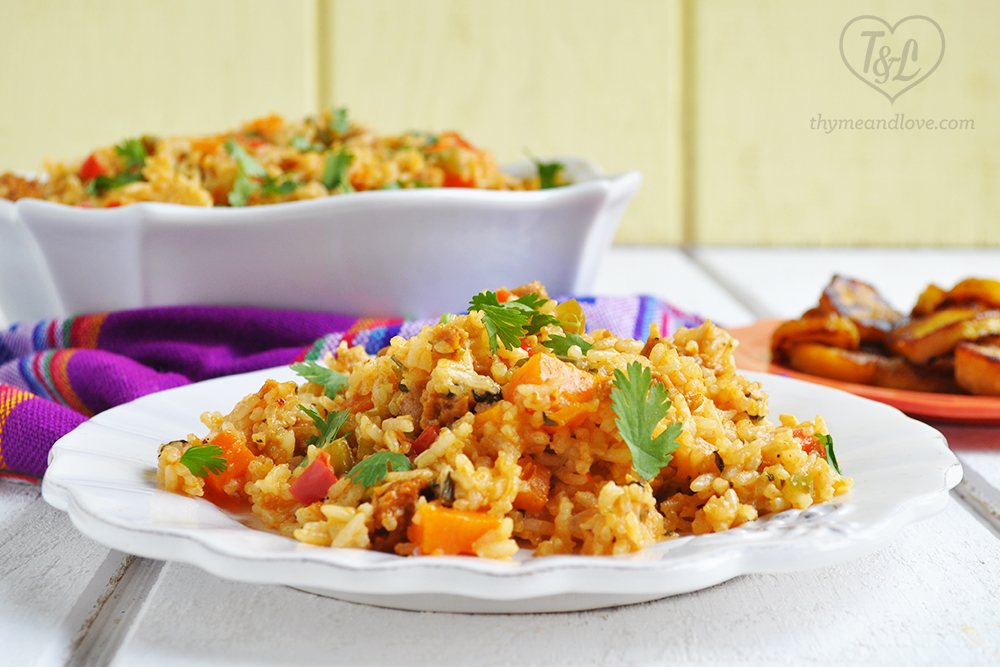 Last weekend, Hector and I visited my dear friend Angie and her Mom. It was so great to spend some quality time together. Angie and her Mom are from Venezuela and I have been inspired by the cuisine and flavors. I have found that one of the best ways to learn about a culture is through its food. We spent the day at the beach, catching up about life. Of course we also talked about food and different recipe ideas. Hearing Angie's Mom talk about different recipes, inspired me to create this Vegan Latin Rice with Chorizo.  
I have found that many skillet rice dishes are more Tex-Mex inspired and use a lot of chili powder and other spices. Using chili powder isn't common in Venezuelan cuisine; rather, a sofrito is used to give a dish tons of flavor. A sofrito is the backbone to many Venezuelan and Latin dishes. Sofrito is a sauce that usually consists of  onion, garlic, sweet bell peppers, green onions, tomatoes, cumin, and cilantro. The sofrito is the base of this Latin inspired rice dish. In the recipe, I didn't use tomatoes but you can always add in a couple chopped roma tomatoes along the the onions and peppers.
This recipe is a great one skillet meal. After making the sofrito base, Vegan Chorizo is diced up and added to the sofrito. I used Field Roast's Mexican Chorizo because of its firmer texture. Soy Chorizo tends to be a little bit softer. When the rice is added, some diced sweet potato is added to the mix. The sweet potato adds a little bit of extra nutrition to the dish. I also happen to love the combination of sweet potatoes and chorizo.
When the rice is almost done cooking, in another skillet I sautéed some sliced plantains in a little bit of coconut oil. Technically the recipe is no longer a one skillet meal; however, the plantain is so worth the extra skillet. The sweetness of the plantains is perfect with the spiciness of the chorizo. When you are eating the rice, you will get a little bit spicy and a little bit sweet.

Perfect Latin flavors.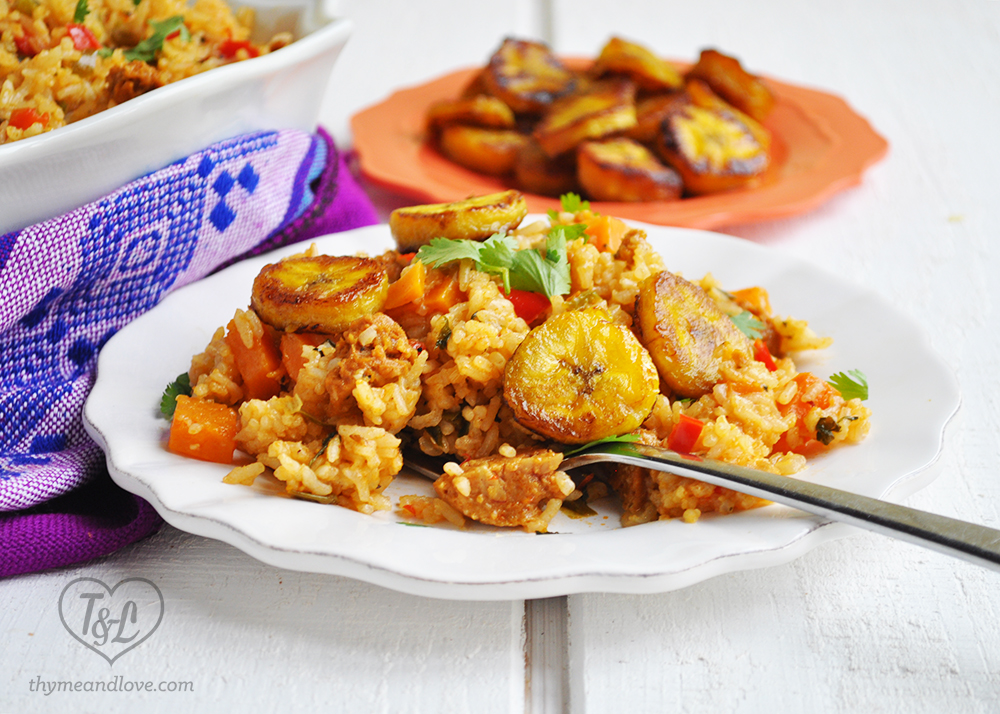 Vegan Latin Rice with Chorizo
Total Time:
1 hour
20 minutes
A Latin inspired rice dish that starts off with a flavorful sofrito, made of onions, sweet peppers, garlic, and cilantro. Vegan Chorizo is a nice spiciness and kick to the rice. Sautéed plantains top the rice when its done, adding a sweetness to the dish which pairs nicely with the chorizo.
Ingredients
2 Tablespoons Olive Oil
1 Medium Yellow Onion, diced
1 Red Bell Pepper, diced small
1 Green Bell Pepper, diced small
4 Green Onions, both white and light green parts, chopped
3 Garlic Cloves, minced
Salt + Pepper
1 teaspoon Cumin
½ Cup Cilantro, chopped
2 Field Roast Mexican Chorizo Sausages
2 Cups Extra-Long Grain White Rice
1 Cup Sweet Potato peeled and diced small
4 ¼ Cups Vegetable Broth or Water
For Plantains:
1 Tablespoon Coconut Oil
2 Rice Plantains, sliced
To Serve:
Instructions
In a large deep sided skillet or pot, preferably with a clear lid, heat the olive oil over medium heat. Add the onion, diced bell peppers, green onion, garlic, and a pinch of salt and pepper to taste. Lower the heat to medium low. Stir everything together and sauté, stirring often, for 10-12 minutes, until the vegetable are soft. Stir in the cumin and cilantro into the mix and sauté 5 more minutes. Taste and adjust for salt and pepper.
While the sofrito is cooking, in a medium size bowl, add the rice and cover it with hot water for 5 minutes. In a fine-mesh strainer, drain the rice and rinse under cold water until it runs clear. Set aside until ready to use.
Meanwhile, while the sofrito is cooking, remove the chorizo from the casings. Cut them into a bite size dice.
When the sofrito is done, raise the heat back up to medium. Stir the the diced chorizo and cook 3-4 minutes. Stir in the drained rice and toast for 3-4 minutes, stirring often.
Add in the diced sweet potato and vegetable broth or water. Bring to a low-boil, stir just once, then reduce heat to low and cover. Cook for 30 minutes, or until all the liquid has been absorbed and the rice is cooked.
When the rice is cooking, cook the plantains. In a skillet heat the coconut oil over medium-high heat. If you skillet isn't large enough, you might have to cook the plantains in two batches. Add the sliced plantains and sauté a few minutes on each side, until they are golden brown. Transfer to a plate and cover until the rice is done.
When the rice is done, remove from heat. Let the rice sit for 5 minutes, then fluff with a fork.
Top the rice with the chopped cilantro and sautéed plantain slices.
Enjoy!
This Vegan Latin Rice with Chorizo tastes great the next day too!
Be sure to tag us in your photos at #thymeandlove!
We love to see your photos. It really makes are day!
XO
Jeni