Every Summer my Grandma would have a small garden; she only grew a few things because she didn't have much of a green thumb. She would always grow zucchini because she made the best zucchini bread. Throughout the Summer, Grandma would make loaves of her zucchini bread to give to family, neighbors, and she would always make sure to freeze some to have throughout the rest of the year. It was just the best.
Often the zucchini in the garden would get large, almost the size of baseball bats. I don't think she ever used small, regular size zucchini. Maybe she just preferred the large, overgrown ones. I am not a big fan of using those large, overgrown zucchinis. I prefer to use a medium-large zucchini for baking.
One of my main goals for the Summer was to make my Grandma's Zucchini Bread recipe. So far I have managed to bake 6 batches of bread with more planned this weekend. I have tweaked the recipe from the original version just a tiny bit. The originally version called for eggs and since I wanted the bread to be Vegan, I simply subbed two flax eggs.
Instead of baking the bread in two bread pans, I decided that it would be fun to create mini loaves, which are the perfect size for gift giving! Because who doesn't love receiving homemade baked goods?! I found this great 4 mini-loaf pan at an estate sale a few years back. It measures 3 X 5 1/2. If your mini loaf pan measurements are different, the baking time could be a little bit sorter or longer.
What I think makes my Grandma's version the best is the brown sugar mixed with cinnamon and vanilla. The flavors are perfect together and the brown sugar gives the bread a richer and deeper flavor profile than regular white sugar. The outcome is a tender and moist bread that no one will guess is vegan.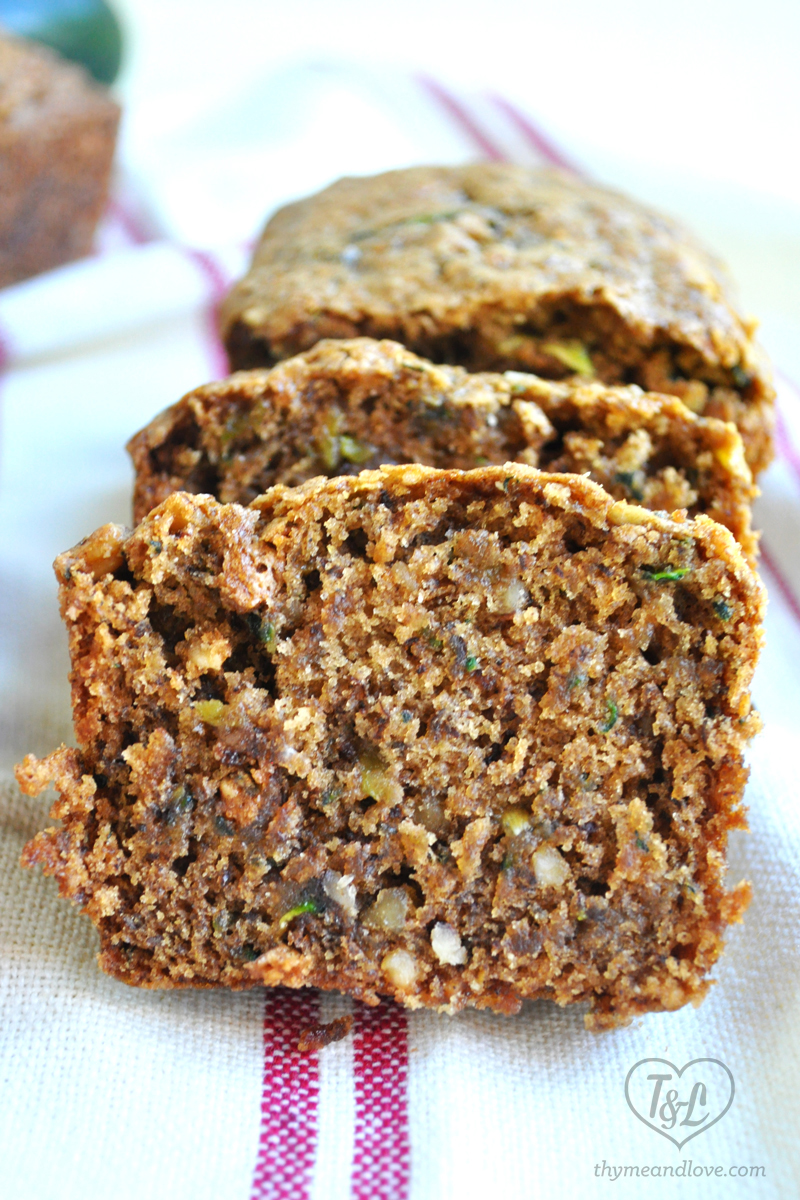 Before Summer comes to an end, make sure to bake a batch of Zucchini Bread Mini Loaves. Be sure to make extras to freeze; you'll be glad you did! Be sure to take a photo and tag us at #thymeandlove on Instagram so we can see!
Zucchini Bread Mini Loaves
Total Time:
1 hour
5 minutes
Use up your Summer zucchini in the this tender, moist zucchini bread recipe. The mini loaf size make a great homemade gift to share with friends and family. Make extras because they freeze really well.
Ingredients
2 Tablespoons Ground Flaxseeds
6 Tablespoons Water
2 Cups Light Brown Sugar
3/4 Cup Canola Oil
2 Tsp Pure Vanilla Extract
2 Cups Grated Zucchini**
2 Cups All Purpose Flour
1/4 Tsp Baking Powder
1 Tsp Baking Soda
1 Tsp Salt
3 Tsp Cinnamon
1 Cup Walnuts, finely chopped
Vegetable Shortening + extra flour for greasing pan
Instructions
Preheat the oven to 350 degrees F. Grease and flour a 4 mini loaf pan that measures 3 x 5 1/2 x 2" deep.
In a large mixing bowl, mix together the flaxseed and water. Set aside for 5-10 minutes, or until the flax egg forms.
Add the brown sugar to the flaxseed mixture and cream together. Pour in the canola oil and throughly mix until a homogeneous mixture forms. Add the vanilla and stir.
Add the grated zucchini and stir together using a rubber spatula until fully incorporated.
In a medium bowl, sift together the flour, baking powder, baking soda, salt, and cinnamon.
In batches, add the dry mixture to the wet until all the dry ingredients have been fully mixed into the wet. Be careful not to over mix. Fold in the chopped walnuts.
Evenly distribute the batter between the 4 mini loaf sections. Bake for 40-45 minutes, or until a tester comes out clean.
Let rest a few minutes and when the pan is cool enough to handle, carefully remove the breads.
Enjoy!
Notes
After grating the zucchini, I like to remove as liquid as possible. Place the grated zucchini in a tea towel or cheese cloth and squeeze out as much moisture as possible. Measure the zucchini after squeezing.
XO
Jeni