An easy, homemade Vegan Chili that's pantry-friendly. Perfect for serving on a cool, crisp autumn evening.

When the air starts to get crisp and the days start getting shorter, I start to crave comforting bowls of warm soups and chili. Chili has always been one of my favorite comfort meals during the fall and winter months.
This Vegan Chili is not only easy to make, but it also uses a lot of pantry canned items that you probably already have on hand. The majority of the time, I prefer to cook with dried beans and make my own homemade beans. But somedays just call for canned beans. Since the recipe is using canned beans and tomatoes, I like to simmer the chili for 1 hour. Cooking the chili a little longer allows for the flavors to really develop.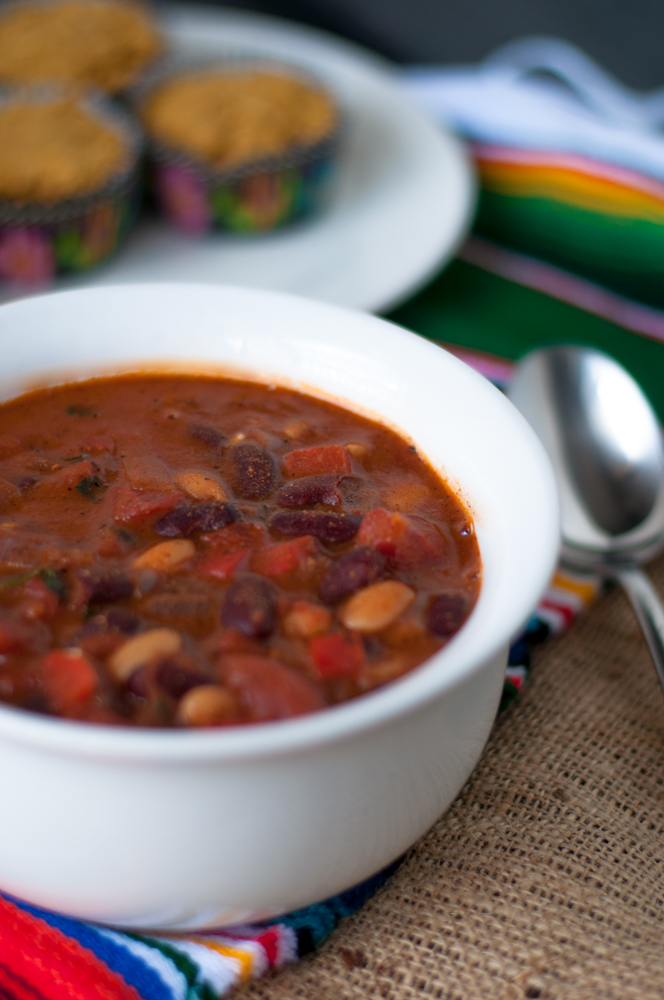 To thicken the chili, masa harina is mixed with water to make a paste. The masa harina not only thickens the chili, but it also adds a little corn flavor to the chili. After the masa harina thickens the chili, fresh cilantro and lime juice are added to brighten up the chili.

I like to serve this Vegan Chili with avocado slices, chopped cilantro, and cornbread. I made a batch of my Pumpkin Maple Cornbread Muffins to serve along side the chili. The pumpkin and maple flavors of the cornbread really compliment the chili. I crumbled a muffin right on top of the chili and it was so good!

This Vegan Chili is the perfect meal to serve on those chilly fall days when you crave something warm and cozy.

Vegan Chili
An easy, homemade Vegan Chili that's pantry-friendly. Perfect for serving on a cool, crisp autumn evening. Serve with your favorite chili toppings!
Ingredients
2 Tablespoons Olive Oil
1 Medium Red Onion, diced
1 Large Red Bell Pepper, diced
5 Garlic Cloves, minced
2 Tablespoons Chili Powder
2 teaspoon Cumin
1 teaspoon Smoked Paprika
1 teaspoon Oregano
1 28 Can Diced Tomatoes, with their juices
2 15 ounce Cans Red Kidney Beans, drained and rinsed
1 Can Cannellini Beans, drained and rinsed
2 Cups Water or Vegetable Broth
¼ Cup Masa Harina
½ Cup Water
¼ Cup Cilantro, chopped
1 Tablespoon Lime Juice
For Serving:
Chopped Cilantro
Sliced Avocado
Cornbread
Instructions
Heat the oil over medium heat in a large dutch oven or soup pot. Add the onion and red bell pepper along with a pinch of salt. Cook until soft, 8-10 minutes.
Add the garlic and cook for 30 seconds. Add the chili powder, cumin, paprika, and oregano. Stir and cook for 1 minute. Add the canned tomatoes along with their juices, the beans, and water. Stir and bring to a boil. Once boiling reduce to a simmer and cover. Cook for 1 hour.
In a small bowl add the masa harina and water. Mix until you have a smooth paste. Pour into the chili after it has been cooking for 1 hour. Stir and cook for 10 minutes until it has thickened the chili. Turn off the heat and add the chopped cilantro and lime juice. Taste and add salt and pepper to taste.
Serve with your favorite toppings.
Xo Jeni