Vegan 7 Layer Salad is an updated version of a traditional Midwest layered salad. It is even better the next day!
Growing up, my Mom would make her overnight salad at Christmas. I will be honest and admit that I didn't like this salad at all. I'm not sure what it was, but I couldn't get on board with her overnight salad. Maybe it was the peas?
The other week I was thinking about her salad. I wanted to recreate the salad and make a vegan version. I did a little research to see if others enjoyed eating this type of salad. I learned that my Mom's overnight salad was also called 7 layer salad. Basically the same salad, just a different name.
I debated on what to call this salad—Vegan Overnight Salad or Vegan 7 Layer Salad. I ultimately went with Vegan 7 Layer Salad. I figure it would be easier to search for this salad this way.
She always made this salad the night before serving it. Maybe that is where the name came from.
This 7 layer salad was very easy to veganize. The base of the salad is iceberg lettuce. You really want to use iceberg lettuce in this salad because it will hold the dressing well.
The next layers are celery and green onions. My mom liked to use green onion instead of red onions because they aren't as harsh.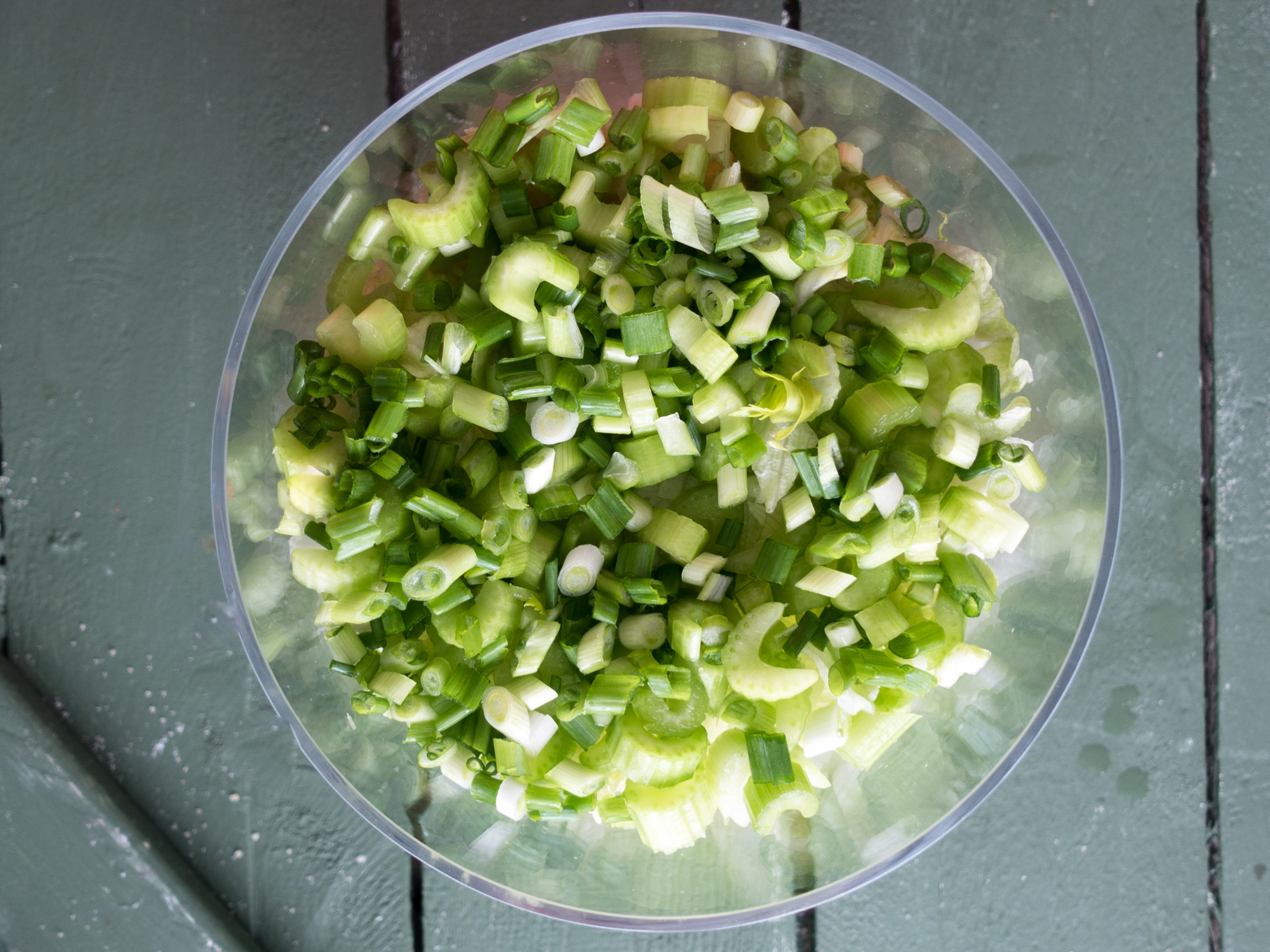 Thawed frozen peas are the next layer. I actually really love the peas in this salad now! It is amazing how are taste buds change over the years.
Traditionally cheddar cheese goes next. I didn't want to use a vegan cheese in the salad, so I opted for shredded carrots. I really love the carrots in this salad. If you love vegan cheese, go ahead and use that instead!
Now, for the dressing. This might seem odd but mayonnaise is used for the dressing. A touch of sugar and lemon juice are added to the mayonnaise. I used Follow Your Heart's Vegenaise in this recipe. It is my favorite store-bought vegan mayo.
Vegan coconut bacon tops the salad as the final layer. If you are making this salad ahead of time, I recommend adding the coconut bacon right before serving. This will prevent it from getting too soggy.
For a fun presentation, I like to use a trifle dish. You get to see all the layers this way. You can also just use a regular 9 by 13 pan.
I love this updated version of a classic Midwest dish from my childhood. Did you grow up eating a 7 layer or overnight salad?
Vegan 7 Layer Salad
A vegan spin on a Midwestern classic: the 7 layer salad. This salad is perfect for potlucks and parties. Great for make ahead of time too!
Ingredients
For the Coconut Bacon
1 Cup Unsweetened Organic Coconut Flakes
1 Tablespoon Coconut Aminos
½ Tablespoon Pure Maple Syrup
½ teaspoon Liquid Smoke
Pinch of Sea Salt
¼ teaspoon Black Pepper
For the dressing layer:
¾ Cup Vegan Mayonnaise
1 Tablespoon Cane Sugar
1 Tablespoon Lemon Juice
Salt and Pepper to taste
For the salad:
1 Medium to Large Head Iceberg Lettuce, chopped
1 Bunch green onions, both green and white parts, sliced
1 Cup Celery, sliced
2 Cups Frozen Peas, thawed
1 Cup Shredded Carrots
Salad Dressing
1 Batch Coconut Bacon
Instructions
For the coconut bacon:
For the coconut bacon, preheat the oven to 350 F. Line a baking sheet with parchment paper. In a medium mixing bowl, add the coconut flakes, coconut aminos, maple syrup, liquid smoke, salt and pepper. Stir to evenly coat the coconut flakes.
Bake the coconut for 12 minutes, flipping halfway through. I like to keep an eye after the coconut has been cooking for 10 minutes because it can burn easily.
Set aside to cool.
For the salad dressing:
In a small bowl, whisk together the salad dressing ingredients. Set aside.
For the salad:
Use a trifle bowl or 9 by 13 pan for the salad.
Start by layering the chopped lettuce. Then the green onions, celery, peas, and then carrots.
Pour the prepared dressing on top. Spread evenly.
If serving right away, top the salad with coconut bacon. If you are making this salad ahead of time, wait until you are ready to serve before adding the coconut bacon.
XO Jeni