Serenity Springs: The Perfect Romantic Getaway for celebrating an anniversary or any occasion. 

Serenity Springs is located in La Porte, Indiana, just outside Michigan City. It isn't too far from Grand Rapids and just a short drive from Chicago. Since Serenity Springs is located less than two hours away from Grand Rapids, it is a great spot for a romantic weekend getaway. The 85-acre resort is the perfect romantic destination. I must say that I had a great time by myself. I believe that it is nice to getaway and just relax for a few days.
When I arrived to Serenity Springs, I was immediately greeted and they took my bags for me right away. After checking in, I was taken back to my cabin, which was located along the channel. After arriving to my cabin, I was greeted by one of the staff members. I was given a tour of my cabin. She gave me a quick overview of the cabin and how everything worked.
The Cabin
There are over 30 private cabins at Serenity Springs. They have both A-frame and regular cabins. Each cabin has a unique theme and decor. I stayed in The Vineyard cabin, one of the premium cabins. I just loved the theme of this cabin! The lights hanging up on the frame were a very nice romantic touch to the cabin.

One of the best features at Serenity Springs is the butler door. It is a fun, unique feature that I have never seen before. There is a locked wooden box that can be opened from both the outside and inside of your cabin. The are two light switches inside the box. When the light comes on about the box, you have received something in your butler door. If you need to request something, you just fill out a note and turn on your light. Serenity Springs works with local restaurants. If you would like  to order lunch or dinner, simply fill out a note with what you would like and turn on your light inside the butler door. Your food will be delivered to the box at your requested time.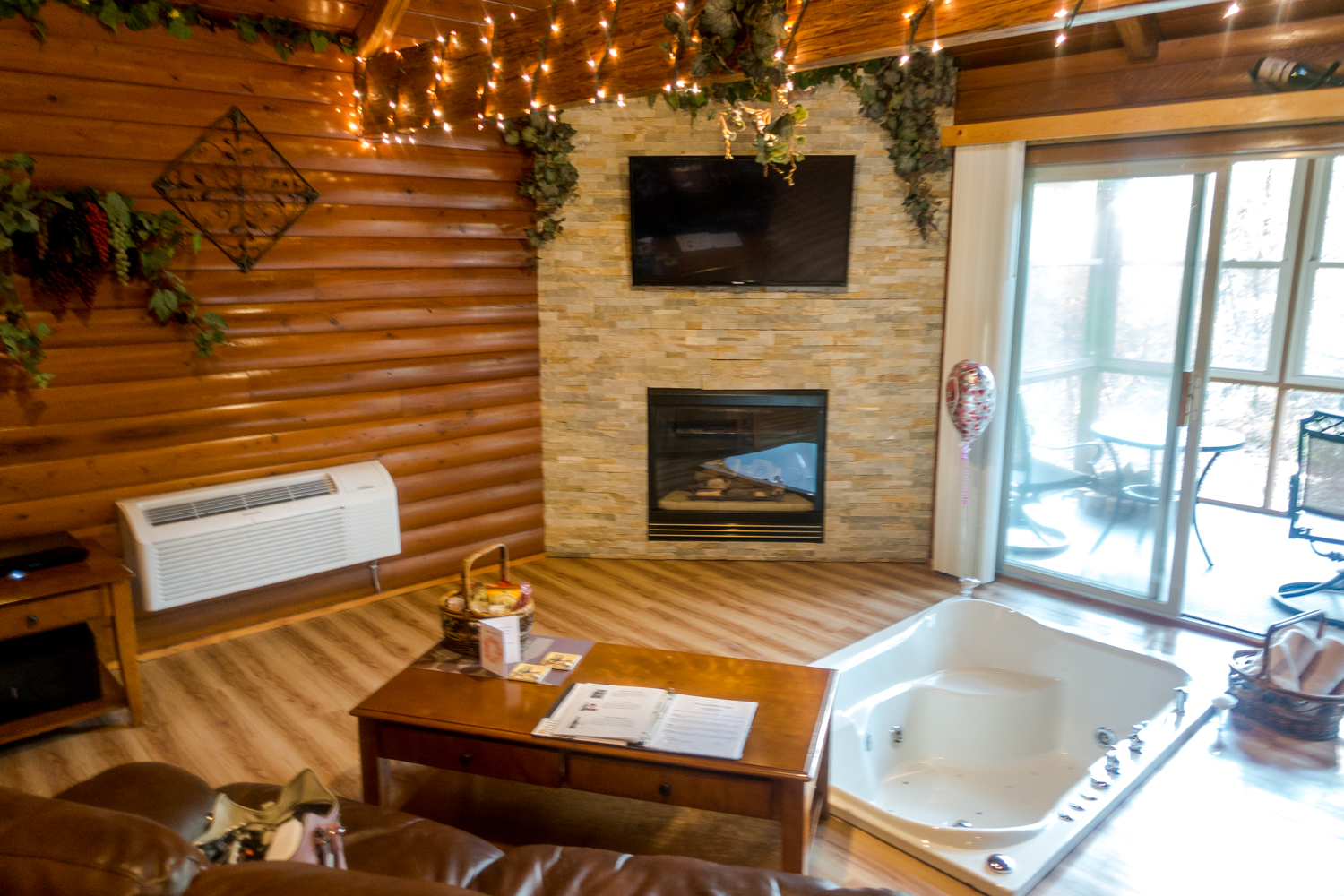 There is a gas grill located on the patio for you to use. You can also bring your own food and beverages with you. There is also a gas fireplace for making s'mores at night!
Amenities at Serenity Springs
While staying at Serenity Springs, you can enjoy a wide range of amenities that are included with your stay. You can rent bikes and enjoy a peaceful bike ride around the resort. In the office they have a wide selection of movies that you can take back to your cabin and watch.

You can take a relaxing walk around the property. If you come during the winter, you can bring your snowshoes or cross country skis. During the winter, you can also enjoy the heated floors in your cabin. If you are looking for romantic winter getaway, Serenity Springs would make a great winter getaway.
Complementary Wine Tour
Right now Serenity Springs is offering a complementary wine tour through Mid-December.  The tour is complementary for guests staying two nights, either Wednesday-Friday or Friday-Sunday. I was so excited when I saw that there were offering this on Saturdays during the fall! I love exploring different wineries, especially Michigan wineries.
After enjoying our complimentary breakfast in our cabins, we were picked up right at our cabins. There were two other couples on the wine tour. We all had an amazing time wine tasting along the Lake Michigan Wine Trail. We went to four wineries: Domaine Berrien Cellars,  Lemon Creek Winery,  Gravity Winery, and Shady Creek Winery. Three were located in Michigan and one in Indiana.

I loved that all of the wine tastings were included with the tour. All four of the wineries had some amazing wine. I tasted mostly dry whites, my favorite, while the other two couples went for the sweet wines. I have gone on quite a few wine tours before and they are always rushing from one winery to the next. This wasn't the case here. We took our time at each of the wineries to fully experience the wines.

If you are visiting when Serenity Springs offers their Grape Escape package, I highly recommend it!
Overall Experience
I had a wonderful weekend getaway at Serenity Springs.  I would definitely return for another weekend getaway; maybe next time during the winter. I can just image how beautiful the resort is with snow! If you are looking for a romantic place to celebration an anniversary or special celebration, Serenity Springs  is the perfect place to slow down and unwind for a weekend.
Start planning your next romantic weekend getaway!

For more information no Serenity Springs visit their website.
For reservations call  219-861-0000.

Save this image to your Pinterest to reference when your planning your next romantic weekend getaway!
Disclosure: I was invited by Serenity Springs to share my experience with you. All thoughts and opinions are my own. 
XO Jeni