Did you know that the Lake Michigan Shore Wine Trail is home to 18 wineries located along the Michigan lakeshore? There are a few different wine trails located in the state—Traverse City is probably the most well know area, but I think that the Lake Michigan Shore Wine Trail is an upcoming wine area of the Midwest. This travel guide will show you how to visit the Lake Michigan Shore Wine Trail and why it should be on your bucket list!
While you probably have heard of Lake Michigan, you might not know that Michiganders head to the beach year-round. It is very common for us to plan weekend getaways to the Lake Michigan beach towns.
While the beaches are a popular spot to visit, you might not know that Lake Michigan is home to some incredible wineries. The Lake Michigan Shore Wine Trail has the ideal climate for growing grapes. In fact 90% of Michigan's vineyards are located along the Lake Michigan Shore Wine Trail.
I've slowly been checking out more of the wineries. One of my favorite things about living is Southwest Michigan is exploring the beach towns. Whether it's a day trip or weekend getaway, there is so much to see and do—including wine tasting!
How to Visit the Lake Michigan Shore Wine Trail
The Lake Michigan Shore Wine Trail is divided into 4 regions—North, Central, East and South.
Pick a Region
It's really impossible to check out all of the wineries located along the trail in one weekend trip. I've found that it's really best to focus on one of the regions. This way you're able to fully enjoy each of the wineries. Once you've decided on a region, take a look at which wineries are located in that specific region.
Plan your trip according to the wineries located within that region. Many of the wineries are located within a short distance from each other.

I haven't visited all 18 wineries on the trail yet, but I've loved all the ones I've been to! Here are a few of my favorites so far:
Lemon Creek Winery
Lemon Creek Winery is an estate vineyard and winery that is a family owned business with over 160 years experience. The wines at Lemon Creek are exceptional. The winery has been awarded with multiple international gold medals, as well as multiple regional and state awards. I've visited Lemon Creek a few times and if I'm in the area, I always have to stop in.
My favorite is their dry sauvignon blanc. It's one of my favorite dry white wines that I have tried. They have a great range of wines. From dry whites to reds, there is something for everyone to enjoy.
The winery is a great place to sit and relax. There is a really nice picnic area with a gazebo. The main building is surrounded by vineyards and other fruits growing.
Don't forget to stop at the farm market and pick up some local fruits from the orchards.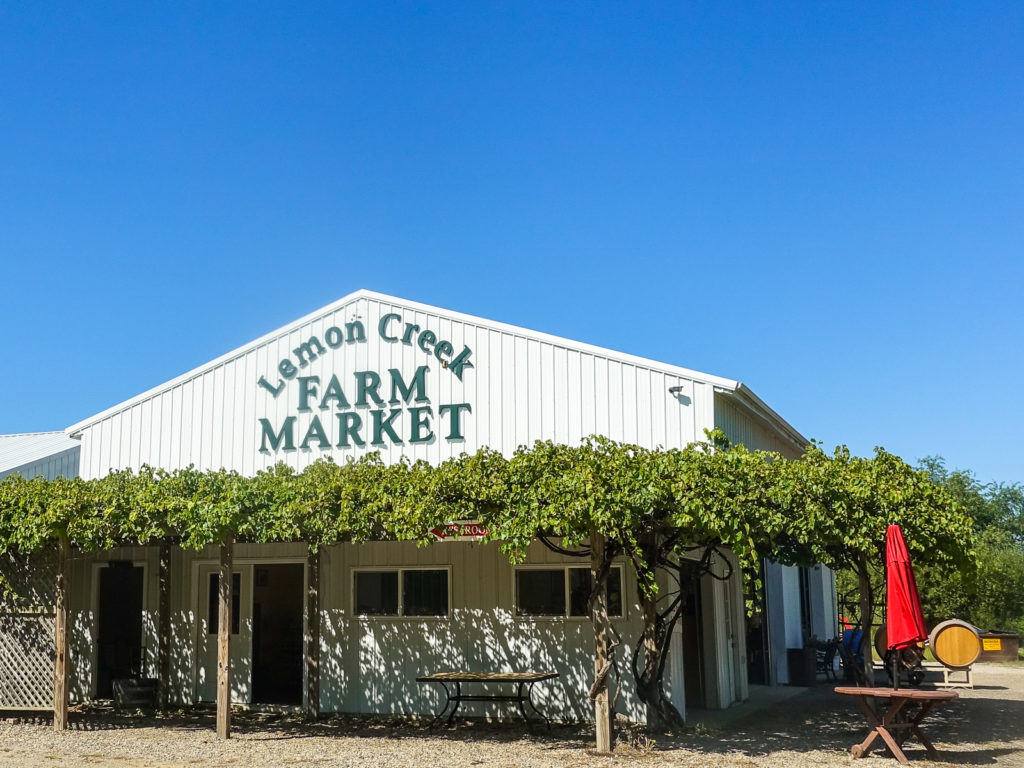 Domaine Berrien Cellars
Domaine Berrien Cellars is a boutique winery that was established in 2001. Located on an 80 acre farm in the heart of scenic Lake Michigan Shore Wine Country. What makes the winery standout is that they only use their own hand-picked, estate-grown grapes for their wines.
They are best known for dry reds and Rhone varietals. I am more of a white wine drinker, but their red wines are outstanding. During my wine tasting, I was surprised by how much I loved their red wines.
Hickory Creek Winery
Hickory Creek Winery focuses on small batch production featuring classic, European-style wines made from locally grown grapes.
The winery focuses on quality over quantity, featuring the world-class fruit produced in the region. If you are a fan of classic and refined European wines, be sure to stop at Hickory Creek Winery.
After a day of wine tasting, enjoy local entertainment or watch the sunset at the beach. Whether you're a native Michigander or have never visited the area before, the Lake Michigan Shore Wine Trail is worth checking out!
For more information, be sure to check out these resources:
Lake Michigan Shore Wine Trail Website
West Michigan Tourism Association
Have you been wanting to visit the Lake Michigan Shore Wine Trail? If you have been to some of the wineries along the trail, what are your favorites? Let me know in the comments. I'd love to know!
Pin this image for future reference!
Cheers! Jeni