You won't believe how simple it is to make this Easy Baked Leek and Pea Risotto.
 The best part is you don't have to constantly stir the pot!
I am so excited to share this risotto recipe with you today. I didn't have intentions to share a risotto recipe on the blog this month, but I was inspired by a trip to my local grocery store.
For some reason they had a big Italian section down the main isle. I noticed this a few months ago but didn't bother to take a look.
Last week when I was picking up a few groceries, I noticed that everything in the Italian section was on clearance!
I am a huge bargain shopper and it is really hard for me to turn down a sale.
I picked up a few boxes of organic pasta and some arborio rice for risotto. I had to stop myself from buying too much pasta!
I wanted to try baking the risotto instead of the traditional method. I wasn't sure how it would work out, but the results were amazing.
what type of pot to use
For this baked risotto recipe, I love using my Le Creuset Dutch Oven for this recipe.
This is the one that I have and I love it. I have had it for years and it is really worth the price. It is pricey, but it has become a kitchen staple. I use it almost everyday!
You just want to make sure that whatever pot you are using, it is oven safe.
how to make baked risotto
First, you'll want to clean the leeks. If you've never cooked with leeks before, they can be full of dirt and sand.
I have the easiest way to clean leeks is to slice the leeks, then soak them in a large bowl covered in water. Let the leeks soak for a little. I usually leave the in the water for 15-30 minutes.
Then, drain and rinse the leeks. Sometimes the leeks can be very dirty and this method works great!
The risotto starts on the stovetop like normal. Leeks are sautéed in olive oil, along with fresh garlic and thyme for aromatics.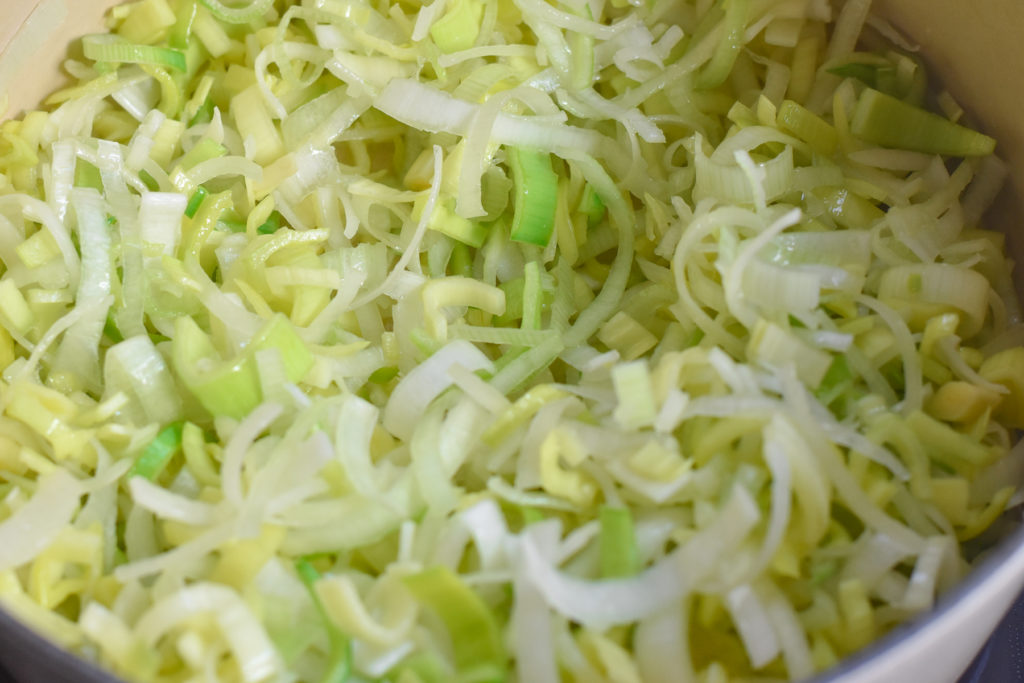 The smell is incredible. I love cooking with fresh herbs. They have the best aroma.
Next, add in the arborio rice and toast for 1-2 minutes.
Deglaze the pot with a dry white wine. Then pour in the warmed vegetable broth. You do want to make sure that you are using warm broth and not cold or room temperature broth.
Bring to a simmer and then cover and cook in the oven. It is so easy.
After the risotto is done cooking, carefully removed from the oven. Use an oven mitt or kitchen towel to remove the lid. It will be very hot!
Stir the risotto. Then add the vegan butter, lemon juice, peas, nutritional yeast and the rest of the broth.
Give the risotto a good stir and that is it! So easy and simple to make.
I love making this risotto at the end of winter, just before spring arrives. The peas and fresh lemon juice remind me of the upcoming spring.
I think that this Easy Baked Leek and Pea Risotto would be great for springtime entertaining too.
Since you don't have to stand at the stove stirring the risotto, you can spend more time with your family.
Easy Baked Leek and Pea Risotto
You won't believe how simple it is to make this Easy Baked Leek and Pea Risotto. The best part is you don't have to constantly stir the pot!
Ingredients
2 Tablespoons Olive Oil
2 Leeks, white and pale green parts, cleaned and thinly diced
2 Garlic Cloves, minced
2 Teaspoons Fresh Thyme Leaves
1 Cup Arborio Rice
½ Cup Dry White Wine
3 Cups Vegetable Stock, warmed
¾ Cup Peas, thawed
1 Tablespoon Vegan Butter
1-2 Tablespoons Nutritional Yeast
1 Tablespoon Lemon Juice
Salt and Pepper to taste
Instructions
Preheat the oven to 375ºF.
Heat a Dutch oven over medium-high heat and add olive oil. Add the leeks and cook until almost tender, about 4-6 minutes.
Add the garlic, thyme and cook for 1 minute. Season with salt and pepper.
Add the rice and toast in the pan for 1-2 minutes until lightly opaque.
Add the wine and allow to reduce by half. Add 2 cups of vegetable stock and stir to combine.
Bring to a simmer, cover and place in the oven to bake for 25 until the liquid is absorbed and the rice is al dente.
Remove from the oven, stir in the remaining vegetable stock, peas, butter, nutritional yeast, and lemon juice. Stir to combine. Season with salt and pepper.
Nutrition Information:
Yield:

4
Serving Size:

1
Amount Per Serving:
Calories:

241
Total Fat:

10g
Saturated Fat:

3g
Trans Fat:

0g
Unsaturated Fat:

7g
Cholesterol:

8mg
Sodium:

609mg
Carbohydrates:

28g
Fiber:

3g
Sugar:

4g
Protein:

6g
The calorie and nutrition information is just an estimate for the recipe.
This is an updated post from a previously published recipe.
Happy Cooking!
Jeni