Healthy, nutritious Celeriac and Potato Soup highlights winter seasonal produce and is super easy to make!
Last Fall, I became a huge soup fan. In the past I would have a bowl of soup maybe twice a year.
I know; that't not a lot soup! Soup just wasn't apart of my recipe repertoire.
Something must of change during the Fall because now I find myself making soup at least once a week, sometimes even twice.
I like to use seasonal produce when I am making soup and one of my favorite Winter vegetables to use right now is celeriac.
Are you a fan? I know it might not be the most appealing of the root vegetables but this recipe for Celeriac and Potato Soup is delicious.
what is celeriac?
Celeriac, also know as celery root, is a root vegetable that is kind of odd looking. It has bumps and parts of the roots still attached.
The flavor is earthy, with a slight celery flavor.
Celeriac is not only healthy and full of vitamins but it also happens to be low in calories.
A cup of cooked celeriac is about 42 calories.
Celeriac is very good source of vitamin K, essential minerals such as phosphorus, iron, calcium, copper, and it also has some of valuable B-complex vitamins.
The distinct flavor of celeriac can be very strong and overpowering.
I like to use a few potatoes to balance out the celeriac flavor, but it still lets the celeriac shine and be the star of the soup.
Unlike a typical creamy potato soup, this Celeriac and Potato Soup is much lighter than a traditional creamy potato soup.
how to make the soup
First, prep and clean all the vegetables. I like to dice the leek and soak it in water, then give it a rinse.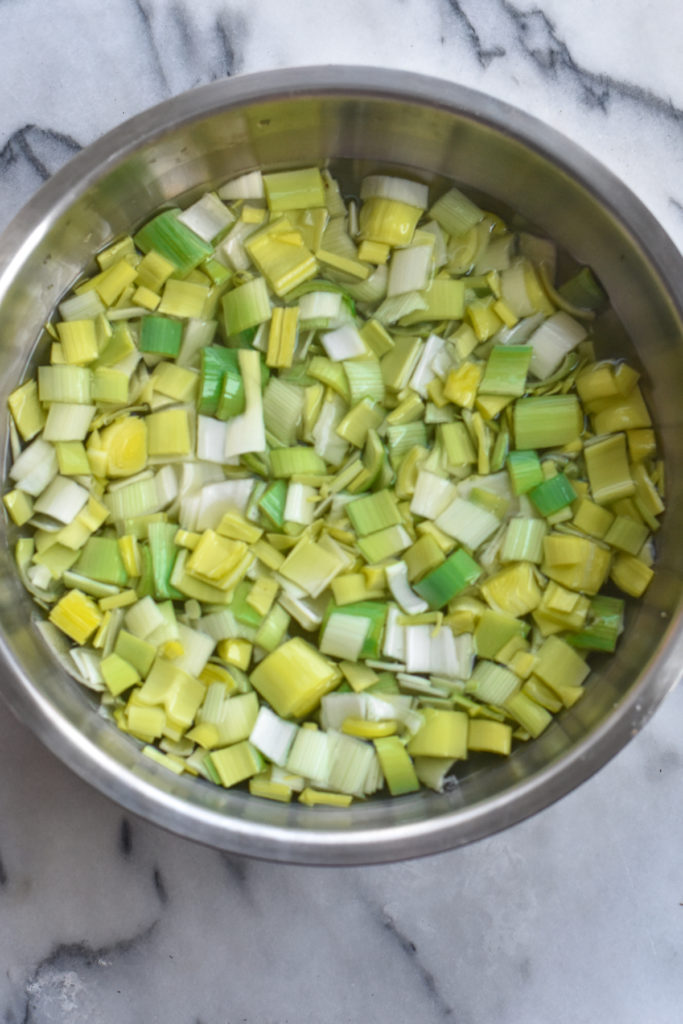 Leeks are full of sand and dirt and I have found this is the best way to remove all the dirt.
The last thing you want in your soup is dirt!
For the celery root, I like to use a knife to remove the other layer. The outer layer is too thick and rough for a vegetable peeler.
After all the vegetables are prepped, saute the leek in olive oil.
Then add in some garlic and cumin.
Now it's time for the stars of the soup—the diced celeriac and potatoes.
I like to cook the vegetables a few minutes before adding in the broth.
Next, add in a few sprigs of fresh cilantro. If you don't like cilantro, you can leave it out. In the picture, I have a few extra sprigs. You don't want to use that many. Just one or two is all you need.
I love the flavor the cilantro gives the soup. You just need a little bit. Too much cilantro can overpower the soup.
Add in the broth, I love using Better Than Bouillon vegetable base, and bring to a boil.
Cook until the vegetables are tender. Remove the cilantro and blend.
I like to use an immersion blender, but you can also transfer the soup to a blender. Just be careful blending the hot soup! If you are using a ceramic or metal pot, be careful because the immersion blender can scratch it. If you are worried about scratching, I would use a blender just to be on the safe side.
If you have never tried celeriac before, this is a great recipe to try! If you make this recipe, I'd love to see your photos on Instagram using #thymeandlove
Celeriac and Potato Soup
A healthy and nutritious soup featuring Winter seasonal produce: celeriac and potatoes.
Ingredients
1 Tablespoon Olive Oil
1 Medium Leek, white and light green parts cleaned and diced
4 Large Garlic Cloves, minced
½ teaspoon Cumin
2 Pounds Celeriac, trimmed and peeled, and diced
1 ½ Pounds Yukon Gold Potatoes, peeled and diced
Small Handful of Fresh Cilantro, left whole
2 Cups Vegetable Broth + 2 Cups Water**
½ teaspoon Sea Salt, or to taste
¼ teaspoon Black Pepper
Instructions
Heat a dutch oven or large soup pot over medium heat. Once heated add the olive oil.
Add the diced leek and cook until it starts to soften, about 8 minutes. Then add the garlic and cook for 1 minute. Add the cumin stir and cook for 30 seconds.
Add the cleaned and diced celeriac and potatoes. Stir to coat with the leek mixture. Cook for 5 minutes.
Place the cilantro on top then pour the broth + water. Add the salt and pepper. Bring to a boil then reduce heat to a simmer and partially cover the pot. Cook until the celeriac and potatoes are just fork tender, about 15 minutes.
Once the celeriac and potatoes are tender, turn off the heat. Carefully remove the cilantro and throw it out. If left in the soup, it can turn the soup very bitter. Use an immersion blender to puree the soup or let the soup cool a few minutes and carefully transfer to a blender and puree.
Taste and adjust seasons to taste!
Notes
You can use all water if you don't have any vegetable broth on hand.
Happy Cooking!
Jeni