These Vegan Apple and Sauerkraut Sausages are one of my favorite easy meals.
For a quick and easy weeknight recipe, I took a little shortcut from the store by using Field Roast's Smoked Apple and Sage Sausages.

Just because you might be vegetarian or vegan, that doesn't mean that you can't enjoy plant-based sausages and hot dogs!
The base of these delicious Vegan Apple and Sausage Dogs are Field Roast's Smoked Apple Sage Sausages, which just so happens to be my favorite Vegan sausage out there on the market. The sausage is packed with tons of apple and sage flavor and isn't overly processed like many vegan hot dogs and sausages.
The sausage is topped with a delicious and easy to make topping of onions, sauerkraut, and apples. If you are a big sauerkraut fan, you'll love this topping.
When I am using sauerkraut, I like to purchase a good quality brand sold in the refrigerator section. I really think this makes a difference. Unfortunately since we are cooking the sauerkraut, it will lose its probiotic qualities.
The tartness of the apples pairs perfectly with the sauerkraut. A little brown sugar is used to help balance out everything.
The apple and sauerkraut topping is a perfect accompaniment to the smoked apple and sage sausages. I like to add lots mustard on top of the cooked sausage before adding the sauerkraut and apple topping. I am a little mustard obsessed, so I think to add a little bit extra. Mustard is so good with sausages.
These Vegan Apple are Sauerkraut Sausages are:
Perfect for an easy dinner
Great for summer BBQs and parties
Easy to make
& delicious!
You can even make the apple and sauerkraut topping in advance. It is great for meal prepping.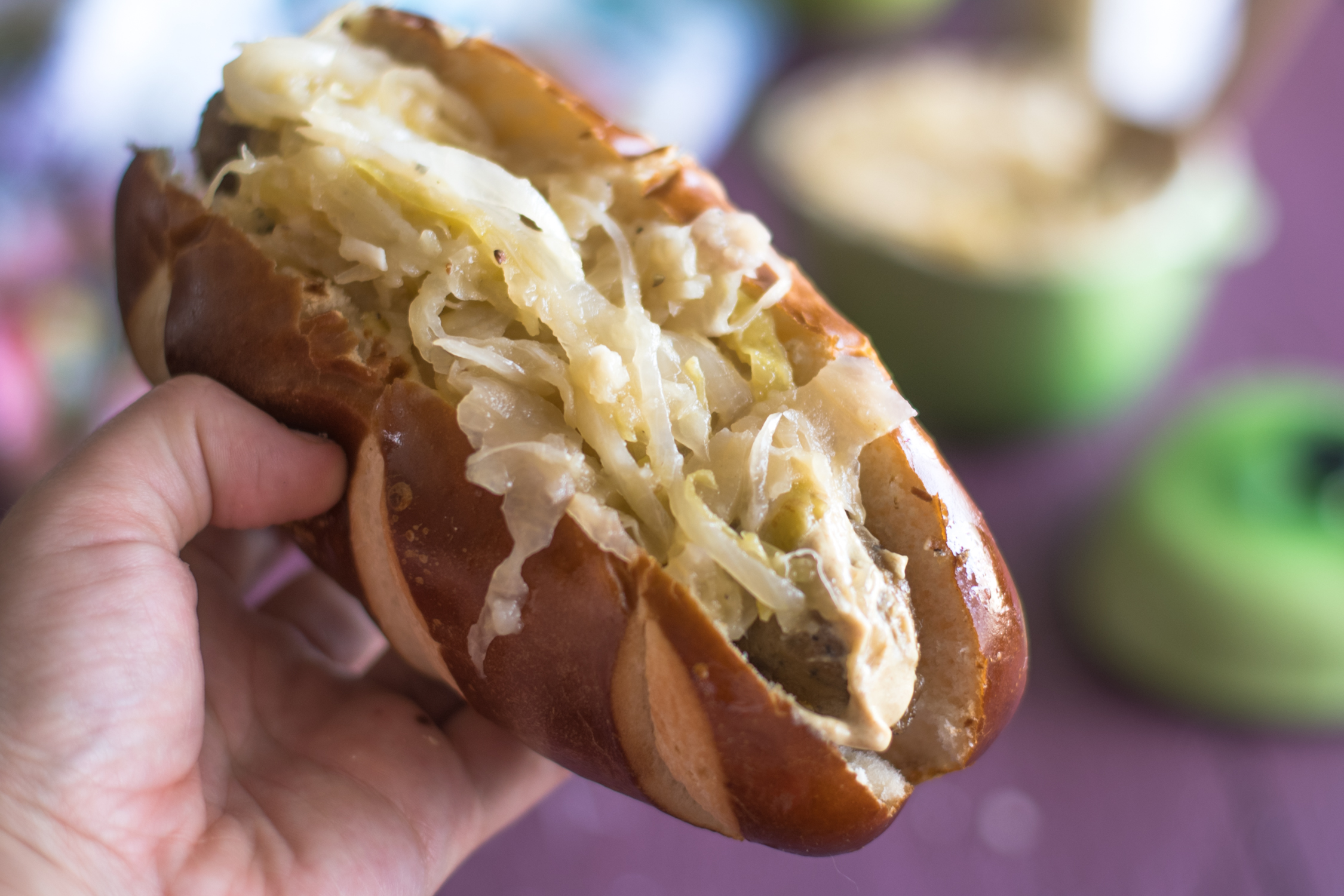 I like serving these Vegan Apple and Sauerkraut Sausages on pretzel hot dog buns or whole wheat buns.
Vegan Apple + Sauerkraut Dogs
These Vegan dogs feature Field Roast's Smoked Apple and Sage Sausages are topped with an apple and sauerkraut topping! Perfect for Summer BBQs, Memorial Day, and July 4th!
Ingredients
3 Tablespoons Olive Oil, divided
1 Large Yellow Onion, thinly sliced
1 Garlic Clove, minced
2 Cups Sauerkraut Drained
2 Cups Granny Smith Apples, thinly sliced
3 teaspoon Light Brown Sugar
⅓ Cup Dry White Wine
Salt + Pepper to taste
4 Field Roast Smoked Apple and Sage Sausages
4 Whole Wheat Hot Dog Buns
Mustard, for serving
Instructions
Heat two tablespoons of oil in a large skillet over medium-high heat. Add the onion and saute until translucent, about 5-7 minutes. Add the garlic and cook 1 minute. Stir in the drained sauerkraut and cook for 3 minutes. Add in the sliced apples and brown sugar, cook for 3-5 minutes.
Add the wine and reduce heat to low. Cover with a lid and cook for 20-35 minutes. Season with salt and pepper to taste.
When the topping is almost done, start the sausages. First remove the sausages from their casings.
Heat the remaining tablespoon of oil in a skillet over medium heat. Cook the sausages until they are heated through and lightly browned on each side. Be careful not to over cook.
Serve the sausages in the buns, topped with mustard and pile on the apple and sauerkraut topping!
This recipe was first published in 2015.
Enjoy!
XO
Jeni