Today I am changing things up a little bit here on the blog and sharing a lifestyle post with you. This year I hope to branch out from just food and travel and share more lifestyle type posts. I'd love to know what type of lifestyle posts you'd be interesting in reading. I have been thinking of sharing my favorites vegan-friendly products, favorite grocery finds and just things that I have been loving lately.
Today is all about finding unique birthday gift ideas for him. It is actually my Husband Hector's Birthday today and I have to admit that he is hard to shop for. He doesn't like traditional gifts; he prefers items that you would never thing that you would need. He has an art degree and loves finding unique and artistic gifts that you just can't find everywhere. One of my favorite places to shop for unique gifts is Uncommon Goods.  They carry thousands of unique and unusual birthday gifts that you just can't find at your local department store. Today I am sharing some of my favorite gift ideas from there.
Bicycle Tumblers - Set of 8
We actually have one bicycle tumbler and love it! Bicycle silhouettes are screen printed directly onto these glasses using a special ink that cross bonds with the surface, making them dishwasher safe It's great for any bicycle enthusiast who might be need of some fun, unique glasses.
Eye Glasses Holder
This gift is made for Hector. I can't tell you how many times he asks me where are his glasses. He is always losing them in the weirdest places. When I saw this eye glass holder I knew that he needed it. It would also look great on his desk and he'd have a safe place to put his glasses. The best part is that it was created by HSSS, a non-profit in India that helps underprivileged artisans, who suffer hardships with physical handicaps, illiteracy, extreme poverty, or being in lower castes, find markets for their wood products.
Scratch Map
This map is perfect for the traveler in you life. They can track their travels with this scratch off map! It works by scratching off the areas you've visited and then it reveals a pop of color.
Pocket Utensil Set
This utensil set has a fork, spoon, knife, and bottle/can opener that folds up like a pocket knife. This is great for someone who is on the go or perfect for taking hiking and camping. Plus, this is so much better than using plastic utensils!
Himalayan Salt Tequila Glasses- Set of 4
This is one of my favorite items from Uncommon Goods. These reusable shot glasses carved from pink Himalayan salt. Perfect for tequila or even mezcal, these glasses offer a salty twinge to your taste buds.
Stone Drink Dispenser
When I asked Hector to pick out his favorite item, he chose this cobbled granite drink dispenser. It's crafted from roughhewn, cobbled granite  and equipped with a stainless steel tap. It dispenses wine or spirits with ease while celebrating the natural beauty of stone.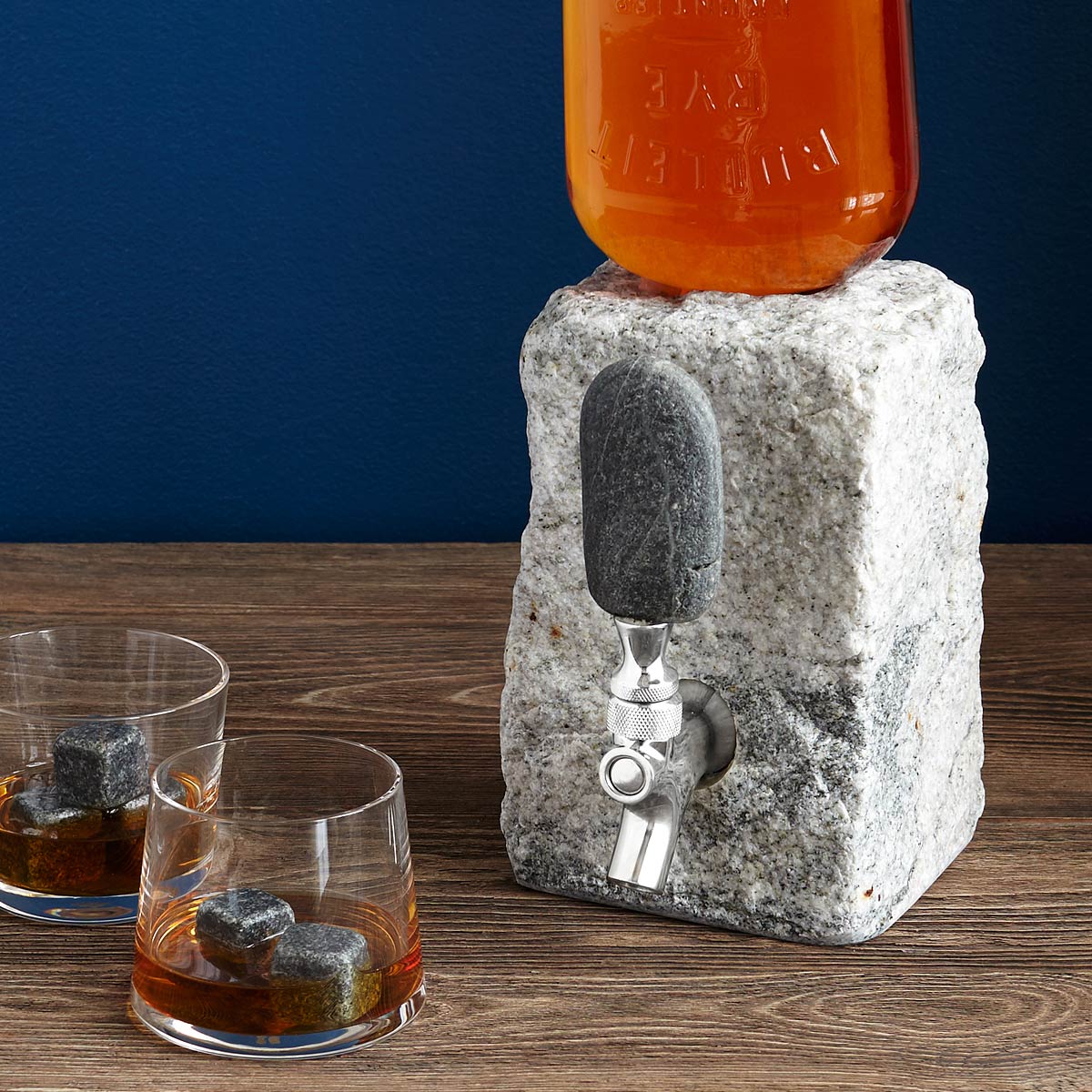 This is just a sampling of the many fun and unique items found at Uncommon Goods.  From home decor to personalized gifts, there is something for everyone. Be sure to check out their website for some creative gift ideas!
I'd love to hear what type of lifestyle posts that you'd like to see. If you have any suggestions, be sure to leave a comment with what you'd like to see here.
Disclaimer: This post is sponsored by Uncommon Goods but all thoughts and opinions are my own. Thank you for supporting the brands that making Thyme & Love possible. 
Xo Jeni