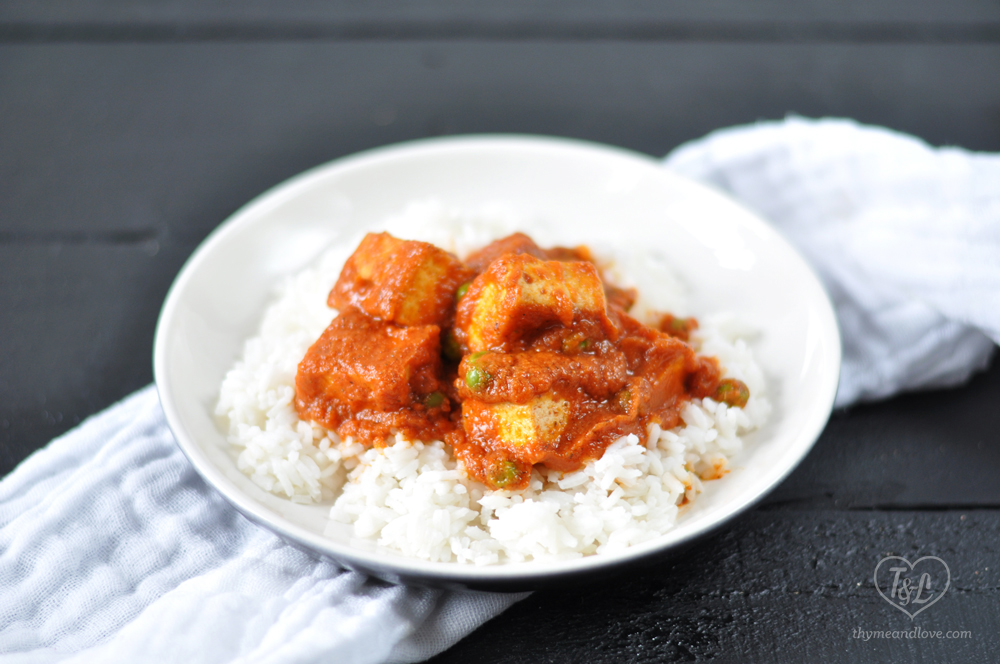 Let's talk tofu. Are you a fan? I never had tofu before I became vegetarian. My family is your typical Midwestern family who grew up eating dinners that had three components: a meat, a starchy side, and either peas or corn for the vegetable. And rolls, specifically Crescent Rolls, a must. Tofu was never even on the radar. I think I first learned about tofu when I started reading lots of Vegan cookbooks. I dipped my waters into tofu land and I like it, but didn't love it. I only made a tofu recipe maybe once a month. It wasn't until I started living with Hector that I started to cook more tofu recipes. He loves it and could eat it for dinner every single night. Over the years my like for tofu has turned into more of a love, especially when tofu is simmered in a rich, flavorful sauce like this Tomato Chipotle Tofu with Peas!
I have a few tofu recipes here on the site, but I am always thinking of new ways to cook tofu. The best part about tofu is that since its bland, it take on the flavors of whatever you are cooking it with. I like to brown the tofu in a little bit of oil before adding it to a sauce. I think that the tofu holds it shape better and absorbs more of the sauce's flavor.
This tomato and chipotle sauce if full of flavor and its super easy to make. Basically you add a can of fire roasted tomatoes, some chipotles peppers in adobo sauce, garlic, onion, cumin, and oregano. That is it! After the sauce is blended it cooks in a skillet, the tofu goes back in and then for extra flavor and creaminess we add coconut milk. I think that the coconut milk really brings that sauce together. SO GOOD!!!
Oh, and we can't forget about the peas! I always have a bag of frozen peas in the freezer and they make a great addition to the the meal.
If you are looking for a new tofu recipe to try, I think you'll be completely satisfied with making Tomato Chipotle Tofu with Peas for dinner. To make it a complete meal, serve it with some steamed white rice. If you are still uncertain about tofu, I highly recommend giving it a try. When you cook the tofu in a rich, flavorful sauce it will leave you feeling completely satisfied after dinner.
This Tomato Chipotle Tofu with Peas is:
a litte bit spicy,
layered with flavor,
hearty + filling plant-based entree
easy enough for a weeknight dinner!

Tomato Chipotle Tofu with Peas
Tofu is cooked in a rich and flavorful tomato chipotle sauce with coconut milk for added creaminess. Serve over rice for a complete meal. Easy enough for a weeknight meal!
Ingredients
1 14 ounce Extra Firm Tofu, drained and pressed
1 ½ Tablespoons Grapeseed Oil
1-2 Chipotle Chiles in Adobo Sauce
1 14.5 Ounce Can Fire Roasted Tomatoes
¼ of a Large White Onion
2 Garlic Cloves
1 teaspoon Mexican Oregano
½ teaspoon Cumin
½ teaspoon Sea Salt, plus more taste
¼ teaspoon Black Pepper, or to taste
½ Cup Full-Fat Coconut Milk
½ Cup Frozen Peas, thawed
For Serving:
Instructions
In a blender jar, add the chipotle peppers, fire-roasted tomatoes, onion, garlic, oregano, cumin. Blend until smooth. Set aside until needed.
After the tofu has been drained and pressed, cut the tofu into cubes, about 1 inches in size. Heat the oil in a deep large skillet over medium high heat. Add the tofu to the oil once it is hot and cook until light golden brown in color, about 3-5 minutes. Flip the tofu and cook until the other side is light golden brown, another 3-5 minutes. Remove the tofu to a plate and set aside until needed.
To the same skillet the tofu was cooked in, carefully pour in the blended sauce. Lower heat to medium and add salt and pepper to taste. Cook for 5 minutes.
Pour in the coconut milk, stirring to incorporate. Add the brown tofu back into the pan and bring to a simmer. Once the sauce is simmer, lower heat to a low simmer. Cook for 15 minutes, stirring occasionally. If you are serving over white rice, start making the rice and cook according to the package. It should take about 15 minutes to cook.
Add in the frozen peas and cook until the peas are heated through, about 5 minutes. Taste for salt.
Serve over cooked white rice.
XO Jeni