This recipe for Sheet Pan Cauliflower Gnocchi and Roasted Vegetables is perfect for anyone who loves shopping at Trader Joe's.
This sheet pan dinner features one of my favorite frozen items from Trader Joe's—cauliflower gnocchi.
I know that many people are obessed with the cauliflower gnocchi from Trader Joe's. I'm definitely one of those people! It's one of the staples that I always buy when I am at Trader Joe's.
As much as I love the cauliflower gnocchi, I am not a big fan of the cooking directions on the package.
I really prefer roasting the cauliflower gnocchi in the oven. i just think the texture turns out so much better.
If you haven't tried cooking the cauliflower gnocchi in the oven—it's a game changer for sure!
This is filling enough for dinner. But you could always add in some baked tofu if are looking for a more hearty meal.
How to took the Sheet Pan Gnocchi
It is honestly so easy to make this vegan sheet pan dinner!
First, prep all the vegetables.
To your cookie sheet, line it with parchment paper or a silicone mat.
Add the frozen cauliflower gnocchi, bell peppers, grape tomatoes and red onion.
For the seasonings
To add lots of delicious flavor to the gnocchi and vegetables, we are going to add lots of seasonings.
Start with some dried oregano, garlic powder salt and pepper.
The I like to add the soffritto seasoning blend from Trader Joe's. I picked up a jar last year and it has just been sitting in the cupboard since.
This recipe is the perfect vehicle for the spice blend. I'm not 100% sure if this is a seasonal item or not. If it is, I really hope that they bring it back!
If you don't have a jar of the soffritto seasoning blend, I would just add some crushed red pepper flakes to taste, onion powder and maybe some other dried herbs like basil and parsley.
The crushed red pepper flakes in the spice blend, add a little kick to the dish!
After all the seasonings have been added to the gnocchi and veggies, bake in the oven for 25 minutes, flipping halfway through.
I love the pop of the roasted tomatoes with the gnocchi.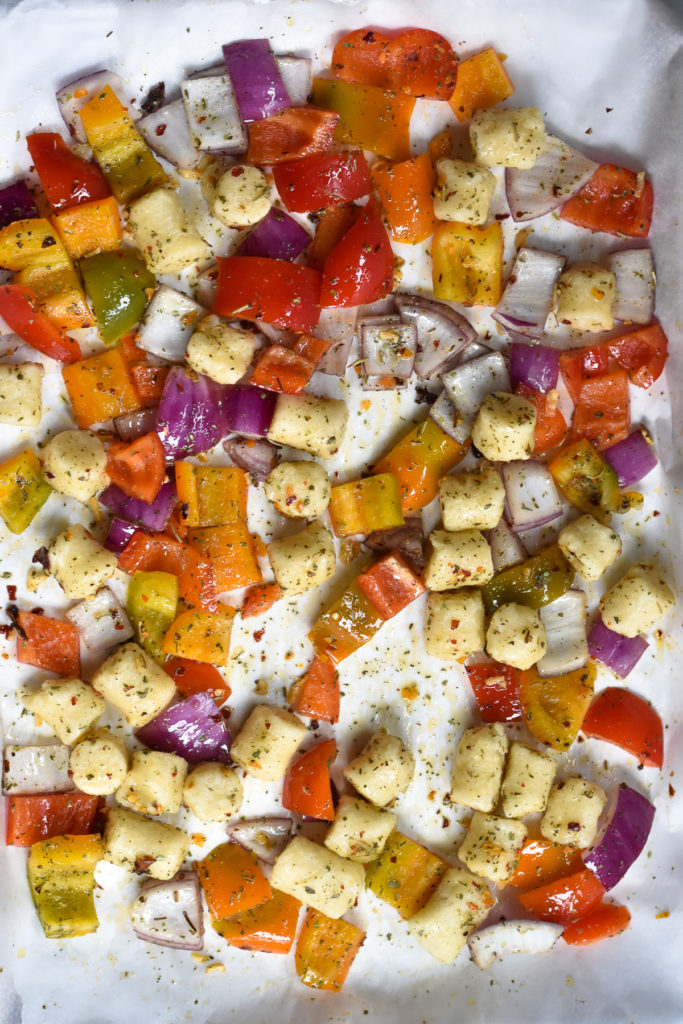 This is just such an easy dinner recipe. It really only takes a few minutes to prep, perfect for when you are short of time during the week.
Sheet Pan Cauliflower Gnocchi and Roasted Vegetables
A quick and easy sheet pan dinner featuring cauliflower gnocchi and roasted vegetables.
Ingredients
1 Package Trader Joe's Cauliflower Gnocchi 
1 Pint Grape Tomatoes
2 Bell Peppers, any color chopped
½ Red Onion, chopped 
3 Tablespoons Olive Oil 
1 teaspoon Dried Oregano 
½ teaspoon Garlic Poweder
½ teaspoon Salt
Pepper to taste
Fresh chopped parsley for serving
Instructions
Preheat your oven to 425 degrees F. Line a baking sheet with parchment paper.
Spread the frozen cauliflower gnocchi, tomatoes, peppers and onions on the baking sheet. If any of the cauliflower gnocchi is clumped together, break the pieces apart.
Drizzle with the olive oil.
Sprinkle with the soffritto spice blend, dried oregano, garlic powder, salt and pepper.
Toss, making sure everything is coated in the olive oil and spices.
Bake for 25-30 minutes, stirring halfway though the cooking time.
Serve with chopped parsley.
Notes
If you are unable to find the soffritto blend, you can use a pinch of crushed red pepper flakes, onion powder, dried parsley and dried rosemary.
Nutrition Information:
Yield:

2
Serving Size:

1
Amount Per Serving:
Calories:

448
Total Fat:

23g
Saturated Fat:

3g
Trans Fat:

0g
Unsaturated Fat:

18g
Cholesterol:

19mg
Sodium:

646mg
Carbohydrates:

55g
Fiber:

12g
Sugar:

14g
Protein:

12g
The nutrition facts is just an estimate for the recipe.
Happy Cooking!
Jeni