Nutty Chocolate Granola from The Veginner's Cookbook is the perfect breakfast for chocolate lovers! 

I am so excited to be sharing this delicious Nutty Chocolate Granola recipe from The Veginner's Cookbook: The Ultimate Starter Guide for New Vegans and the Veg-Curious by Bianca Haun and Sascha Naderer. You probably know Bianca from her vegan food blog, Elephantastic Vegan. 

This cookbook is perfect for new vegans and those who are curious veganism. If you thought about trying a vegan diet out, but aren't quite sure where to start, this book is for you. The first section of the book focuses on everything that you need to know about going vegan. From lists of kitchen tools and ingredients you'll need to vegan substitutes for non-vegan ingredients, you'll discover how easy it is to follow a vegan and plant-based diet!
The second part of the book is devoted to recipes. You'll find that these recipes are perfect for new vegans. You'll be able to find all the ingredients at your local grocery store. The recipes are perfect for those who want to try out a vegan diet, but still want to eat the familiar foods that they are used to eating.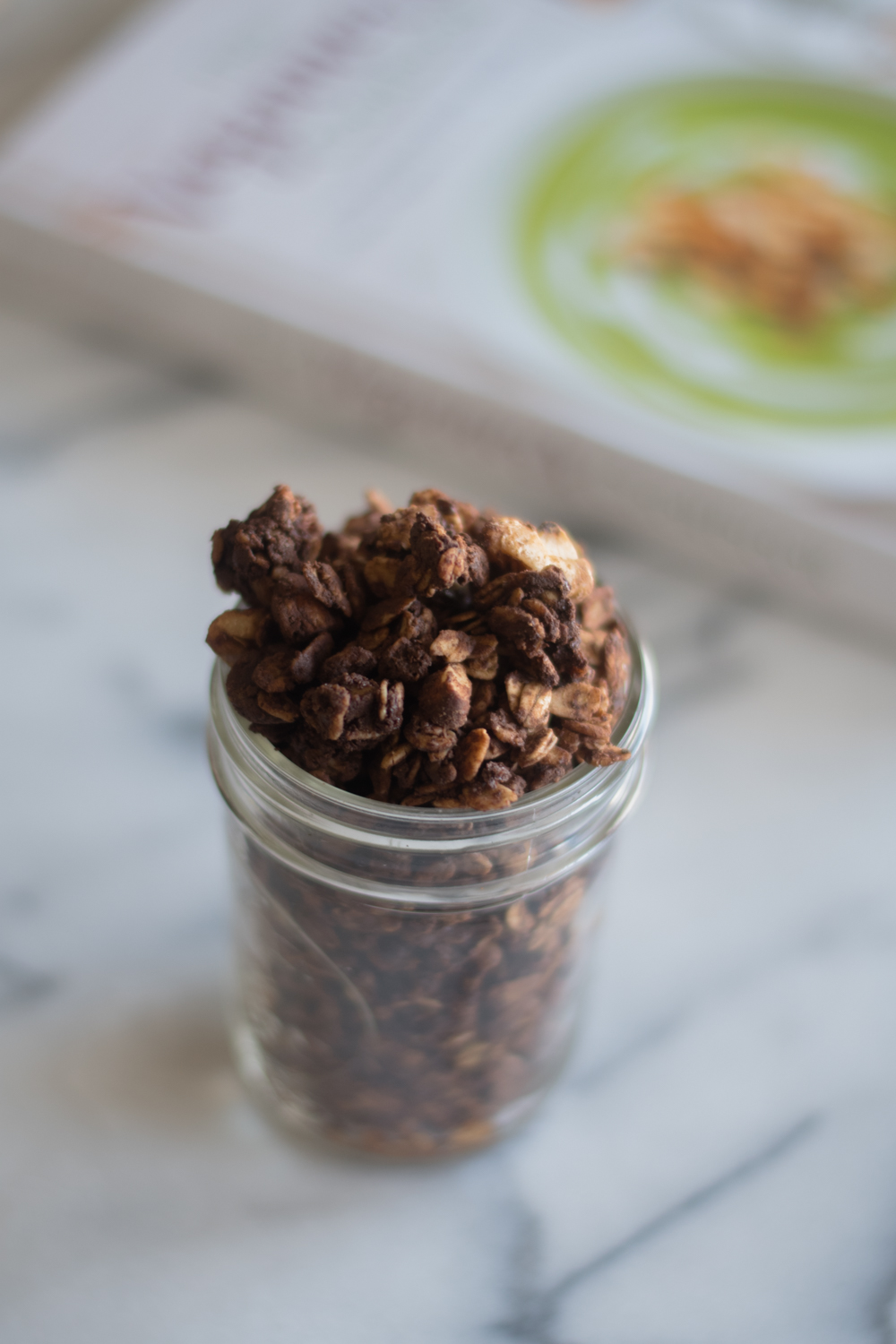 Nutty Chocolate Granola
It was hard to choose a recipe from the book to share you with you! I love granola, so I thought that I would share this simple and easy Nutty Chocolate Granola recipe with you.
I loved that I had all the ingredients for the Nutty Chocolate Granola in my pantry. Plus, it only took 15 minutes to make. This granola is perfect for sprinkling over your morning smoothie bowls or topping your vegan yogurt. 
Nutty Chocolate Granola
This chocolate granola is the ultimate chocolate crunch experience that you can (and should!) enjoy fro breakfast. Simply snack on the big chunks or put them in plant-based milk, on yogurt, or nice cream. The possibilities are endless!
Ingredients
1 Tablespoon coconut oil. liquid
2 Tablespoons maple syrup or agave syrup
1 ½ Tablespoons cocoa powder
1 Cup rolled oats
½ Cup chopped chocolate or semi-sweet chocolate chips
½ Cup Mix of raw almonds and walnuts, roughly chopped
Instructions
Preheat oven to 360 F./180 C.
Pour the liquid coconut oil into a large bowl, add the maple syrup and cocoa powder, and mix well until it resembles melted chocolate.
Add in the rolled oats and give it a good mix. Lastly, fold in the chopped chocolate, almonds, and walnuts.
Place the mixture on a baking sheet lined with parchment paper and spread it so it's approximately 1-inch thick.
Bake in the oven for about 10-15 minutes. Let it cool off completely before breaking it into chunks and using it in your breakfast with vegan milk, yogurt, or on nice cream.
To store the granola, keep it in an airtight jar at room temperature for up to 3 weeks.
Notes
Recipe from The Veginner's Cookbook, Copyright 2018 by Bianca Haun and Sascha Naderer, reprinted here with permission.
Disclamier: I received a copy of The Veginner's Cookbook, but all thoughts are my own. 
XO Jeni