This Mexican Paloma Cocktail is a light, refreshing cocktail is made with fresh grapefruit juice.

The Mexican Paloma Cocktail is one of Mexico's most beloved cocktails. After making my first Paloma, it was easy to see why the Paloma is more popular than the margarita in Mexico.
If you love tequila based cocktails, you are going to love this Mexican Paloma Cocktail recipe!
If you are looking for a healthier cocktail, this Mexican Paloma is for you! This cocktail has no added sugar. After enjoying my fair share of sweets over the holidays, I could really use a light and healthy cocktail!

If you prefer sweeter cocktails, you can always add a teaspoon of agave when making the drink.
For the grapefruit part of the cocktail, I used fresh squeezed grapefruit juice and sparkling grapefruit water. I love using the combination of both.  You can also top the drink with plain club soda.

Traditionally, the Paloma is topped grapefruit soda, like Jarritos. For this recipe, I wanted to keep it on the healthier side. Instead of topping the Paloma with soda, I used Spindrift Grapefruit Sparkling Water. It's made with fresh squeezed grapefruits and carbonated water. That's it! I just love that it has no added sugars. Perfect if you are watching your sugar.

Ruby red grapefruits are now in season, making this cocktail perfect for winter! It only takes a few minutes to make this refreshing cocktail!
Mexican Paloma Cocktail
This Mexican Paloma Cocktail is a light, refreshing cocktail is made with fresh grapefruit juice.
Ingredients
For one drink:
Ice
2 Ounces Fresh Grapefruit Juice
2 Ounces Silver Tequila
1 Ounce Fresh Lime Juice
1 teaspoon Agave, optional*
Spindrift Grapefruit Sparkling Water, or plain club soda
Salt rim and garnish:
Kosher or sea salt
Lime wedge or grapefruit half, for lining the rim
Small grapefruit wedges, for garnish, optional
Instructions
Prepare your cocktail glass: Pour the sea salt onto a small plate. Rub half of rim of a highball glass with grapefruit wedge; dip rim of glass in salt.
Fill the prepared glass with ice.
Pour the grapefruit juice, tequila, lime juice, and agave if using, into the glass.
Stir to combine the ingredients.
Top with the grapefruit sparking water.
Garnish with a grapefruit wedge if using.
Serve and enjoy!
Notes
If you prefer a sweeter cocktail, use 1 teaspoon of agave.
pin it for later: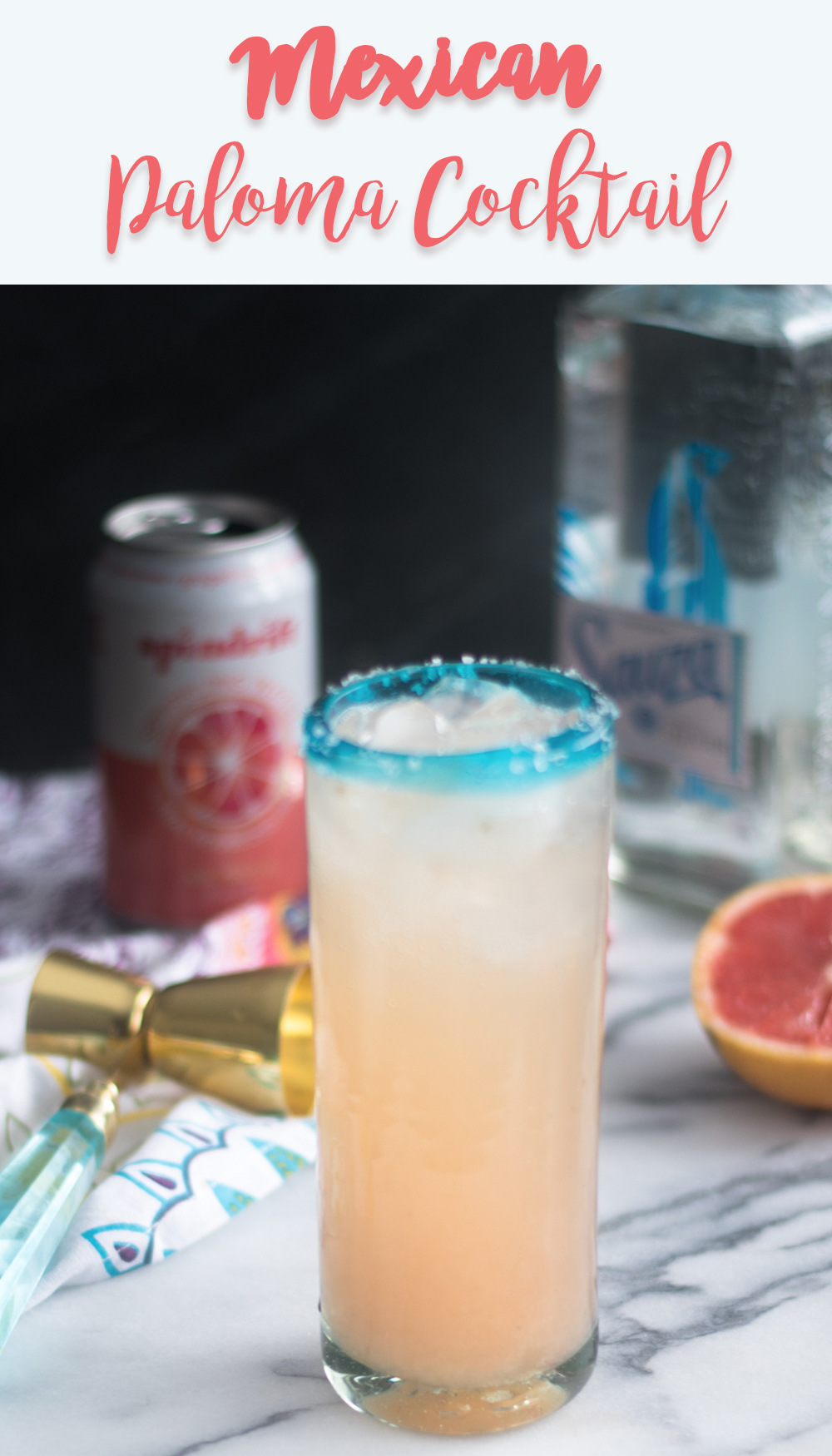 XO Jeni