Fort Wayne, Indiana: What to Do, See & Eat in this great Midwest city. 

Last month, my Mom and I headed to Fort Wayne, Indiana for a girls' getaway. Fort Wayne might not be the first place that comes to mind when planning a girls' trip, but I think that you'll be pleasantly surprised by Fort Wayne and what it has to offer!
My travel guide will show you all the amazing and funs things to do in Fort Wayne!
what to do in Fort wayne
Fort Wayne offers a wide range of activities. From museums to shopping, there is something for everyone to enjoy!
Explore nature in the heart of downtown Fort Wayne. At the Foellinger-Freimann Botanical Conservatory, explore the tropical plants, walk alongside cacti, and relax to the sound of the waterfall.
---
Plan your visit: 1100 South Calhoun Street | Fort Wayne, IN 46802 | (260) 427-6440
Hours: Tuesday - Saturday 10am - 5pm | Thursday 10am - 8pm | Sunday Noon - 4pm
Admission: Adults $5 |Children (ages 3-17) $3 |Age 2 and under Free
---
I love going to baseball games, especially when the weather is warm outside. The night we attended the TipCaps game, the weather was perfect. We had so much fun at the baseball game.

Parkview Field is  such a gorgeous baseball stadium. The tickets for the game are fairly inexpensive too! We happened to attend a game on Thirsty Thursday and the beer was half off!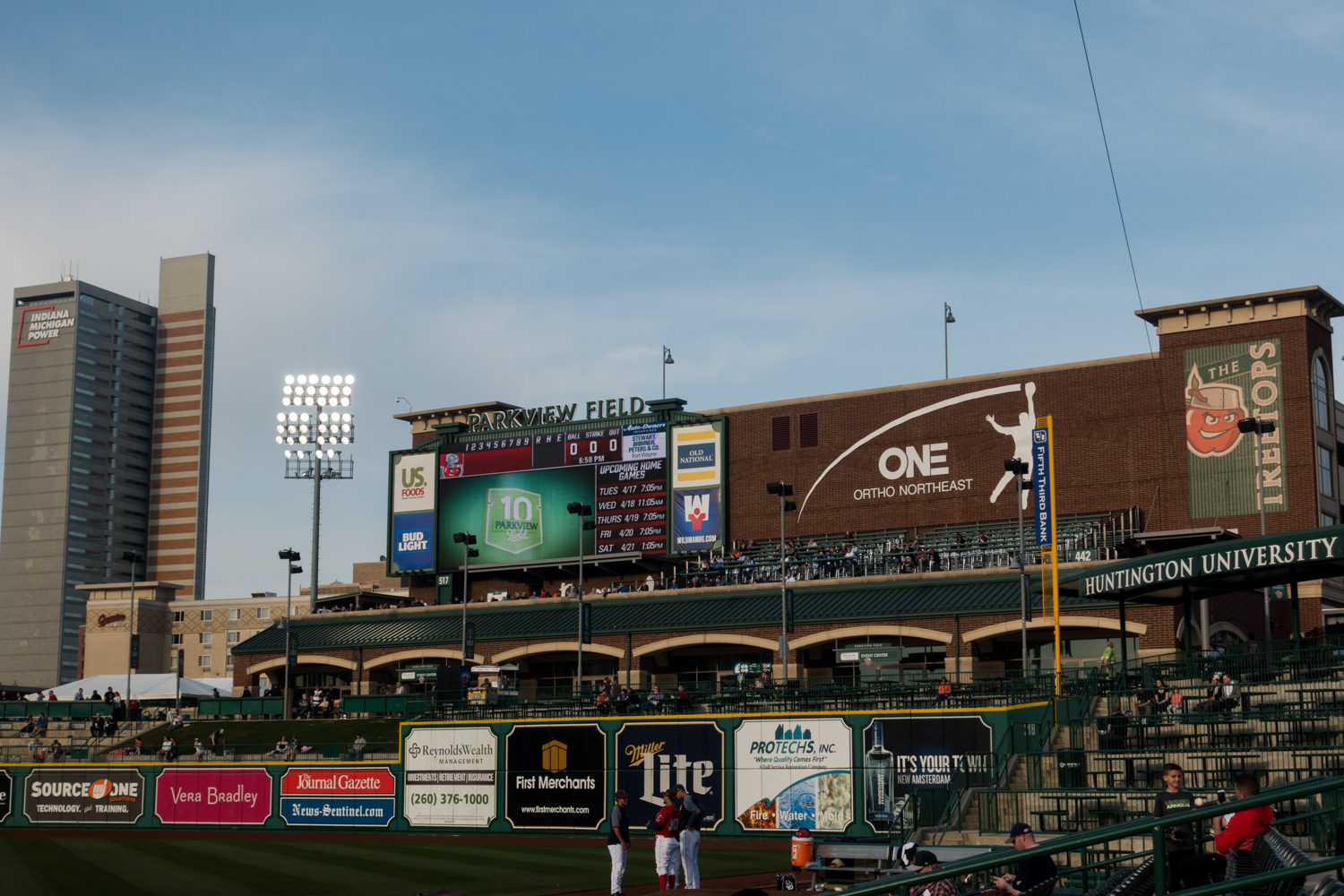 ---
Plan your visit: TinCaps Schedule
Parkview Field: 1301 Ewing Street | Fort Wayne, IN 46802 |  ParkviewField.com 
---
Visiting The Genealogy Center was the highlight of the trip for my mom. When we were planning our trip to Fort Wayne, we knew that we just had to visit The Genealogy Center located inside the Allen County Public Library. The Genealogy Center is a great resource. If you are interested in researching your family history, a visit to The Genealogy Center is a great place to start your research. We got so caught up in all the books and resources available that I forgot to take photos of the center! Many people travel from all over the country to use the amazing resources available here. The collection is one of the best in the country.
They have one of the largest research collections available, with records from around the world. The staff is so friendly and welcoming. They will help you with any questions that you might have.  The researchers put together the most incredible binder filled with my family history. My mom and I couldn't believe all the information that the researcher found on our family. My mom can't stop talking about out visit. She has been showing our family the binder and she wants to explore the family history even more.
---
Plan your visit: Allen County Public Library | 900 Library Plaza | Fort Wayne, IN 46802
Hours: Monday-Thursday 9 a.m. to 9 p.m. | Friday-Saturday 9 a.m. to 6 p.m. | Sunday 12 p.m. to 5 p.m.
---
I love visiting art museums whenever I travel. The Fort Wayne Museum of Art is located in the heart of downtown Fort Wayne, in the Fort Wayne Cultural District. The museum has a collection of permanent artwork and showcases special exhibits.
---
Plan your visit: 311 E Main St, Fort Wayne, IN 46802
Hours: Sunday, 12 - 5 pm | Tuesday - Saturday, 10am - 6pm | Thursday 10am - 8p
Admission: Free to members | $8 - adults | $6 - students (PreK-college) | $6 - seniors 65+ | $20 - families | Free general admission every Thursday 5-8pm
---
A girls' trip isn't complete without a trip to a local winery. We traveled a little bit outside Fort Wayne to Country Heritage Winery located in LaOtto. The winery received the Governor's Cup at the 2017 Indy International Wine Competition! We loved the wide selection of dry and sweet wines.

We tasted the wines and then toured the space. The location of the winery was just gorgeous too!
---
Plan your visit: 0185 CR 68 LaOtto, In 46763
Hours of Operation:11 am - 7 pm Daily
---
The Annual Vera Bradley Outlet Sale was one of the main reasons that we chose Fort Wayne for our girls' trip. Every year Vera Bradley has their annual outlet sale. The Vera Bradley Annual Outlet Sale is held in the Allen County War Memorial Coliseum. The sale goes for five days, and it has become a not-to-be-missed event for Vera Bradley fans.

The sale brings fans from all 50 states together for shopping, fun and amazing deals on product. At the sale, you'll find products that are primarily retired and overstock items.

Save the date! Next year the sale will be April 10 – 14, 2019!
Tour Three Rivers Distilling CO., Northeast Indiana's first craft distillery since Prohibition! What makes this distillery unique is that wheat and corn is grown within 100 miles of the distillery.

Learn about the distilling process and how their award winning spirits are crafted.

After the tour, I highly recommend staying and ordering one of their cocktails. I ordered the Savanah Gentleman cocktail and it was amazing!
---
Plan your visit: Book your tour online here.
224 E. Wallace St., Fort Wayne, IN 46803
---
where to eat
Fort Wayne has a great selection of restaurants, including lots of vegetarian and vegan options.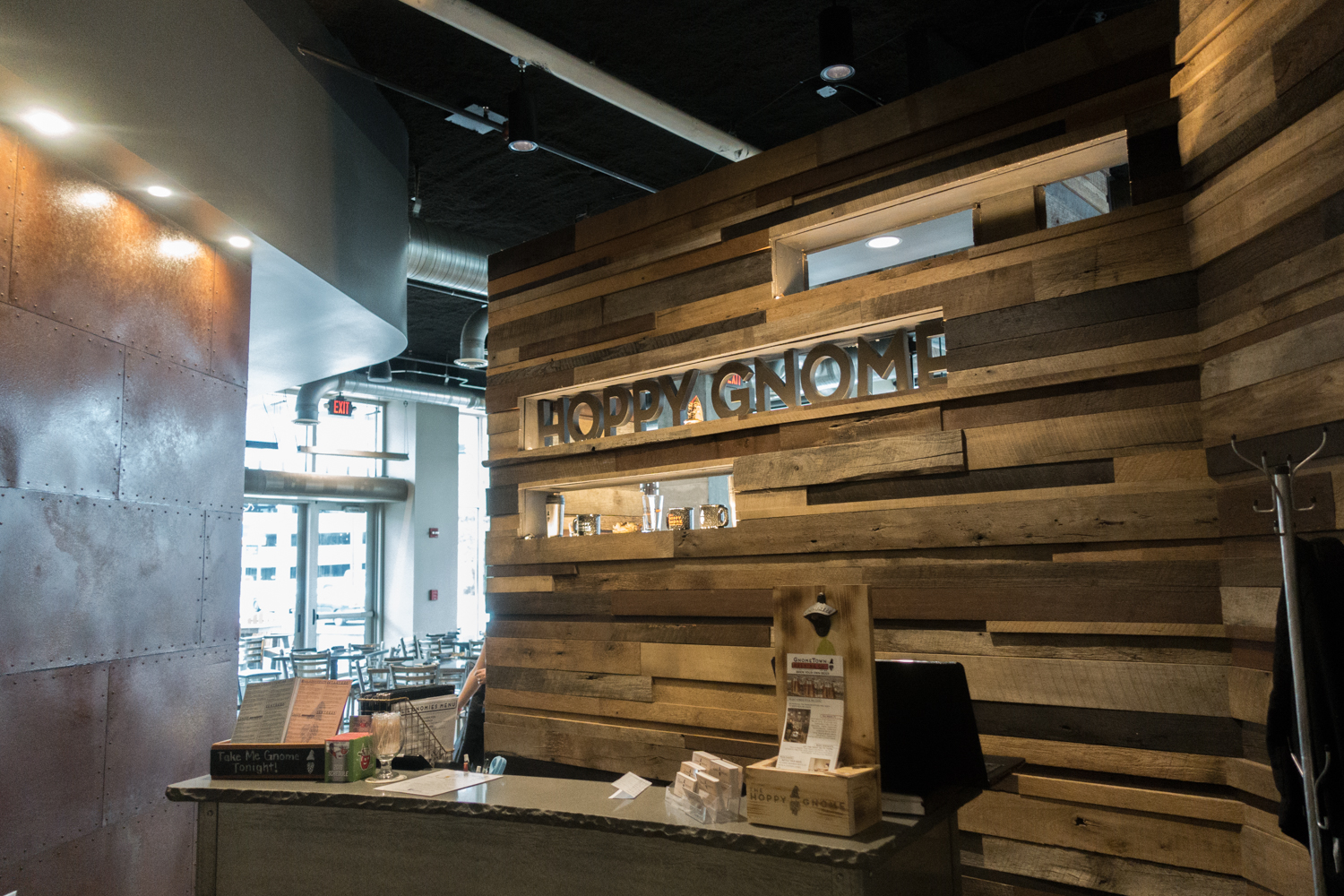 The Hoppy Gnome was our favorite restaurant that we ate at in Fort Wayne. The menu features  a "scratch" kitchen and focuses on fresh ingredients. I loved their tacos. I ordered the mojo tofu tacos and a woodsman mushroom taco that was delicious!

Oh, and they have an amazing craft beer selection. Of course I had to order one of their own beers. I went with the Stapler IPA which was very good!
---
Plan your visit: 203 E Berry St. | Fort Wayne, IN 46802
Hours: Monday- Thursday:11am­-10pm Friday:11am-­11pm Saturday10am-11pm Sunday:10am-­9pm
---
trubble brewing 
Trubble Brewing offers a few different vegan options on the menu. I ordered the buddha bowl, which was filled with vegetables and quinoa.  It was topped with a delicious Romesco sauce.

Of course I had to try some of their beers on tap. I ordered a flight, which is a great way to try different beers without having to order a glass.
---
Plan your visit: 2725 Broadway, Fort Wayne, IN 46807
Hours: Wednesday and Thursday: 11am-10pm | Friday & Saturday: 11am-12am | Sunday: 11am-7pm
---
For our hotel we stayed downtown at the Courtyard Fort Wayne Downtown at Grand Wayne Convention Center. 

The hotel is conveniently located downtown near many of the areas attractions. We were able to walk to quite a few places from the hotel. We also loved that the hotel was right next to Parkview Field. A great location if you are planning on seeing a baseball game.
Check out my travel vlog below and see a tour of our hotel room!
Pin this image for later! 
Visit Fort Wayne hosted us during our stay. As always all thoughts and opinions are mine.
XO Jeni