A guide to hiking the Empire Bluff Trail at Sleeping Bear Dunes National Lakeshore
Sleeping Bear Dunes National Lakeshore has become a very popular summer vacation destination in the Midwest. A few years ago, it was named 'Most Beautiful Place in America' by Good Morning America. Sleeping Bear Dunes offers something for the whole family.
With unspoiled beaches, stunning views of Lake Michigan and numerous hiking trails, the park is an ideal family vacation destination.
Sleeping Bear Dunes National Lakeshore offers a great variety of day hikes. If you aren't ready to tackle the dune climb, check out one the shorter and easier hikes at Sleeping Bear Dunes.

My favorite day hike at Sleeping Bear Dunes is the Empire Bluff Trail.


Empire Bluff Trail was recently named one of the ten best walks in America by Prevention Magazine. This 1.5 mile round trip hike is manageable for all ages.
There are a few small hills, but nothing too steep. When you arrive at the Empire Bluff trailhead there is a small gravel parking area. I imagine that in the summer the lots fills up quickly!
The trail begins by winding  through Beech and Maple forest. The trail leads to a 400 foot high bluff that overlooks Lake Michigan.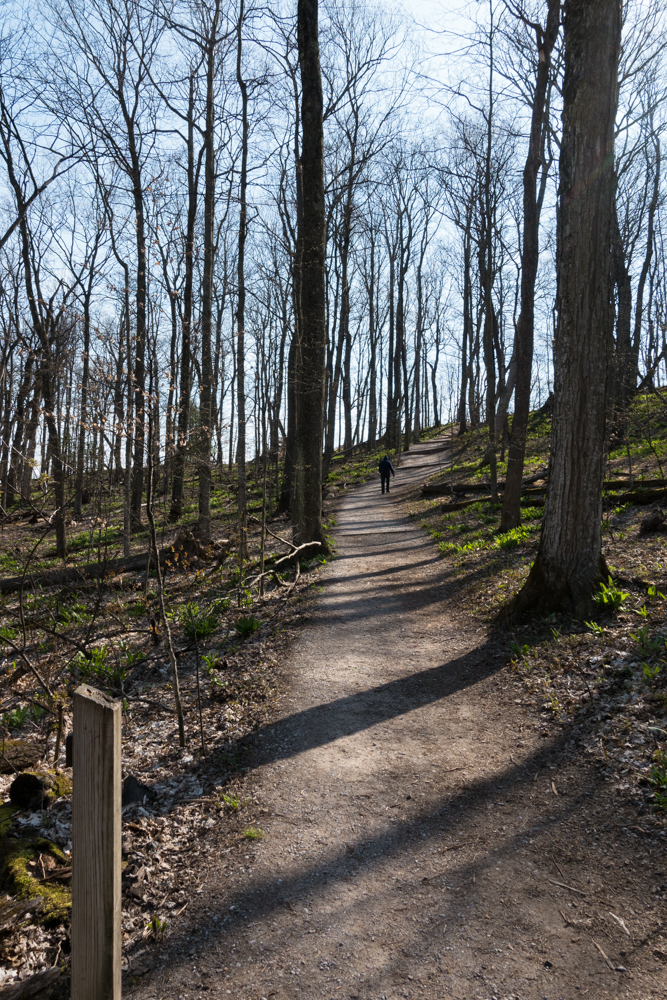 Once you arrive at the top of the bluff, you are rewarded with breathtaking views of Sleeping Bear and South Manitou Island.

How gorgeous is this view?!
Every time I visit, I just can't get over the color of the water. It is hard to believe that this water is in Michigan and not the ocean! If you have never been to Northern Michigan, I highly recommend adding it to your bucket list! It is a beautiful place to explore and visit.
XO Jeni