Easy, comforting Biscuit Veggie Pot Pie is my spin on a classic pot pie.
This vegan casserole is comforting and packed full of vegetables.
Instead of using chicken like in a traditional pot pie, we are using chickpeas!
What I love most about this veggie pot pie is that everyone will love this casserole. I've served this dish to omnivores before and it is a huge crowd pleaser.
If you are looking for a dish that all types of eaters will enjoy, this veggie pot pie is perfect!
For this pot pie casserole, I'm using a short cut by using canned biscuits.
are canned biscuits vegan?
Not all canned biscuits are vegan, but there are a few canned biscuits that are vegan though.
The canned biscuits from Immaculate Baking Company are vegan. They do not contain any dairy, eggs or wheat.
how to make this vegan casserole
Start the veggie pot pie by melting vegan butter in a large deep sided skillet. Once the butter is melted, cook the onion and celery until softened.
Next add in the garlic and cook until fragrant.
Now, make a roux. The roux will help to thicken up the pot pie. To make the roux, add the flour and cook for a few minutes.
Whisk in the plant-milk; making sure to whisk evenly incorporate the flour with the milk.
Next whisk in the broth. I really like using the Better than bouillon vegan no-chicken. I like that this adds so much flavor to the vegan pot pie.
Now add in the chickpeas, frozen mixed vegetables and potato. Bring the mixture to a simmer and cook for 10-15 minutes.
Transfer the pot pie mixture to a 9 by 13 baking dish and bake for 20-25 minutes.
While the pot pie is baking, remove the biscuits from the tube. Cut each biscuit into quarters.
The first few times that I made this biscuit veggie pot pie, I left the biscuits whole. I found that the biscuits didn't cook all the way through.
Cutting the biscuits into quarters helps the biscuits cook all the way through.
can this recipe be made ahead of time?
You can make this ahead of time. You can reheat the leftovers on the stove top or in the microwave.
As the weather gets cooler, this is the perfect recipe to make! It's comforting, cozy and delicious.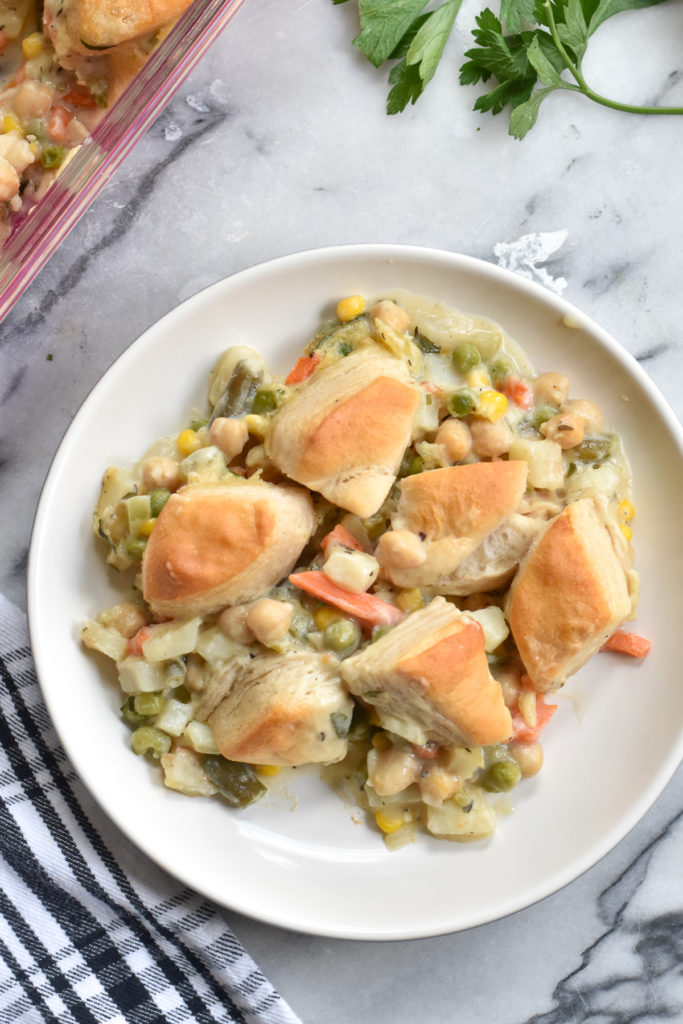 If you are looking for more casserole recipes be sure to check out these comforting recipes!
If you make the recipe, be sure to leave a comment or tag us on Instagram!
Biscuit Veggie Pot Pie
Cook Time:
1 hour
10 minutes
Total Time:
1 hour
30 minutes
Easy, comforting Biscuit Veggie Pot Pie is my spin on a classic pot pie. Canned biscuits make this casserole and easy dinner recipe!
Ingredients
⅓ Cup Vegan Butter
1 Medium Yellow Onion, diced
½ Cup Celery, finely diced
3 Garlic Cloves, minced
⅓ Cup All-Purpose Flour
1 ½ Cups Plant Milk, I like unsweetened soy milk
½ teaspoon Thyme 
1 Large Russet Potato, peeled and finely diced
3 Cups Mixed Frozen Vegetables
1- 15 ounce Can Chickpeas, rinsed and drained 
¼ Cup Fresh Parsley, minced 
Salt and Pepper to taste
1 Can Vegan Biscuits
Instructions
Preheat the oven to 350 F.
In a large, deep sided skillet melt the butter over medium-high heat.
Add the onion and celery; cook for 7-10 minutes, or until softened.
Add the garlic and cook for 1 minute.
Stir in the flour, and cook for 1-2 minutes to cook out the raw flour taste.
Slowly pour in the plant milk, whisking to combine. Pour in the broth, thyme and season with salt and pepper to taste.
Add the diced potato, frozen vegetables and chickpeas.
Bring to a boil; stir and reduce to a simmer. Cook for 10 minutes. Stir in the parsley if using.
Pour the pot pie mixture into a 9 by 13 baking dish.
Bake for 20 minutes.
Meanwhile, remove the biscuits from the tube and cut each biscuit into quarters.
Carefully place the cut biscuits on top of the pot pie.
Bake in the oven for 20-25 more minutes or until golden brown.
Serve and enjoy!
Happy Cooking!
Jeni