A classic Mexican Pan Dulce recipe for Conchas with a Vegan twist.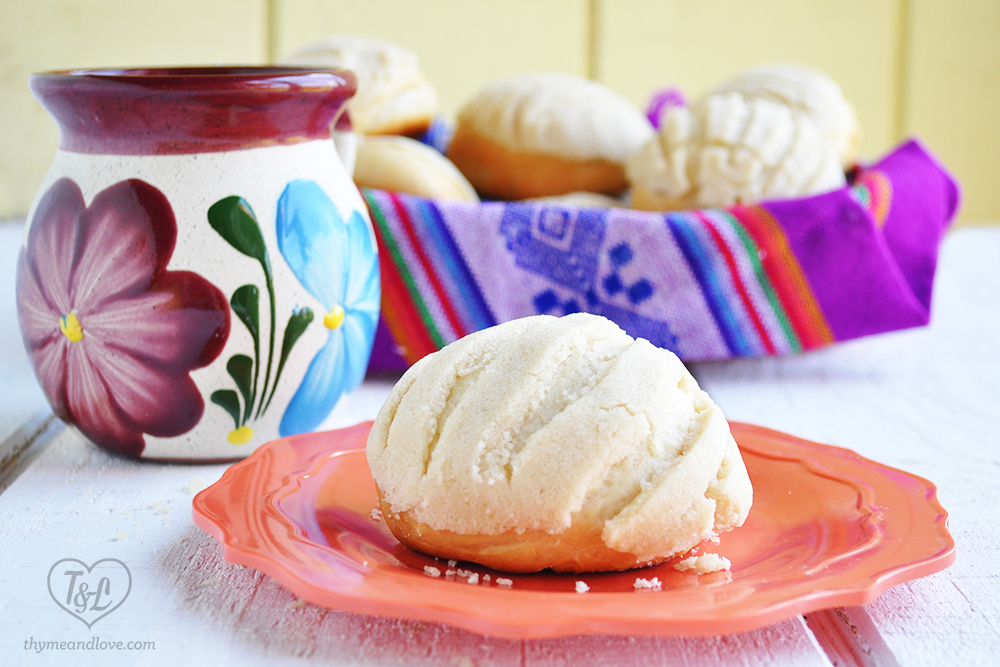 Walking down the streets of Mexico City, the aroma of freshly baked pan dulce with smelled the streets. It is one of those memorable smells. You know, one of those smells that just takes you back to a certain time and place.
I still miss Mexico, and I plan on traveling and visiting often. When I am missing the flavors and smells of Mexico, I love recreating my favorite foods that reminds me of my time spent in Mexico.
Typically at restaurants serving breakfast, a basket full of freshly made pan dulce will arrive at your table before you actually order. This is when I learned where my husband Hector got his love for all things bread. There are many different varieties and types of pan dulce.
Unfortunately, the majority aren't vegan. The sweet breads typically have eggs and dairy milk; some traditional recipes also call for lard-which definitely isn't vegan.
Today I am sharing one of Hector's favorite type of Pan Dulce: Conchas. Conchas get their name from the shape of the sugar topping, which resembles the shape of a shell.
Like with any yeast bread, they recipe is a little time consuming. Most of the time is inactive; just waiting for the bread to rise.
After the first rise, the bread is divided into 12 equal size portions and formed into rounds shapes. Then a second rising of about 30 minutes is needed. After this step, the sugar topping is placed on top.
When I have made Conchas in the past, I have had issues with the sugar topping. On one recipe trail the topping came right off while baking. After a few versions, this is the best version that I have made.
I have found that using vegan butter like Earth Balance just doesn't work in this sugar topping. I am not sure why it doesn't, but the sugar topping is just off when using vegan butter.
The best version of the topping came when I used vegetable shortening instead. Vegetable shortening really helps to create that perfect crumbly, sugar coating.
You are looking for a crumbling sugar topping after the Conchas have baked. The sugar topping crumbles right into your mouth. So, so good!!
Enjoy these Conchas anytime of day, but they are perfect for breakfast. Serve with a cup of coffee. You just might find yourself dipping your Concha into the coffee.
If you have never had Mexican Pan Dulce before, I highly recommend trying this recipe for Vegan Conchas. If you are a fan of sweet breads, you are going to love this recipe! Be sure to tag your photo at #thymeandlove on Instagram so we can see!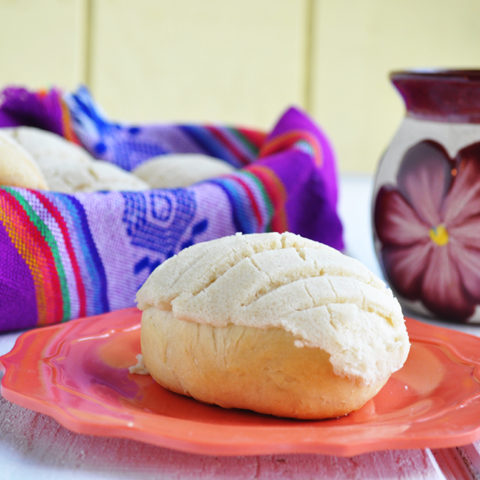 Vegan Conchas | Mexican Pan Dulce
Cook Time:
3 hours
30 minutes
Total Time:
3 hours
30 minutes
A classic Mexican Pan Dulce recipe for Conchas with a Vegan twist. Perfect for serving for breakfast with a cup of coffee.
Ingredients
⅔ Cup Warm Water
1 Tablespoon Active Dry Yeast
½ Cup Soy Milk, lukewarm
2 teaspoon Apple Cider Vinegar
⅓ Cup Vegan Butter like Earth Balance, room temperature
⅓ Cup Sugar
3 ½ Cups All Purpose Flour
1 teaspoon Salt
For the sugar topping:
⅓ Cup Sugar
¼ Cup Vegetable shortening
½ Cup All Purpose Flour
1 teaspoon Pure Vanilla Extract, preferably Mexican Vanilla
Instructions
In a large mixing bow, combine the water and yeast. Let proof for 5 minutes.
Meanwhile in a measuring cup, pour in the soy milk and apple cider vinegar. Let sit for 5 minutes as well.
Once the yeast has proofed, add the soy milk mixture, Earth Balance, sugar, 2 Cups of the flour and salt. Carefully mix everything together. Gradually add in the remaining 1 ½ cups flour. Once all the ingredients have been incorporated, knead the dough with your hands until it comes together and is smooth elastic, about 6-8 minutes. Place the bread in a large greased bowl. Cover with a kitchen towel and place in a warm location. I always look for the warmest location in the house and place the dough there. Let the bread rise until it has doubled in size, about 1 ½ hours.
After the dough has doubled in size, punch down the dough with your hands. Knead the dough for another minute or two. Divided the dough into 12 equal sized balls. Knead each ball for a minute or two. Place them on a parchment lined baking sheet.
Cover them with a kitchen towel and let rise for 30 minutes.
Meanwhile, make the sugar topping. In a medium mixing bowl, combine the sugar, vegetable shortening, flour, and vanilla. Mix with your hands until a thick dough forms. Cover with plastic wrap and set aside.
Preheat the oven to 375 F.
Once the conchas have risen for the 30 minutes, take the sugar topping and divide into 12 equal balls. You should have just enough to cover each of the conchas.
Take two sheet of plastic wrap, and one at a time place a ball of the sugar topping between the two plastic sheets and press down with your hands until it is large enough to cover the top of concha. Place on top of a concha and continue until all 12 are done.
Take a sharp knife and cut slits into the sugar topping to create the shell look. Be careful not to cut all the way through the dough. Just lightly cut into the sugar topping. I usually do about 4-5 cuts.
Cover and let rise for another 20 minutes.
Place the conchas at least 2 inches on a baking sheet lined with parchment paper. Just incase they spread too much. I like to bake 6 conchas per baking sheet.
Bake in the oven for 14-16 minutes, or until the bottoms are lightly browned.
Serve and enjoy!
XO Jeni