It's rhubarb season and I couldn't be more excited for it! Rhubarb is one of the first signs of spring here in Michigan. Its tart and can be used in so many different ways from cobblers, crisps, to butter. Yes Rhubarb Butter! Fruit butters are easy to make and are a great way of preserving the fruit. Even though rhubarb is technically a vegetable, it is often treated more like a fruit.
Since rhubarb is so tart, sugar is needed for this fruit butter. Instead of using cane sugar, I wanted to use some of the Pure Maple Syrup that I picked up at the Maple Syrup Festival in April. In the first recipe test, I used ½ cup maple syrup which produced a delicious Rhubarb Butter, but it was a little on the tart side. I usually prefer things on the more tart side than then sweeter. But I just thought this might have been too tart. So the the second recipe test, the maple syrup was upped to ¾ cups. The Rhubarb Butter was a touch sweeter, but the tartness of the rhubarb still came through. A perfect balance of sweet and tart. I think that any more maple syrup would over power the rhubarb.
After the rhubarb and maple syrup have cooked and softened, the Rhubarb Butter gets pureed in the blender. It goes back into the pot to reduce and thicken. The results are smooth and spreadable fruit butter that is a little bit tart and sweet.
Make a batch of Rhubarb Butter to enjoy throughout the week. Spread it on toast, swirl it into your morning oatmeal, spoon it over ice cream when warmed, or eat it straight from the jar.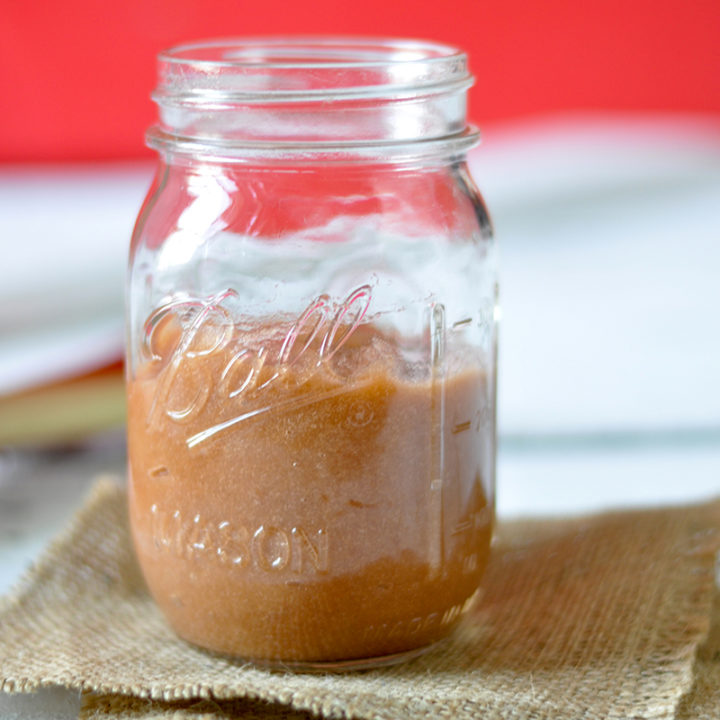 Rhubarb Butter
A tart and sweet fruit butter that's perfect for spreading on toasts or swirling into your morning oatmeal.
Ingredients
1 Pound Rhubarb, cut into 1 inch pieces
¾ Cup Pure Maple Syrup
¼ Cup Water
1 teaspoon Lemon Juice
¼ teaspoon Cinnamon
Instructions
In a medium pot or dutch oven, add the cut rhubarb, maple syrup, water and lemon juice. Bring to a low boil over medium heat, then reduce heat to a simmer. Cook until the rhubarb has softened, about 20 minutes. Stir in the cinnamon. Turn off the heat and let cool a minute.
Carefully transfer the mixture to a blender. Blend until smooth.
In the same pot you cooked the rhubarb in add the pureed mixture back into the pot. Heat the pan on medium low and cook until the rhubarb has thickened, about 15 to 20 minutes, stirring often. The puree can scorch at the bottom if left unattended.
Once the butter has thickened turn off the heat and let cool. Once the butter is cool enough to handle, transfer it to a jar with a tight fitting lid.
Store in the fridge. It should least at least 1 week.
Xo Jeni